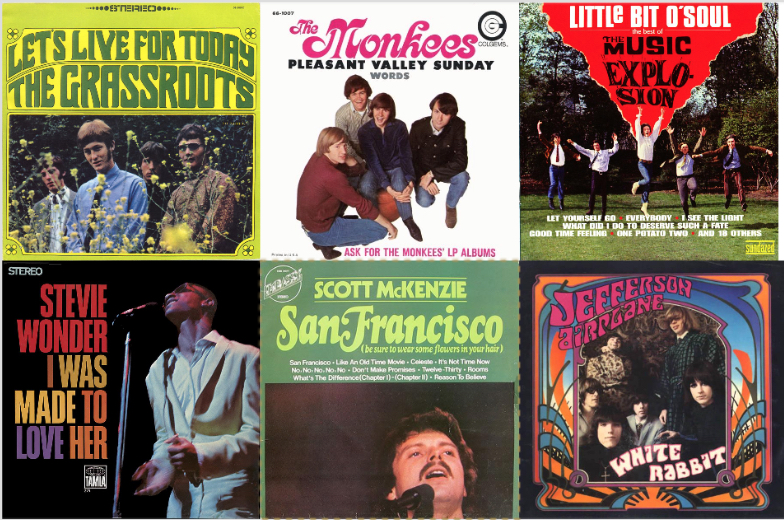 Looking back at mid-July 1967, the Summer of Love was in full swing. But all was not "peace and love"; race riots were taking place in Newark, NJ, ultimately leaving 26 dead. Shortly thereafter, Minneapolis also had riots, with fatalities.
And Top 40 radio mirrored the spirit of the people with music that spoke to the times. This week's chart, from Chicago powerhouse WLS, features a great playlist of songs that continue to resonate with listeners.
Bubbling under the Top 10, and debuting at #29 (on its way to #5 in the U.S.), was Procol Harum's "Whiter Shade of Pale." The song remains one of the most classic rock tunes of all time. Read our full recap of the song's development and lasting impact here.
Stevie Wonder was in the midst of his great, sustained chart run. His "I Was Made to Love Her" rose this week from #32 to #26, eventually reaching #2. The single is one of our favorite vocal performances of his…
The Doors "Light My Fire" jumped from #24 to #21. The song would ultimately reach #1, where it would stay for three weeks.
At #20, The Monkees were enjoying success with a two-sided single, "Words" b/w "Pleasant Valley Sunday." The latter would ultimately out-do the former, peaking at #3.
One of our favorite male vocalists, Johnny Rivers, had this week's #10 song, a cover of the Smokey Robinson & the Miracles hit, "The Tracks of My Tears."
Jefferson Airplane were riding high with "White Rabbit," which jumped to #9 (from #13) this week.
Related: What were the top hits of 1967?
Chicago's The Buckinghams earned five Top 15 hits in less than two years and then none more before they disbanded in 1970. One of them was "Mercy, Mercy, Mercy," written by jazz great Joe Zawinul.
Even more prolific were the SoCal-based Grass Roots who had no less than 10 Top 30 U.S. hits from 1966 – 1971. "Let's Live For Today," at #6 this week on WLS, sold two million copies.
Watch none other than Jimmy Durante introduce their performance!
Related: Our feature on the Grass Roots
No other song embodies the spirit of the Summer of Love than Scott McKenzie's "San Francisco (Wear Flowers in Your Hair)," at #5 this week and written by none other than the Mamas and the Papas' John Phillips. Read our recap of the song's legacy here.
Who names a group Every Mother's Son? A pop band from NYC with folk-rock roots, that's who. The one-hit-wonders were at #4 this week with "Come on Down to My Boat."
A far more successful vocal pop group, The Association, were at #3 with "Windy" this week, their second career #1 smash. As we've written before, the California-based group's singles were either huge hits or misses: they enjoyed five Top 10 songs.
Although their name sounds like the title of a K-Tel album, Music Explosion was actually a garage rock band. Their memorable (and only) hit, "Little Bit O' Soul"–at #2 this week–begins with the lyrics: Now when you're feelin' low and the fish won't bite.
And at #1? The Four Seasons' extraordinary lead singer, Frankie Valli, stepped out for the occasional solo release, one of which was "Can't Take My Eyes Off You," which became a #2 U.S. pop hit. The song was used brilliantly in one of the bar scenes in The Deer Hunter as a young De Niro, Walken and Savage prepared to head to Vietnam.
And here's Frankie, solo, with that soaring vocal…
29. "Whiter Shade of Pale" – Procol Harum
26. "I Was Made to Love Her" – Stevie Wonder
21. "Light My Fire" – The Doors
20. "Pleasant Valley Sunday" – The Monkees
10. "The Tracks of My Tears" – Johnny Rivers
9. "White Rabbit" – Jefferson Airplane
8. "Do it Again a Little Bit Slower" – Jon & Robin
7. "Mercy, Mercy, Mercy" – Buckinghams
6. "Let's Live For Today" – Grass Roots
5. "San Francisco (Wear Flowers in Your Hair)" – Scott McKenzie
4. "Come on Down to My Boat" – Every Mother's Son
3. "Windy" – Association
2. "Little Bit of Soul" – Music Explosion
1. "Can't Take My Eyes Off You" – Frankie Valli

Latest posts by Best Classic Bands Staff
(see all)