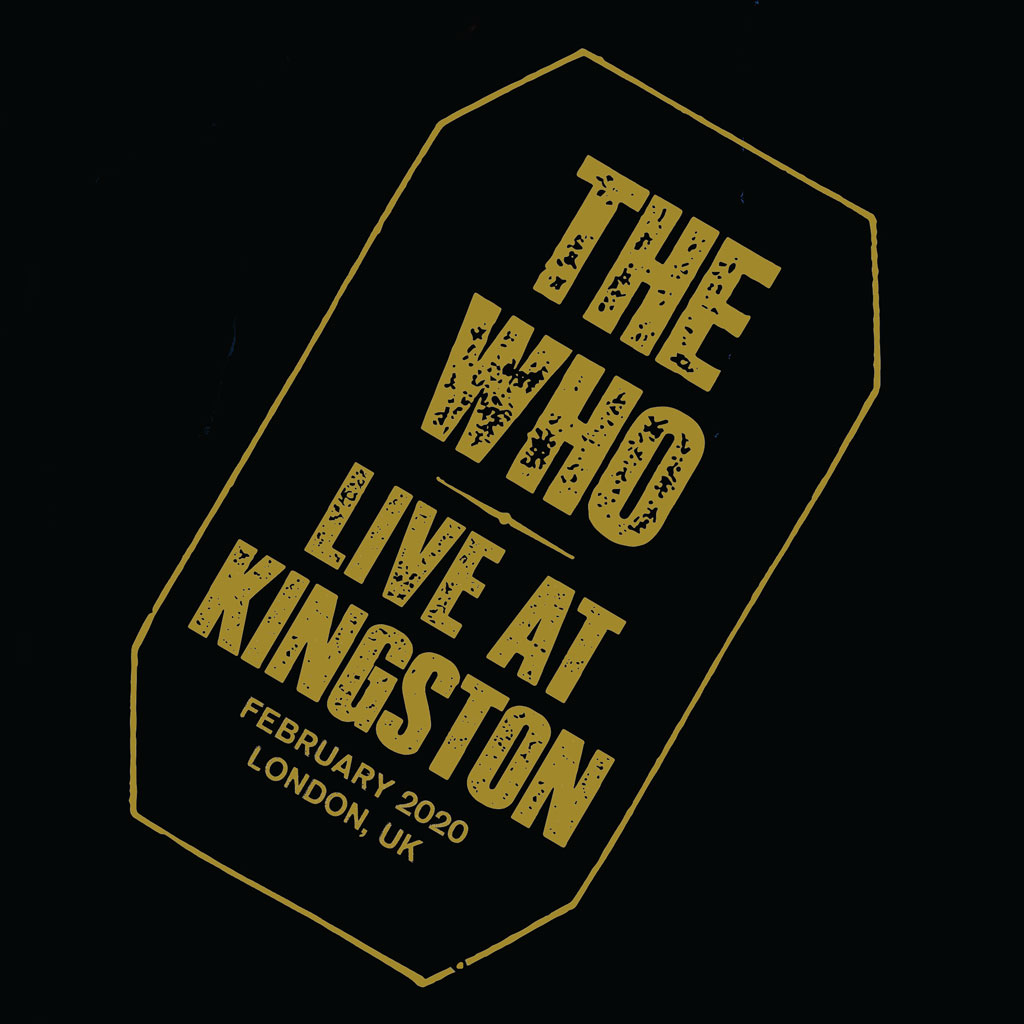 The Who have updated their well-received Dec. 2019 studio album, WHO, with live performances from their February 2020 club dates which celebrated the 50th anniversary of their historic concert at Leeds University. The first two of four acoustic concerts were held on Feb. 12, followed by two more on Feb. 14. All four were instant sell-outs when tickets went on-sale in mid-December. All were held at a venue called Pryzm in Kingston-Upon-Thames, U.K., outside of London, which is miles away from the university where they famously performed exactly 50 years earlier, on February 14, 1970.
The setlist for both of the Feb. 12 shows was just eight songs, spanning early favorites like "Substitute" and "The Kids Are Alright" through two tracks from the well-received Dec. 2019 release, WHO.
The "Live at Kingston" performances are now included in a deluxe edition of WHO. It's also available as a 7-inch singles box. (See links below.)
Those in attendance on Feb. 14 were treated to two additional songs when the Who offered a bit of Eddie Cochran's "Three Steps to Heaven" and gave their first live performance since 2008 of their own "Tattoo."
To get a sense of how intimate the concerts were, here's a clip from the early show on Feb. 14, where Roger Daltrey and Pete Townshend talk about their attempt to score a #1 album for the new album, only to be blocked, as Townshend recalls, by "that f**king c*nt Rod Stewart. We love him… actually he's an old buddy of ours." After more back-and-forth and thanking the fans, they perform "Behind Blue Eyes."
Watch the opening song, "Substitute," from the Feb. 12 early show
Watch them perform "Squeeze Box" from 1975's The Who By Numbers at the Feb. 12 early show
Tickets for the shows were just £13.00, the equivalent of $16.84. A ticket and a CD copy of The Who's new album, WHO, was only £17.00.
Watch them perform "Tattoo"
Five songs into the early show on Feb. 14, as Daltrey strapped on a guitar, Townshend asked him, "Are you going to play on this?" When the "Guv'nor" replied, "Yeah," Townshend deadpanned, "Oh, fuck…" as the crowd roared.
Watch them perform their mainstay, "The Kids Are Alright." (In the second clip, they offered an extra verse to the song.)
Watch "Behind Blue Eyes" from 1971's Who's Next, from the Feb. 12 early show
The club dates are roughly one month before the band begins its 2020 U.K. tour. (See dates below.)
Before performing "Break the News" from the new album, Daltrey complemented its songwriter (and Pete's younger brother), Simon Townshend, who has been with The Who's touring band for years. "Simon is such a great songwriter. It's great to find a song that fits on a Who album."
Watch as Daltrey forgets the words for the song's live debut
That's percussionist Jody Linscott, who has collaborated with Townshend and Daltrey many times.
Next, they performed "She Rocked My World," from the new album
Watch them perform "Pinball Wizard" at the Feb. 12 early show
For the finale, it was just Pete and Rog
The Who, Pryzm, Kingston-Upon-Thames, U.K., Feb. 12, 2020 Early Show Setlist
Substitute
Squeeze Box
Behind Blue Eyes
The Kids Are Alright
Break the News
She Rocked My World
Pinball Wizard
Won't Get Fooled Again
Thanks to Jeff Galasso for the great vids!
Before each of the performances, fans lined up outside the venue for hours for the rare opportunity to see the band up close.
The Who 2021 Tour Dates (Tickets are available at Ticketmaster and here)
2020 Shows – Canceled
Apr 21 – Hollywood, FL – Hard Rock Hotel and Casino
Apr 23 – Highland Heights, KY – BB&T Arena
Apr 27 – Dallas, TX – American Airlines Center
Apr 30 – Houston, TX – Toyota Center
May 02 – Denver, CO – Pepsi Center
May 05 – Las Vegas, NV – The Colosseum at Caesars Palace
May 07 – Las Vegas, NV – The Colosseum at Caesars Palace
May 09 – Las Vegas, NV – The Colosseum at Caesars Palace
May 12 – Las Vegas, NV – The Colosseum at Caesars Palace
May 14 – Las Vegas, NV – The Colosseum at Caesars Palace
May 16 – Las Vegas, NV – The Colosseum at Caesars Palace
Rescheduled to 2021
Mar 05 – Dublin 3 Arena
Mar 08 – Liverpool M&S Bank Arena
Mar 10 – Glasgow SSE Hydro Arena
Mar 12 – Newcastle Utilita Arena
Mar 15 – Leeds First Direct Arena
Mar 17 – Birmingham Resorts World Arena
Mar 20 – London Royal Albert Hall (Benefit)
Mar 22 – London SSE Wembley Arena
Mar 24 – Nottingham Motorpoint Arena
Mar 27 – Cardiff Motorpoint Arena
Mar 29 – Manchester Arena
Related: Listings for 100s of classic rock tours

Latest posts by Best Classic Bands Staff
(see all)