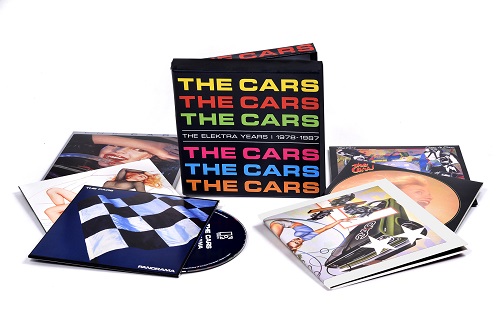 New wave band from Boston, The Cars, got their first taste of Top 40 and rock radio fame with the single "Just What I Needed" in 1978. That was only the beginning of their tremendous success, from later hits "Let's Go" and "Shake It Up" to iconic award-winning music videos and achieving more than 23 million record sales in the U.S. alone.
This spring, Rhino is releasing two new collections to honor the classic rock band: a box set featuring all six of The Cars' Elektra studio albums, out March 11th, and a single-disc, career-spanning collection of the group's best songs, out May 6th. Both will be in compact disc and digital formats, but a limited edition version of the box set will also be available June 7th, featuring each 180-gram LP pressed on a different color vinyl.
Each of the six albums included in The Elektra Years 1978-1987 is digitally remastered and presented in a replica sleeve with original artwork. Fans can retrace the band's musical journey with The Cars (1978), Candy-O (1979), Panorama (1980), Shake It Up (1981), Heartbeat City (1984) and Door To Door (1987), featuring hits like "My Best Friend's Girl," "Good Times Roll," "You Are The Girl" and "Drive." Meanwhile, hits collection Moving In Stereo: The Best of The Cars was curated by the band members – Ric Ocasek, Greg Hawkes, Elliot Easton and David Robinson – themselves. (Benjamin Orr died in 2000.)
Showcased alongside big hits are some rare and unreleased alternate versions of songs, including a different mix of "I'm Not The One," a live version of "Everything You Say," and a new mix by producer Philippe Zdar of "Sad Song," from 2011's Move Like This.
We've heard little from The Cars since they released their last record five years ago. Though they were recognized as one of the 15 Rock and Roll Hall of Fame nominees last fall, they were not chosen for induction.
Don't miss a post! Sign up for Best Classic Bands' Newsletter; form is on every page.
Moving In Stereo: The Best of The Cars Track Listing:
1. "Just What I Needed"
2. "Since You're Gone"
3. "Let's Go"
4. "You Might Think"
5. "Shake It Up"
6. "Drive"
7. "Tonight She Comes"
8. "My Best Friend's Girl"
9. "Don't Tell Me No"
10. "You're All I've Got Tonight"
11. "I'm Not The One" – Single Mix
12. "Candy-O"
13. "Heartbeat City"
14. "Touch And Go"
15. "Moving In Stereo"
16. "Dangerous Type"
17. "Sad Song" – Zdar Mix*
18. "Everything You Say" – Live*
*Previously Unreleased

Latest posts by Best Classic Bands Staff
(see all)