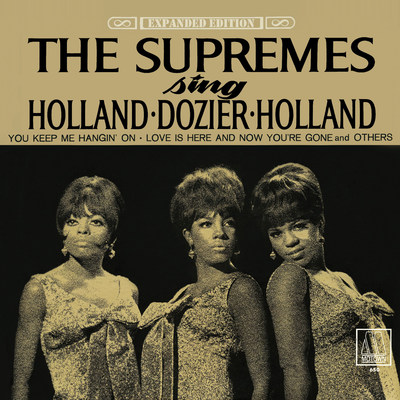 On June 15, in anticipation of the upcoming 60th anniversary of Motown and inspired by the album's own recent 51st anniversary, Motown/UMe released a 2-CD Expanded Edition of The Supremes' 10th studio album, The Supremes Sing Holland-Dozier-Holland. The set includes 52 tracks, 28 of which are heard here for the first time via a number of updated mixes and alternate versions, as well as a score of live performances captured at the Copacabana nightclub in New York City in May 1967, the last recorded performance of the original trio: Diana Ross, Mary Wilson and Florence Ballard.
The Supremes Sing Holland-Dozier-Holland, originally released in January 1967, was inspired by the production team of Brian Holland and Lamont Dozier and lyricist Edward Holland Jr. The album spawned a pair of #1 singles, "You Keep Me Hangin' On" and "Love Is Here and Now You're Gone." The LP also went to #1 on the Billboard R&B Albums Chart, their fourth album to do so up to that point, while peaking at #6 Pop.
Order the set here.
The expanded The Supremes Sing Holland-Dozier-Holland includes the original album in both its original mono and stereo mixes—with the mono album on CD for the first time—plus several rare and new mixes created exclusively for this expanded edition, including alternate versions and alternate mixes of the hits; the original film version of the #1 hit "The Happening," which was re-cut for the single version; a version of "Love Is Here and Now You're Gone" with a vocal previously available only on a Japanese release; a once-in-a-lifetime "duet" version of "You're Gone (But Always In My Heart)," that includes lead vocals by Diana Ross and Gladys Knight; and a Motown mashup of the H-D-H classics "I Can't Help Myself (Sugar Pie, Honey Bunch)" and "Where Did Our Love Go."
Related: The Supremes A' Go-Go received the Expanded Edition treatment in 2017
Rounding out this collection is a rare recording from the Copacabana in New York, in May 1967, one of the last performances of the group with Florence Ballard. Also included in the package is a 32-page booklet with rare and never-before-seen photos plus an interview with Lamont Dozier. Also included is a bonus 24-page booklet that recreates the Supremes' 1967 souvenir tour booklet.
Listen to "The Happening"
Listen to the hit version of "You Keep Me Hangin' On"
Track Listing
Disc 1
Original Mono (1-12) and Stereo (13-24) LPs
01./13. You Keep Me Hangin' On
02./14. You're Gone (But Always In My Heart)
03./15. Love Is Here And Now You're Gone
04./16. Mother You, Smother You
05./17. I Guess I'll Always Love You
06./18. I'll Turn To Stone
07./19. It's The Same Old Song
08./20. Going Down For The Third Time
09./21. Love Is In Our Hearts
10./22. Remove This Doubt
11./23. There's No Stopping Us Now
12./24. (Love Is Like A) Heat Wave
Bonus Tracks
25. The Happening (Extended hit mix)
26. All I Know About You (Extended mix)
27. Love Is Here And Now You're Gone (Version 3)
28. We Couldn't Get Along Without You (Extended mix)
29. You Keep Me Hangin' On (Extended "cool" alternate)
Disc 2
01. You Can't Hurry Love (Extended alternate)
02. The Happening (Film versions)
03. Love Is Here And Now You're Gone (Version 1)
04. You're Gone (But Always In My Heart) (Gladys Knight and The Pips Duet mix)
05. I Guess I'll Always Love You (Extended mix)
06. Going Down For The Third Time (Extended mix)
07. Remove This Doubt (Extended mix)
Live At The Copa May 1967
08. Put On A Happy Face
09. Medley: Stop! In The Name Of Love/Come See About Me/My World Is Empty Without You/Baby Love
10. My Favorite Things
11. You Keep Me Hangin' On
12. The Lady Is A Tramp/Let's Get Away From It All
13. I Hear A Symphony
14. From This Moment On
15. Queen Of The House
16. Love Is Here And Now You're Gone
17. Somewhere
18. You Can't Hurry Love
19. Medley: Thoroughly Modern Millie/Second Hand Rose/Mame
20. Group Introductions
21. You're Nobody Til Somebody Loves You
22. The Happening
Watch the promo trailer for the expanded edition

Latest posts by Best Classic Bands Staff
(see all)