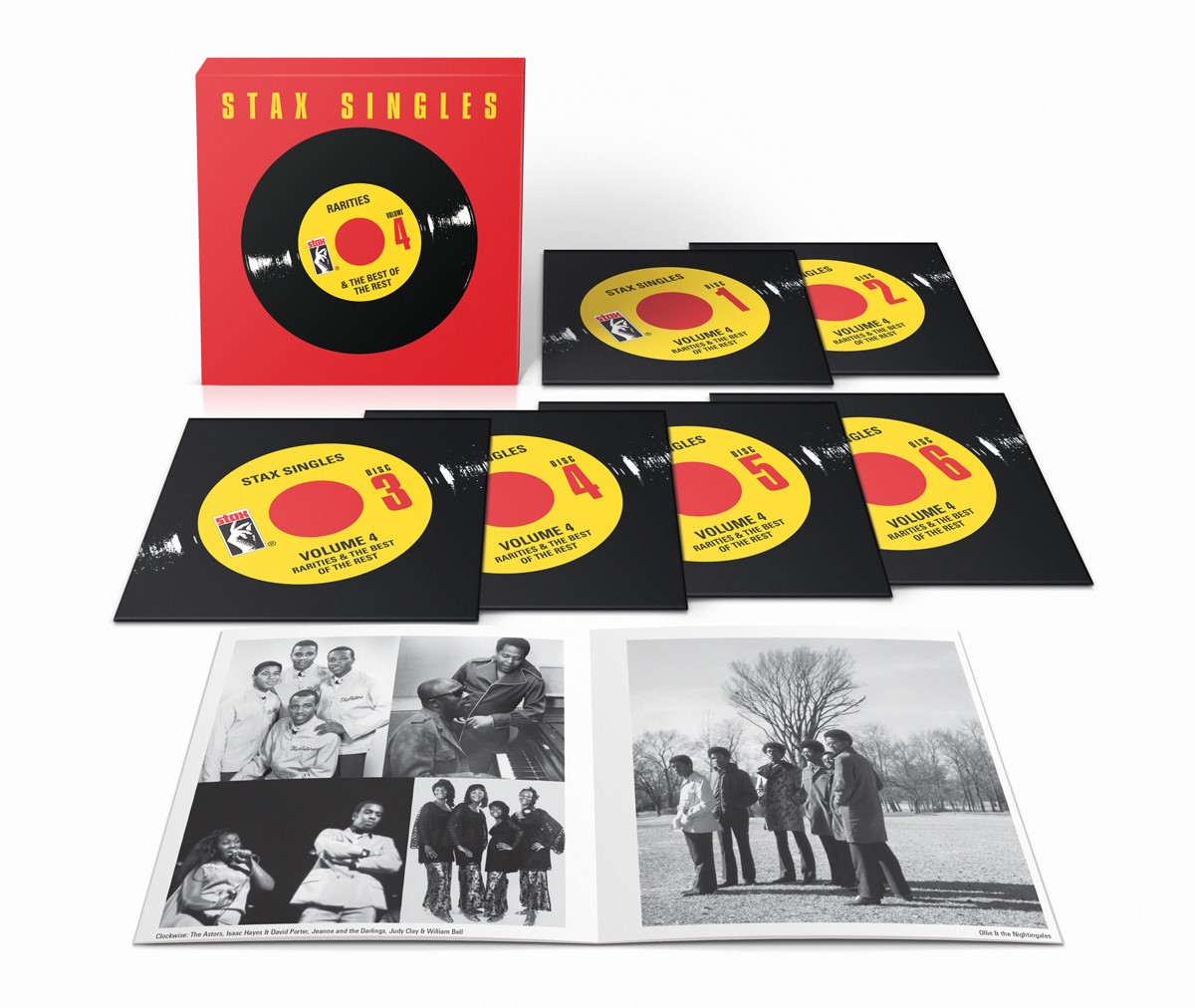 A 6-CD box set that delves deep into the Stax Records archives will be released on Feb. 9 via Craft Recordings. Stax Singles, Vol. 4: Rarities & The Best Of The Rest offers a study of the legendary Memphis label's catalog, including long-forgotten B-sides and rarities, and focusing not just on soul tunes – for which the label was most famous – but also offering a cross-section of rock, pop, blues, gospel and country recordings from 1960-1975.
The collection, announced Dec. 12, will include an 80-page booklet, offering four new in-depth essays by music journalist Lee Hildebrand, writer and producer Alec Palao, box set co-producer Bill Belmont and Rob Bowman, author of Soulsville U.S.A.: The Story Of Stax Records (and producer of Vol. 4's discs 1-3).
The new release includes recordings from Carla Thomas and Rufus Thomas, Isaac Hayes and David Porter, Delaney & Bonnie, Booker T & the MG's, Sam and Dave, the Staples Singers, and dozens more. (See the complete track listing below.) Pre-order is available here.
Featuring recordings from the catalogs of both Craft and Rhino Entertainment, who jointly control Stax's iconic masters, this comprehensive box set is a companion to Vols. 1-3; the first of which, The Complete Stax/Volt Singles 1959-1968, was released by Atlantic Records in 1991 and reissued by Rhino in 2016. Volumes 2 and 3, originally released by Stax in 1993 and 1994 respectively, and reissued by Concord in 2015, offered soul singles spanning 1968-1975, collectively.
Listen to Isaac Hayes and David Porter sing "Baby I'm-A Want You"
While Stax is primarily known for its soul music – Vols. 1-3 focused exclusively on that genre – the label also managed a variety of imprints throughout the '60s and '70s, many of which explored new sonic avenues, including rock (from Ardent, Enterprise and Hip), gospel (Chalice, Gospel Truth) and country (Enterprise).
Related: A 60th anniversary Stax collection, Soulsville U.S.A., was released in 2017
Stax Singles, Vol. 4: Rarities & The Best Of The Rest Track List
Disc 1:
1. Carla & Rufus: Deep Down Inside
2. Rufus And Friend: Yeah, Yea-Ah
3. Prince Conley: All The Way
4. The Canes: I'll Never Give Her Up
5. The Astors: Just Enough To Hurt Me
6. Eddie Kirk: I Found A Brand New Love
7. Rufus Thomas: Fine And Mellow
8. Booker T. & The Mg's: Fannie Mae
9. Floyd Newman: Sassy
10. Rufus Thomas: I Want To Get Married
11. Bobby Marchan: That's The Way That It Goes
12. The Cobras: Shake Up
13. Barbara And The Browns: You Belong To Her
14. Dorothy Williams: Watchdog
15. Baracudas: Free For All
16. Barbara And The Browns: I Don't Want Trouble
17. Gorgeous George: Sweet Thing
18. The Astors: I Found Out
19. Rufus & Carla Thomas: We're Tight
20. Rufus Thomas: Chicken Scratch
21. Ruby Johnson: Weak Spot
22. Rufus Thomas: Talkin' Bout True Love
23. Mable John: If You Give Up What You Got (You'll See What You Lost)
24. Sam And Dave: A Small Portion Of Your Love
25. Ruby Johnson: Keep On Keeping On
26. Rufus Thomas: Greasy Spoon
27. Mable John: Left Over Love
28. Ollie & The Nightingales: Girl, You Have My Heart Singing
29. Mable John: Don't Get Caught
Disc 2:
1. Shirley Walton: I'm So Glad You're Back
2. Delaney & Bonnie: We've Just Been Feeling Bad
3. Linda Lyndell: I Don't Know
4. Judy Clay & William Bell: Love-Eye-Tis
5. Judy Clay: Remove These Clouds
6. The Staple Singers: Stay With Us
7. Rufus Thomas: So Hard To Get Along With
8. Jeanne & The Darlings: I Like What You're Doing To Me
9. Booker T. & The Mg's: Over Easy
10. Mable John: Shouldn't I Love Him
11. William Bell & Judy Clay: Left Over Love
12. Jimmy Hughes: Sweet Things You Do
13. Art Jerry Miller: Grab A Handful
14. Eddie Floyd: Consider Me
15. Booker T. & The Mg's: Soul Clap '69
16. Jeanne & The Darlings: Standing In The Need Of Your Love
17. The Bar-Kays: I Thank You
18. The Soul Children: Make It Good
19. Ollie & The Nightingales: I'll Be Your Everything
20. William Bell: Let Me Ride
21. Booker T. & The Mg's: Sunday Sermon
22. Carla Thomas: Hi De Ho (That Old Sweet Roll)
23. Shack: A Love Affair That Bears No Pain
24. The Nightingales: Just A Little Overcome
25. The Newcomers: Mannish Boy
Disc 3:
1. Ilana: Let Love Fill Your Heart
2. The Soul Children: Ridin' On Love's Merry-Go-Round
3. Hot Sauce: I Can't Win For Losing
4. Lee Sain: Ain't Nobody Like My Baby
5. Hot Sauce: Echoes From The Past
6. The Mad Lads: Did My Baby Call
7. Isaac Hayes & David Porter: Baby I'm-A Want You
8. Jean Knight: Pick Up The Pieces
9. Johnnie Taylor: Stop Teasing Me
10. Isaac Hayes: Type Thang
11. John Gary Williams: In Love With You
12. Major Lance: Since I Lost My Baby's Love
13. Hot Sauce: Mama's Baby (Daddy's Maybe)
14. The Soul Children: Poem On The School House Door
15. Rufus Thomas: That Makes Christmas Day
16. The Staple Singers: What's Your Thing
17. Shirley Brown: Yes Sir Brother
18. Hot Sauce: Funny
19. Frederick Knight: Let's Make A Deal
20. The Green Brothers: Can't Give You Up (I Love You Too Much)
21. John Gary Williams: Just Ain't No Love (Without You Here)
Disc 4:
1. Sid Selvidge: The Ballad Of Otis B. Watson
2. The Caboose: Black Hands White Cotton
3. Dallas County: Love's Not Hard To Find
4. Casper Peters: April
5. Clark Sullivan: Reaching For A Rainbow
6. Billy Eckstine: I Wanna Be Your Baby
7. Chuck Boris: Why Did It Take So Long
8. Barbara Lewis: Why Did It Take So Long
9. Finley Brown: Gypsy
10. O.B. Mcclinton: Slip Away
11. Billy Eckstine: When Something Is Wrong
12. Ben Atkins: Good Times Are Coming
13. River City Street Band: Some Other Man
14. O.B. Mcclinton: Don't Let The Green Grass Fool You
15. Big Ben: Would I Be Better Gone?
16. Don Nix: Black Cat Moan
17. Don Nix: She's A Friend Of Mine
18. Larry Raspberry And The Highsteppers: Rock 'N Roll Warning
19. Chico Hamilton: Conquistadores '74
20. Cliff Cochran: The Way I'm Needing You
21. Connie Eaton: Let's Get Together
22. Karen Casey: The Way I'm Needing You
Disc 5:
1. Poor Little Rich Kids: Stop – Quit It
2. Lonnie Duvall: Cigarettes
3. Poor Little Rich Kids: It's Mighty Clear
4. The Honey Jug: Warm City Baby
5. The Goodees: For A Little While
6. The Honey Jug: For Your Love
7. Kangaroo's: Groovy Day
8. Bobby Whitlock: And I Love You
9. Southwest F.O.B.: Smell Of Incense
10. The Goodees: Condition Red
11. Billy Lee Riley: Family Portrait
12. This Generation: The Children Have Your Tongue
13. Billy Lee Riley: Show Me Your Soul
14. The Waters: Day In And Out
15. The Village Sound: Hey Jack (Don't Hijack My Plane)
16. The Cheques: Cool My Desire
17. The Goodees: Goodies
18. Paris Pilot: Miss Rita Famous
19. The Knowbody Else: Someone Something
20. Cargoe: Feel Alright
21. Big Star: In The Street
22. Cargoe: I Love You Anyway
23. The Hot Dogs: Say What You Mean
24. Big Star: O My Soul
25. The Hot Dogs: I Walk The Line
26. Big Star: September Gurls
Disc 6:
1. The Dixie Nightingales: The Assassination
2. The Dixie Nightingales: Hush Hush
3. The Dixie Nightingales: I Don't Know
4. The Stars Of Virginia: Wade In The Water
5. The Dixie Nightingales: Forgive These Fools
6. The Jubilee Hummingbirds: Our Freedom Song (Free At Last)
7. The Jubilee Hummingbirds: Press My Dying Pillow
8. The Pattersonaires: God's Promise
9. Rev. Maceo Woods And The Christian Tabernacle Baptist Church Choir: Hello Sunshine
10. Roebuck "Pop" Staples: Tryin' Time
11. Terry Lynn Community Choir: His Love Will Always Be
12. Reverend W. Bernard Avant Jr. & The St. James Gospel Choir: Don't Let The Green Grass Fool You (Don't Let The Devil Fool You)
13. The Rance Allen Group: There's Gonna Be A Showdown
14. The Rance Allen Group: That Will Be Good Enough For Me
15. Reverend Maceo Woods & The Christian Tabernacle Concert Choir: The Magnificent Sanctuary Band (Marching For The Man)
16. Louise Mccord: Better Get A Move On
17. Charles May & Annette May Thomas: Satisfied
18. The Rance Allen Group: I Got To Be Myself
19. The People's Choir Of Operation Push Under The Direction Of Reverend Marvin Yancy: He Included Me
20. The Rance Allen Group: We're The Salt Of The Earth
21. Louise Mccord: Reflections
22. The Rance Allen Group: Ain't No Need Of Crying

Latest posts by Best Classic Bands Staff
(see all)