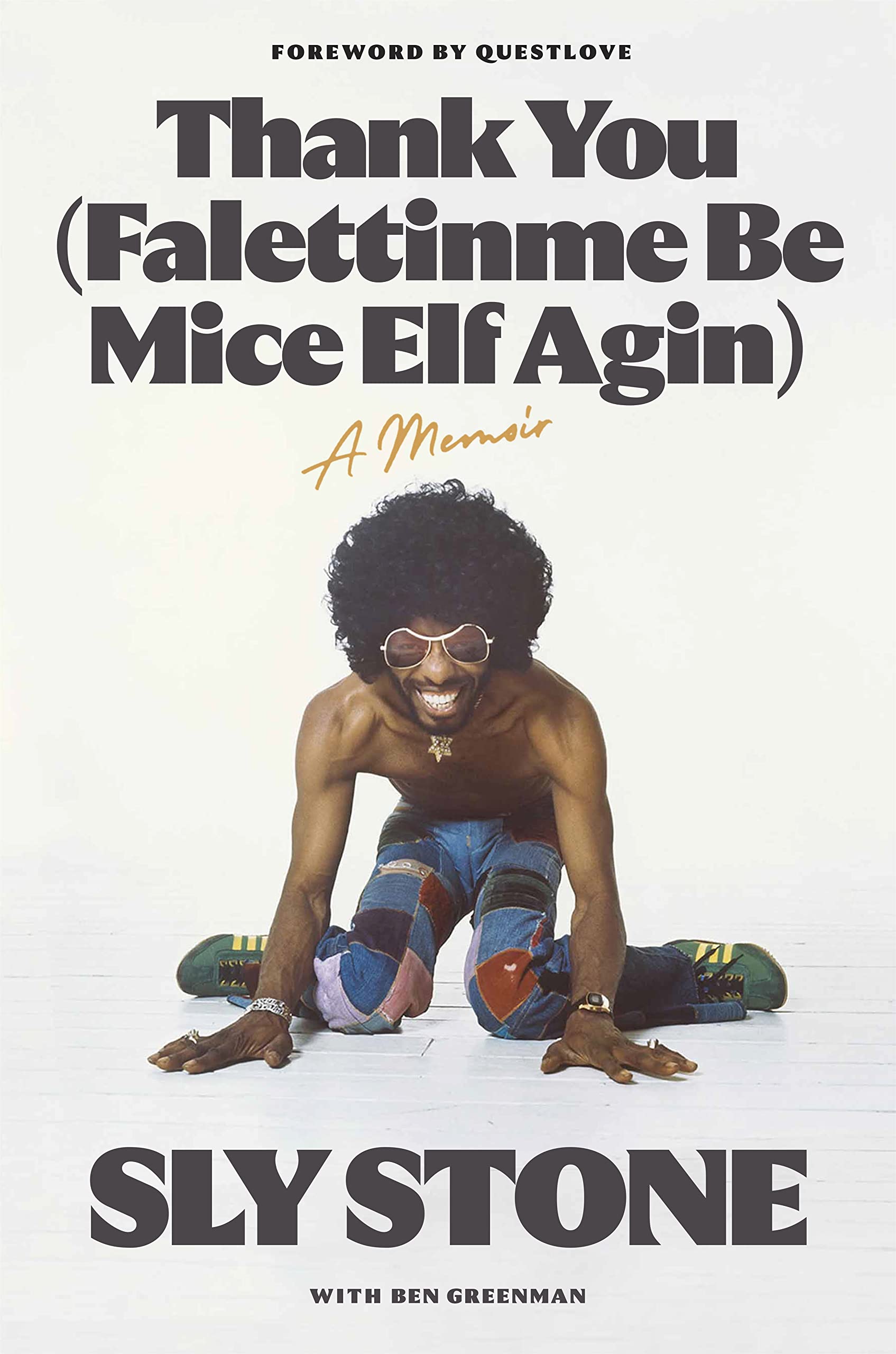 Sly Stone, who led Sly and the Family Stone, the biracial, mixed-gender psychedelic soul-rock-funk group, has published his memoir, Thank You (Falettinme Be Mice Elf Agin). The title arrived on Oct. 17, 2023. Stone, who turned 80 on March 13, led the band to great success, scoring hits like "Dance to the Music," "Everyday People" and "Hot Fun in the Summertime." Sly and the Family Stone were one of the most celebrated acts at the 1969 Woodstock festival and the documentary film made of the event. The book is written with Ben Greenman, who has also collaborated with Brian Wilson and George Clinton on their memoirs. Ahmir "Questlove" Thompson, who is working on a documentary about Stone, is the founder of the title's U.S. publishing imprint, AUWA, and has penned the book's foreword. Order it here.
"For as long as I can remember folks have been asking me to tell my story, [but] I wasn't ready," said Stone said in the announcement. "I had to be in a new frame of mind to become Sylvester Stewart again to tell the true story of Sly Stone. It's been a wild ride and hopefully my fans enjoy it too."
The one-time star has faced a variety of health-related and financial issues for decades including serious drug addiction and tax problems. Even at his peak, Stone became so unreliable that he would occasionally cancel concerts at the last minute. He currently suffers from chronic obstructive pulmonary disease, better known as COPD. It thus severely impairs his lungs and to promote the book he has been largely limited to conducting interviews via email. In an interview with TIME, published on Oct. 13, Stone was asked about his memories from decades earlier. "There are stories I remember and stories I have heard about myself," he wrote. "Some of the stories people told about me were right on and others were right off. All of that together makes for a life story."
The same interviewer asked him about recalling and facing up to the difficult times he faced. "Remembering wasn't always easy. Sometimes things came back and other times I needed to hear the story of what other people thought happened so that I could go back there in my memory and get a clearer idea. The more I went the main thing I felt was that I wanted to forgive other people and also to forgive myself.
From the March 22 book announcement: One of the few indisputable geniuses of pop music, Sly Stone is a trailblazer and a legend. He created a new kind of music, mixing Black and white, male and female, funk and rock. As a songwriter, he penned some of the most iconic anthems of the 1960s and '70s, from "Everyday People" to "Family Affair." As a performer, he electrified audiences with a persona and stage presence that set a lasting standard for pop-culture performance.
Yet his life has also been a cautionary tale, known as much for how he dropped out of the spotlight as for what put him there in the first place. People know the music, but the man remains a mystery. After a rapid rise to superstardom, Sly spent decades in the grips of addiction.
In Thank You (Falettinme Be Mice Elf Agin), he's finally ready to share his story—a story that many thought he'd never have the chance to tell. The book moves from Sly's early career as a radio DJ and record producer through the dizzying heights of the San Francisco music scene in the late 1960s and into the darker, denser life (and music) of 1970s and 1980s Los Angeles.
Related: The story behind Sly's "Dance to the Music"

Latest posts by Best Classic Bands Staff
(see all)