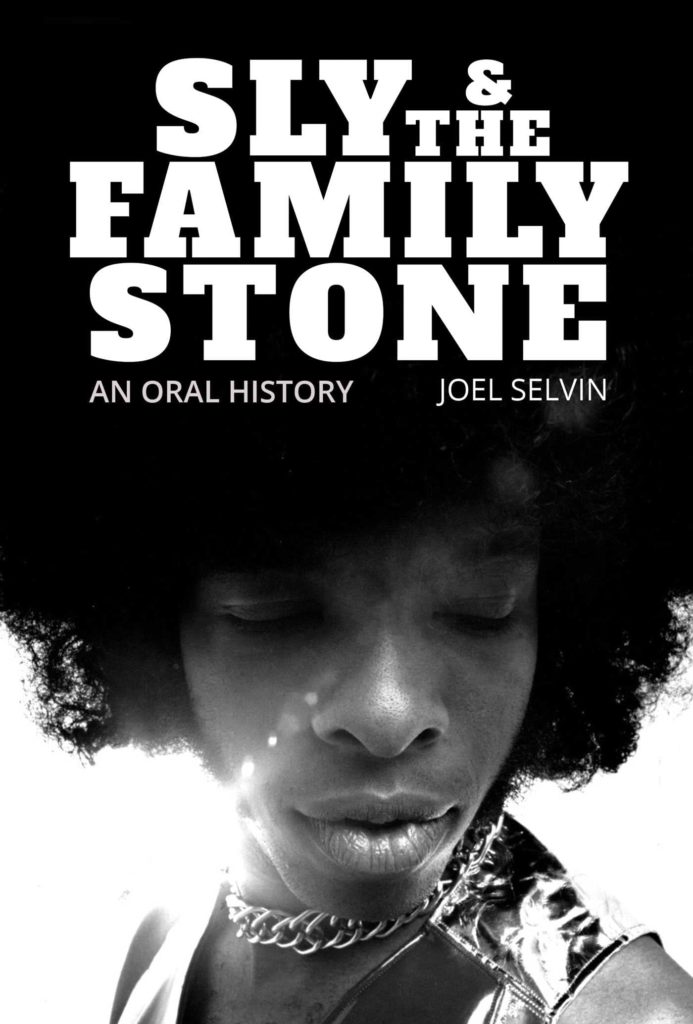 The 1998 book Sly & the Family Stone: An Oral History, by Joel Selvin, which has been out of print for years, will return in a new, updated edition on Oct. 11, 2022, from Permuted Press. (It arrives Dec. 8 in the U.K.)
Selvin, an award-winning journalist and best-selling author, conducted more than 40 interviews from all the group's original members—the sole exception being the notoriously reclusive Sylvester Stewart himself—and the group's closest associates in what's described in a press release as "a spell-binding account of the dizzying climb and terrifying descent of the band's career."
Sly and the Family Stone, says the announcement, "was the groundbreaking aggregation of Blacks and whites, men and women that symbolized the Woodstock generation and crossed over to dominate pop charts with anthems like 'Everyday People,' 'Dance to the Music' and 'I Want to Take You Higher.'"
Related: Our mini-feature on the classic hit, "Dance to the Music"
The book "offers first-person accounts of the rise of the band not only from its members but also from Sly's parents, other members of the family as well as rock figures including Grace Slick, Sal Valentino, Bobby Womack, Mickey Hart, Clive Davis, Bobby Freeman and many more. In their own words, they candidly share the triumphs and tragedies of one of the most influential musical groups ever formed. It's a collection of "different strokes" from the immensely talented folks who were there when it all happened that tells a story that is both compelling and cautionary."
Watch: Sly and the Family Stone perform "You Can Make It If You Try" at the Harlem Cultural Festival, June 19, 1969
"The key to unlocking the real story of Sly and the Family Stone," continues the press release, "was finding Hamp (Bubba) Banks, a character of immense proportions; a former Marine and pimp, young Sly's best friend, brother-in-law and de facto manager who had never before shared his story. Selvin embarked on a quest to locate him by knocking on hair salon doors up and down Third Street in San Francisco's Hunter's Point neighborhood. Banks not only gave hours of riveting interviews, but also arranged for Selvin to speak with many other subjects including some of the career criminals who surrounded Sly Stone at his height. Along with Freddy Stewart, Sly's brother and Family Stone band member, and San Francisco mayor London Breed, Selvin was one of three speakers at Banks' funeral earlier this year. The new edition of the book is dedicated to Banks in recognition of the role he played in setting the Sly and the Family Stone record straight.
Watch Sly and the Family Stone guest on The Dick Cavett Show June 8, 1971
Part 1 (includes performance of "I Want To Take You Higher")
Part 2
"The world Banks and his associates revealed to Selvin was a scary, drug-crazed planet without clocks or even common sense, where Banks would eject Miles Davis from Sly's apartment because Sly objected to the music Davis was playing on keyboards, where Gun, the vicious pit bull, would be set loose on marathon recording sessions while musicians ran for cover, where the mercurial and magisterial Sly Stone presided over every detail of everyone's lives and treated all with reckless abandon. This nightmare vision comes even more alive in the words of the people who lived through it.
"With the passing of key players like Hamp Banks, the band's manager David Kapralik, and others interviewed for the 1998 book, the story Selvin captured can never again be told so fully.
Selvin is the author of more than 20 books on pop music. Director Rob Reiner has announced plans to make a feature film of Here Comes the Night, his biography of R&B songwriter/producer/label chief and mob intimate Bert Berns. His book with rock star Sammy Hagar, Red: My Uncensored Life in Rock, was a number one New York Times best-seller, and his recent Hollywood Eden tells the story of the kids whose music launched the myth of the California dream at the dawn of the 1960s.
Watch Sly and The Family Stone perform "Thank You (Falettinme Be Mice Elf Again)" live in 1973

Latest posts by Best Classic Bands Staff
(see all)