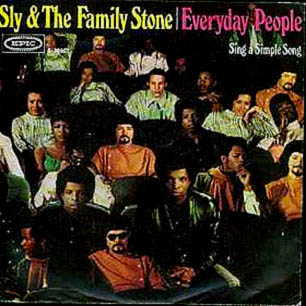 It was very much a song of the times: a rallying cry for across-the-board tolerance, be it racial, gender or lifestyle, done by a San Francisco group whose members were both black and white, male and female. Yet they called themselves a family, and some of them in fact were siblings.
Bandleader Sly Stone (Sylvester Stewart) had been playing in Bay Area combos since his teens. He also had worked as a radio DJ and produced some records. When he combined his band Sly & the Stoners with his brother's group Freddie & the Stone Souls, Sly & the Family Stone were born.
They were signed to Epic Records and released a 1967 debut album A Whole New Thing that failed to connect. The albums and singles of the same name Dance to the Music and Life began to earn them some chart success.
But it was "Everyday People" that broke Sly & the Family Stone through to full-scale stardom. The single hit #1 on both the soul singles and Hot 100 pop chart, topping the latter for four weeks running. Billboard later ranked it as the #5 song of 1969, and the single's success helped power the album Stand! to sales of three million copies.
Later that year Sly & the Family Stone played Woodstock and were one of the most talked-about acts to perform at the festival. Numerous artists including Joan Jett and Jeff Buckley have covered "Everyday People" and it is one of the signature songs of the 1960s counterculture.
Momentum from their Woodstock appearance led to more immediate success as 1969's "Hot Fun in the Summertime" reached #2 and "Thank You (Falettinme Be Mice Elf Agin)" topped the chart. They returned to #1 with 1971's "Family Affair." Sly & the Family Stone were inducted into the Rock and Roll Hall of Fame in 1993.
Related: Our appreciation of "Dance to the Music"

Latest posts by Best Classic Bands Staff
(see all)