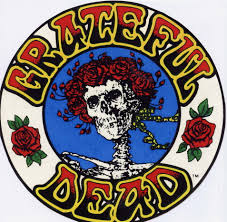 Last year's 50th anniversary farewell to the Grateful Dead was hardly the death-knell of interest for what was once America's favorite and biggest cult rock band. And for a group with such deep archives and sense of their own history as the Dead, the rock-doc treatment is a natural.
The film's executive producer Martin Scorsese has a long history in the field, starting with camera and editing work on Woodstock through the Bob Dylan doc No Direction Home and George Harrison: Living in the Material World. One of the film's co-producers comes from the Dead's own camp: Justin Kreutzmann, son of Dead drummer Bill Kreutzmann. Another executive producer is Eric Eisner, so of Hollywood heavyweight Michael Eisner. Its director is Amir Bar-Lev, who made The Pat Tillman Story. Dead archivist David Lemieux is its music supervisor.
And the band's surviving members all support it. "Millions of stories have been told about the Grateful Dead over the years," they said in a statement in 2014. "With our 50th anniversary coming up, we thought it might just be time to tell one ourselves, and Amir is the perfect guy to help us do it."
So with all the power, talent, connections and cooperation behind it, where's the movie? "It will come out when it's ready," said Kreutzmann last year. "It would be nice to hit the 50th anniversary, but making a better film is more important than trying to capitalize on the hype around that. We're still editing. There's so much great material, as you can imagine, to go through."
"Our film is not a celebration of the band's 50th anniversary," Eisner adds. "It's a celebration of the band as a whole. We hope our movie exists for many years as a legacy piece, so we have no problem waiting until all the festivities of the 50th have passed somewhat."
Plans call for it to first be released in theaters. As yet it has no title. "Do you just call it 'Grateful Dead'? Do you call it 'Long Strange Trip'?" Kreutzman ponders.
Eisner and Kreutzman are slated to discuss the film on a panel at the Asbury Park Music in Film Festival in early April, but no footage will be shown. Dead fans looking for an audio-visual treat in the meantime can enjoy the documentary The Other One: The Long, Strange Trip of Bob Weir, which can be seen on Netflix.

Latest posts by Best Classic Bands Staff
(see all)