Rory Gallagher's eponymous 1971 debut solo album has been released in a variety of 50th Anniversary editions, including a five-disc deluxe box set of the album that will include a brand-new mix of the original, 30 previously unreleased outtakes and alternate takes, a six-song 1971 BBC Radio John Peel Sunday concert, plus four 1971 BBC Radio Sounds of the Seventies session tracks. The collection, mastered at Abbey Road Studios, arrived on September 3, 2021, via UMC/UMe. 2-CD and 3-LP editions of the album are cut-down versions from the deluxe box set. Listen to several tracks including a previously unreleased alternate take of "At the Bottom" below.
The deluxe edition includes a previously unreleased 50-minute DVD of Gallagher's first solo concert which was filmed in Paris for the Pop Deux television show.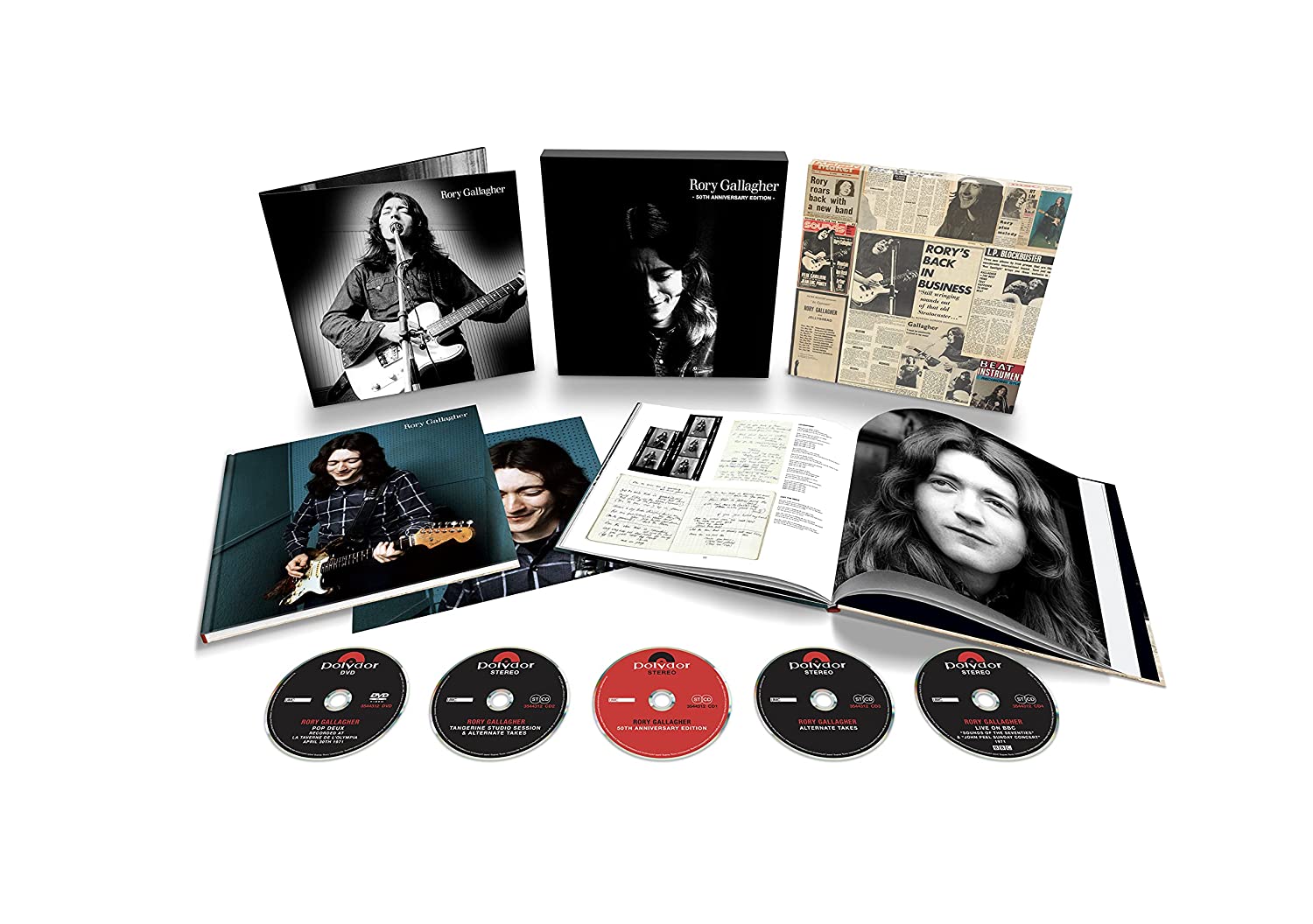 The extensive box set package also contains a 32-page hardback book with many rare and previously unseen photographs from British rock photographer Barrie Wentzell, essays and memorabilia from the album recording including hand-written song lyrics by Gallagher, and an exclusive limited-edition poster.
The box set also includes exclusive liner notes written by his brother and manager Donal Gallagher, his longtime bass guitarist Gerry McAvoy (1970-1991) and Wentzel, plus a full 1971 interview by journalist Roy Eldridge.
The debut album features some of the most beloved Gallagher songs such as "I Fall Apart," "Laundromat" and "Just the Smile."
Listen to the "Tangerine Studio Session" of "I Fall Apart"
Listen to the 50th anniversary mix of "Just the Smile"
While reviewing numerous tapes during the 2021 mixing sessions, two songs were added to the collection: the previously unreleased "At the Bottom," a track he ended up re-recording for his 1975 Against the Grain album, plus "Advision Jam," a rocking instrumental. The recording saw Gallagher on guitar and lead vocals as well as alto sax, harmonica and mandolin, Gerry McAvoy on bass and Wilgar Campbell on drums.
Listen to a previously unreleased take of "At the Bottom"
Atomic Rooster's Vincent Crane plays piano on two out of the 10 songs on the album "Wave Myself Goodbye" and "I'm Not Surprised."
Listen to the 50th anniversary mix of "I'm Not Surprised"
Gallagher had not played live since his previous band Taste disbanded on October 24, 1970. When his debut solo album was released in May 1971, he embarked on a 16-date U.K. tour that included 10 days touring Ireland and a short jaunt in Switzerland.
From the July 15 announcement: Recorded at the legendary Advision Studios in Fitzrovia, London, the album showcases the Irish guitarist as a multi-faceted interpreter of the blues with a cross-section of the blues from acoustic to heavy blues soul. Advision was one of the hottest recording studios in the '60s and '70s, and home of classic albums recorded by The Yardbirds, The Who, The Move, T. Rex, David Bowie, Kate Bush, Elton John, Slade, Gentle Giant, Gerry Rafferty, and many more.
If ever there was a "musician's musician," then that accolade belongs to Rory Gallagher. Renowned for his blistering live performances and highly respected for his dedication to his craft, he died in 1995, aged just 47.
Rory's timeless reputation has continued to flourish in the years since. Indeed, some of rock's most seminal figures, from Jimi Hendrix to Eric Clapton, Joe Satriani to Joe Bonamassa, Queen's Brian May to The Smiths' Johnny Marr, Slash of Guns N' Roses to the Edge of U2, have cited him as an influence.
See the 2-CD track listing below the links.
Related: Gallagher is included in our list of musicians deserving induction into the Rock and Roll Hall of Fame
The collection includes many off-air performances from the BBC's Sounds of the Seventies.
Listen to "It Takes Time" from those sessions
2-CD Track Listing
CD1
Laundromat
Just The Smile
I Fall Apart
Wave Myself Goodbye
Hands Up
Sinner Boy
For The Last Time
It's You
I'm Not Surprised
Can't Believe It's True
CD2
Gypsy Woman – Tangerine Studio Session
It Takes Time – Tangerine Studio Session
I Fall Apart – Tangerine Studio Session
At The Bottom – Alternate Take 3
At The Bottom – Alternate Take 4
Advision Jam
Laundromat – Alternate Take 1
Just The Smile – Alternate Take 1
Wave Myself Goodbye – Alternate Take 2
Hands Up – Alternate Take 2
Sinner Boy – Alternate Take 3
For The Last Time – Alternate Take 1
It's You – Alternate Take 2
I'm Not Surprised – Alternate Take 1
For The Last Time – Live On BBC "Sounds Of The Seventies" / 1971*
Laundromat – Live On BBC "Sounds Of The Seventies" / 1971*
It Takes Time – Live On BBC "Sounds Of The Seventies" / 1971*
I Fall Apart – Live On BBC "Sounds Of The Seventies" / 1971*
*Off-Air Recording

Latest posts by Best Classic Bands Staff
(see all)