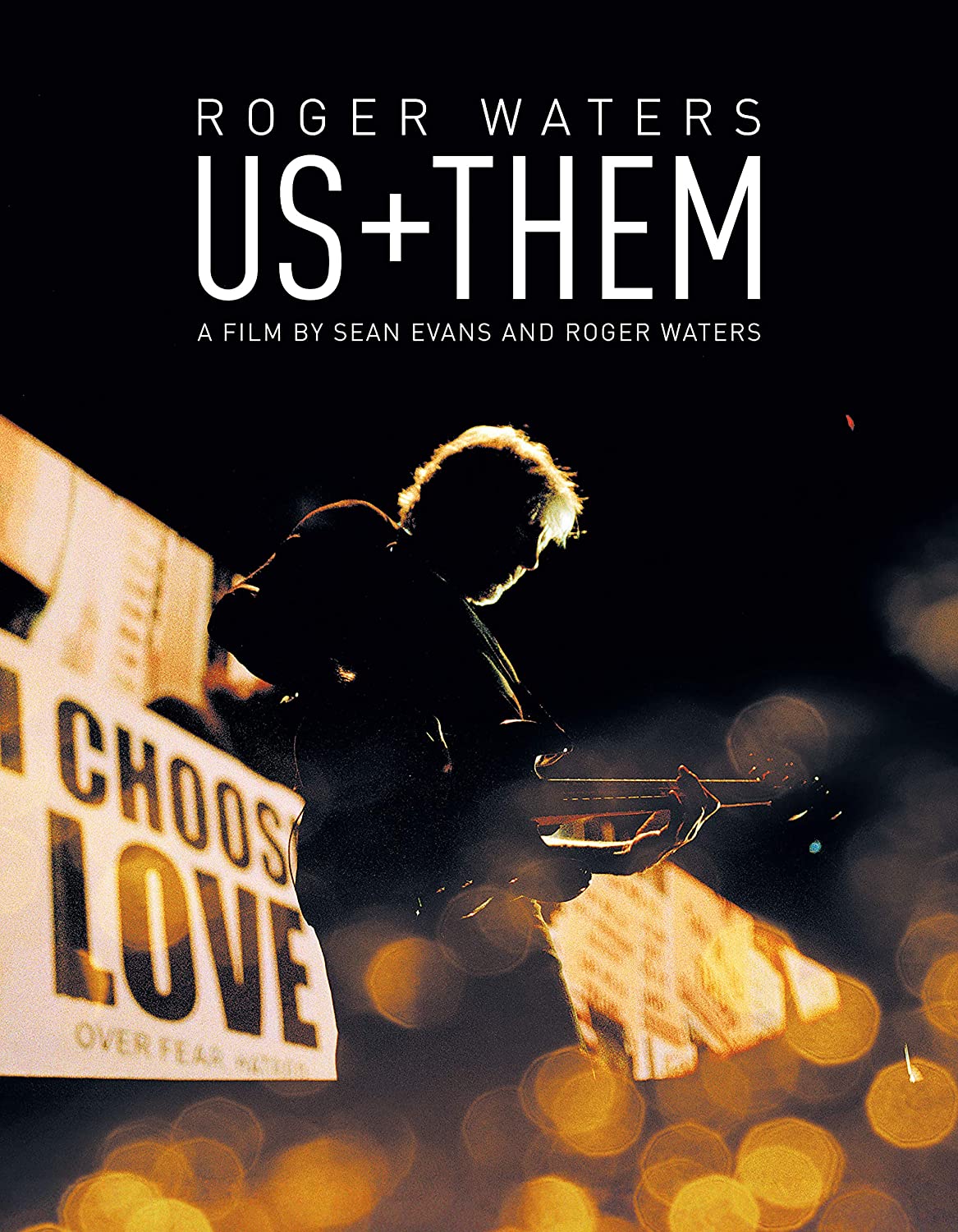 A concert film from Pink Floyd co-founder Roger Waters has finally gotten its release on various audio and video formats, including DVD and Blu-Ray. Roger Waters Us + Them was filmed during his 2017 – 2018 "Us + Them" tour and had played in theaters last fall. Watch several performances below from the Oct. 2, 2020, release below.
[Waters, who turned 77 on September 6, had plans for another big tour, called "This is Not a Drill." Though it wasn't scheduled to commence until July 8, he recognized the scope of the pandemic early, when he announced its postponement on March 27.
The new 2021 dates have not yet been determined. When it does begin, the all-new tour will present the Pink Floyd singer-songwriter-bass guitarist in the round, for the first time.]
The original July 10, 2019, announcement of the film describes it as a "state-of- the-art visual production" with "breath-taking sound." The movie was filmed at the Ziggo Dome in Amsterdam, the Netherlands in 2018, during the European leg of his tour, which saw Waters perform to over two million people worldwide. Roger Waters Us + Them features songs from the legendary Floyd albums The Dark Side of the Moon, The Wall, Animals, and Wish You Were Here, and from his 2017 album, Is This The Life We Really Want.
Watch the performance of "The Happiest Days of Our Loves" / "Another Brick in the Wall (Parts 2 and 3)"
The home video edition includes two songs that were not featured in the theatrical release, "Comfortably Numb" and "Smell the Roses." See the complete track listing below.
Roger Waters Us + Them had its premiere at the Venice Film Festival in summer 2019.
On May 18, 2020, Waters went public with his complaint that David Gilmour wasn't allowing Waters to have access to Pink Floyd's social media accounts to promote his projects.
Watch the trailer
The bass guitarist, singer and songwriter performed four 2018 concerts at the Ziggo Dome in Amsterdam, the Netherlands, on June 18-19 and June 22-23.
Waters collaborated with Sean Evans, the director of the acclaimed movie, Roger Waters The Wall.
Watch The Dark Side of the Moon's "Time" from the film
Watch the performance of the title track
Watch a clip of "Dogs"
Related: Our review of the dress rehearsal of Waters' Us + Them tour
ROGER WATERS: US + THEM BLU-RAY and DVD INCLUDES:
1.Intro
2.Speak To Me
3.Breathe
4.One of These Days
5.Time
6.Breathe (Reprise)
7.The Great Gig in the Sky
8.Welcome to the Machine
9.Déjà Vu
10.The Last Refugee
11.Picture That
12.Wish You Were Here
13.The Happiest Days of Our Lives
14.Another Brick in the Wall Part 2
15.Another Brick in the Wall Part 3
16.Dogs
17.Pigs (Three Different Ones)
18.Money
19.Us & Them
20.Brain Damage
21.Eclipse
22.The Last Refugee (Reprise)
23.Déjà Vu (Reprise)
Watch "Déjà Vu"
BONUS FOOTAGE INCLUDES:
"A FLEETING GLIMPSE" (Documentary)
"COMFORTABLY NUMB" (Live Performance)
"SMELL THE ROSES" (Live Performance)
BAND:
Dave Kilminster: Guitars
Bo Koster: Keyboards
Jon Carin: Keyboards and Guitars
Lucius – Jess Wolfe & Holly Laessig: Vocals
Ian Ritchie: Saxophone
Gus Seyffert: Guitars and Bass
Jonathan Wilson: Guitars and Vocals
Joey Waronker: Drums

Latest posts by Best Classic Bands Staff
(see all)