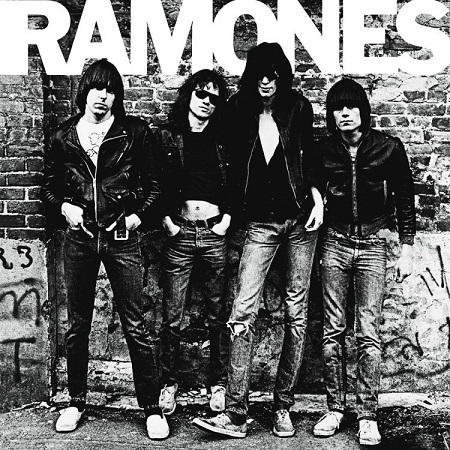 To commemorate the release of the Ramones' 1976 self-titled debut, Rhino is issuing a limited edition version including stereo and mono mixes of the original album, plus rarities, as well as previously unreleased demos and live show. The 3-CD/1-LP collection, Ramones: 40th Anniversary Deluxe Edition will significantly broaden the original's brief 29 minutes of punk rock magic originally delivered by Johnny, Joey, Dee Dee and Tommy Ramone.
The collection, packaged in a 12 x 12 hardcover book, will be available on September 9 and is limited to 19,760 individually numbered copies. Order one here and watch the unboxing video below.
Ramones helped launch the punk rock scenes in both America and Britain with songs such as album opener "Blitzkrieg Bop" plus "Judy is a Punk," "I Wanna Be Your Boyfriend" and "Let's Dance." Best Classic Bands' Jeff Tamarkin, writing for Allmusic.com, wrote: "rock's mainstream didn't know what hit it."
Original drummer Tommy Ramone described the band's primal sound when he penned their press bio. "The Ramones all originate from Forest Hills and kids who grew up there either became musicians, degenerates or dentists. The Ramones are a little of each," he observed. "Their sound is not unlike a fast drill on a rear molar."
Don't miss a post! Sign up for Best Classic Bands' Newsletter; form is on every page.
The new collection features extensive production notes about the recording of the original album by producer Craig Leon, an essay looking back on the Ramones' early days by rock journalist Mitchell Cohen, along with additional pictures taken by Roberta Bayley, whose iconic photo of the band graces the album's cover.
The first disc features Leon's newly remastered stereo version and mono mix of the album. "The earliest mixes of the album were virtually mono," says Leon. "We had an idea to record at Abbey Road and do both a mono and stereo version of the album, which was unheard of at the time. I'm thrilled that now, 40 years later, we followed through on that original idea." Leon also worked with such iconic acts as Blondie, Talking Heads and Richard Hell & the Voidoids, as well as Rodney Crowell, The Bangles and Cowboy Junkies.
The anniversary edition's second disc spotlights single mixes, outtakes, and demos. Several of those recordings have never been released, including demos for "I Wanna Be Your Boyfriend," "53rd and 3rd," and "Loudmouth."
The third disc captures the band performing two full sets live at The Roxy in West Hollywood, CA on August 12, 1976. While the band's first set has been available before, the evening's second set makes its debut here. Rounding out the set is a 180-gram vinyl LP containing the new mono mix of Ramones.
Hey ho, let's go!
Ramones: 40th Anniversary Deluxe Edition
Track Listing
Disc One: Original Album
Stereo Version
1. "Blitzkrieg Bop"
2. "Beat On The Brat"
3. "Judy Is A Punk"
4. "I Wanna Be Your Boyfriend"
5. "Chain Saw"
6. "Now I Wanna Sniff Some Glue"
7. "I Don't Wanna Go Down To The Basement"
8. "Loudmouth"
9. "Havana Affair"
10. "Listen To My Heart"
11. "53rd & 3rd"
12. "Let's Dance"
13. "I Don't Wanna Walk Around With You"
14. "Today Your Love, Tomorrow The World"
40th Anniversary Mono Mix
15. "Blitzkrieg Bop"*
16. "Beat On The Brat"*
17. "Judy Is A Punk"*
18. "I Wanna Be Your Boyfriend"*
19. "Chain Saw"*
20. "Now I Wanna Sniff Some Glue"*
21. "I Don't Wanna Go Down To The Basement"*
22. "Loudmouth"*
23. "Havana Affair"*
24. "Listen To My Heart"*
25. "53rd & 3rd"*
26. "Let's Dance"*
27. "I Don't Wanna Walk Around With You"*
28. "Today Your Love, Tomorrow The World"*
Disc Two: Single Mixes, Outtakes, and Demos
1. "Blitzkrieg Bop" (Original Stereo Single Version)
2. "Blitzkrieg Bop" (Original Mono Single Version)
3. "I Wanna Be Your Boyfriend" (Original Stereo Single Version)
4. "I Wanna Be Your Boyfriend" (Original Mono Single Version)
5. "Today Your Love, Tomorrow The World" (Original Uncensored Vocals)*
6. "I Don't Care" (Demo)
7. "53rd & 3rd" (Demo)*
8. "Loudmouth" (Demo)*
9. "Chain Saw" (Demo)*
10. "You Never Should Have Opened That Door" (Demo)
11. "I Wanna Be Your Boyfriend" (Demo)*
12. "I Can't Be" (Demo)
13. "Today Your Love, Tomorrow The World" (Demo)*
14. "I Don't Wanna Walk Around With You" (Demo)*
15. "Now I Wanna Sniff Some Glue" (Demo)
16. "I Don't Wanna Be Learned/I Don't Wanna Be Tamed" (Demo)
17. "You're Gonna Kill That Girl" (Demo)*
18. "What's Your Name" (Demo)
Disc Three: Live at The Roxy (8/12/76)
Set One
1. "Loudmouth"
2. "Beat On The Brat"
3. "Blitzkrieg Bop"
4. "I Remember You"
5. "Glad To See You Go"
6. "Chain Saw"
7. "53rd & 3rd"
8. "I Wanna Be Your Boyfriend"
9. "Havana Affair"
10. "Listen To My Heart"
11. "California Sun"
12. "Judy Is A Punk"
13. "I Don't Wanna Walk Around With You"
14. "Today Your Love, Tomorrow The World"
15. "Now I Wanna Sniff Some Glue"
16. "Let's Dance"
Set Two
17. "Loudmouth"*
18. "Beat On The Brat"*
19. "Blitzkrieg Bop"*
20. "I Remember You"*
21. "Glad To See You Go"*
22. "Chain Saw"*
23. "53rd & 3rd"*
24. "I Wanna Be Your Boyfriend"*
25. "Havana Affair"*
26. "Listen To My Heart"*
27. "California Sun"*
28. "Judy Is A Punk"*
29. "I Don't Wanna Walk Around With You"*
30. "Today Your Love, Tomorrow The World"*
31. "Now I Wanna Sniff Some Glue"*
32. "Let's Dance"*
40th Anniversary Mono Mix
LP Track Listing
1. "Blitzkrieg Bop"*
2. "Beat On The Brat"*
3. "Judy Is A Punk"*
4. "I Wanna Be Your Boyfriend"*
5. "Chain Saw"*
6. "Now I Wanna Sniff Some Glue"*
7. "I Don't Wanna Go Down To The Basement"*
8. "Loudmouth"*
9. "Havana Affair"*
10. "Listen To My Heart"*
11. "53rd & 3rd"*
12. "Let's Dance"*
13. "I Don't Wanna Walk Around With You"*
14. "Today Your Love, Tomorrow The World"*
* Previously Unreleased

Latest posts by Best Classic Bands Staff
(see all)