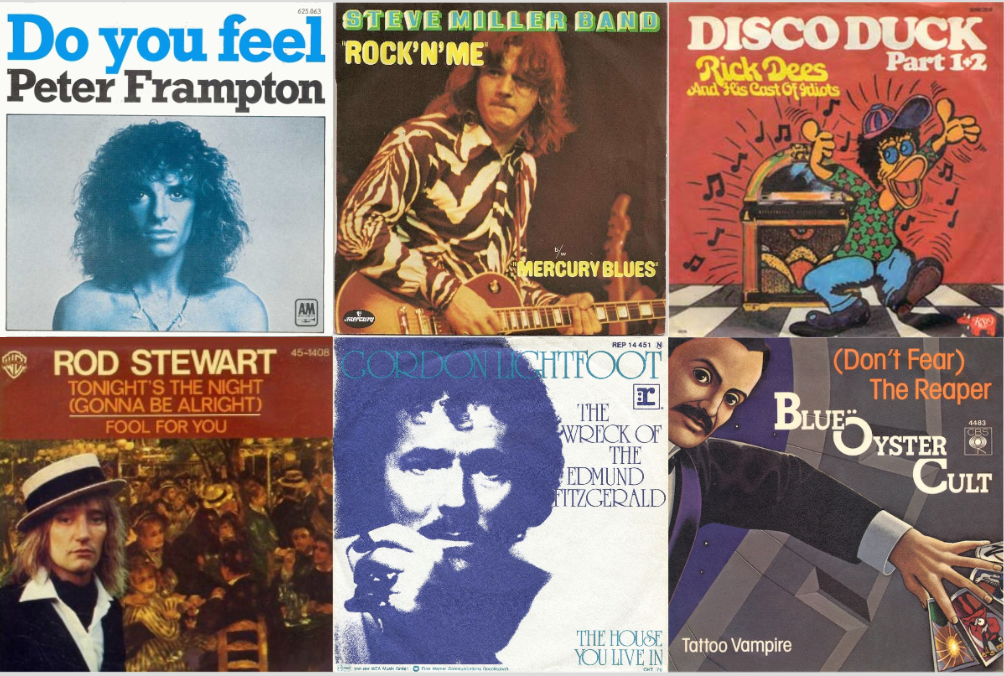 By the mid-'70s, Top 40 radio programmers were leaning less towards rock music and more towards pure pop songs and… disco. A lot of this had to do with the growth of free-form rock radio stations on the FM dial which signaled the beginning of the end for rock music on Top 40.
Case in point, this week's 1976 survey on Chicago's WLS: Bubbling under outside the Top 10 this week… Kiss' "Beth" moved up from #20 to #17. If you knew that the song was their highest-charting single ever–it would peak at #7–give yourself a hand.
Leaping from #26 to #15 was Boston's "More Than a Feeling," their debut single and a classic rock staple.
Related: Watch a great live performance of Boston's huge hit
Rod Stewart's "Tonight's the Night," which jumped this week from #27 to #12, was the start of Sir Roderick's huge comeback. After 1971's #1 "Maggie May," he had no other songs reach the Top 10 until this smash, which would also reach the top. Disconnect the telephone line…
Peter Frampton was in the midst of his gargantuan breakthrough success with his double album, Frampton Comes Alive, which enjoyed 10 weeks at #1 on the Albums Chart and became the year's top seller. Despite that, Top 40 offered Frampton a relative cold shoulder: the album's three singles – "Show Me The Way," "Baby, I Love Your Way" and "Do You Feel Like We Do" (at #10 this week) – peaked at #6, 12 and 10, respectively.
To say that Blue Öyster Cult's "(Don't Fear) The Reaper," which peaked at #12 on the Hot 100, is an outlier for the band is an understatement. (The rock group's only other Top 40 hit was 1981's "Burnin' For You.")
Of course, "Reaper" has enjoyed a second life beyond classic rock radio, thanks to the popular 2000 SNL sketch featuring Will Ferrell and Christopher Walken. Click here for more cowbell!
Related: Our interview with Blue Öyster Cult's lead singer Eric Bloom
There's a British pop singer with sales of more than 250 million records worldwide. He's been knighted thanks to his tremendous success as the leader of the Shadows and as a solo artist. We're talking about Cliff Richard, who despite his international fame, pretty much failed to wow U.S. audiences. "Devil Woman" was his biggest Hot 100 hit, at #6 this week.
Canadian singer-songwriter Gordon Lightfoot was at #4 this week with "The Wreck of the Edmund Fitzgerald," which would peak at #2. The haunting song commemorates the U.S. freighter that capsized during a 1975 storm ("the gales of November") in Lake Superior, and it still gives us chills when we hear the lyric "Fellas, it's been good to know ya."
Related: Our feature on Lightfoot's tale of a ship's crew and its captain
Continuing a nice roll at #3 was the Steve Miller Band, on the way to their second #1 hit with "Rock'N Me." (OK, everybody sing along: "I went from Phoenix, Arizona all the way to Tacoma, Philadelphia, Atlanta, LA.") Their original greatest hits collection has sold over 13 million copies.
At #1 was the novelty hit from radio DJ Rick Dees, "Disco Duck," which featured the sounds of a cartoonish duck. That this song topped the pop charts was not Top 40 radio's finest moment.
Related: 11 Surprising 1970s Radio Hits
But Dees "recovered" and became a hot property with his long-running syndicated show, Weekly Top 40.
17. "Beth" – Kiss (Casablanca)
15. "More Than a Feeling" – Boston (Epic)
12. "Tonight's the Night" – Rod Stewart (Warner Bros.)
10. "Do You Feel Like We Do" – Peter Frampton (A&M)
9. "(Don't Fear) The Reaper" – Blue Öyster Cult (Columbia)
8. "Play That Funky Music" – Wild Cherry (Epic)
7. "This One's For You" – Barry Manilow (Arista)
6. "Devil Woman" – Cliff Richard (Rocket)
5. "Muskrat Love" – Captain & Tennille (A&M)
4. "The Wreck Of The Edmund Fitzgerald" – Gordon Lightfoot (Reprise)
3. "Rock'n Me" – Steve Miller Band (Capitol)
2. "I Only Want To Be With You" – Bay City Rollers (Arista)
1. "Disco Duck" – Rick Dees (RSO)

Latest posts by Best Classic Bands Staff
(see all)