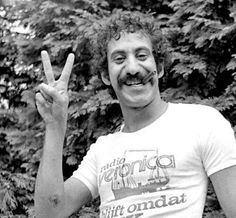 If you lived most anywhere in the northern and eastern heart of America in the 1970s, on a clear night it was easy to hear CKLW, the 50,000 watt clear-channel signal at 800 on the AM band out of Windsor, Ontario, and the Top 40 powerhouse even more associated with the Motor City just across the Detroit River.
And the city's reputation as a haven for classic rock was on full display in this week's survey from 1973.
Bubbling under the Top 10 was Stevie Wonder with the funky "Higher Ground," which debuted at #28. (It would ultimately reach #4 nationally.)
The Allman Brothers Band were about to enjoy the biggest single of their career as "Ramblin' Man" entered the chart at #26. (It eventually reached #2, becoming their only Top 20 hit.)
Paul Simon's "Love Me Like a Rock," jumped from #28 to #17 (on its way to #2).
Rising fast at #10 was Michigan group Grand Funk Railroad's huge hit, "We're An American Band," heading to the very top of the national pop chart and becoming a certified classic rock standard.
Related: The backstory of "We're an American Band"
Charlie Daniels' "Uneasy Rider," a bluegrass-flavored tale about the cultural divide between longhairs and rednecks, was #9.
"Brother Louie" by Stories wailed at #6.
At #5 was Chicago's "Feelin' Stronger Every Day" (which somehow peaked at only #10 nationally).
The #3 spot was held by Wings with their theme song to the James Bond movie Live And Let Die. (It reached #2 on the Hot 100. This was right around the time that the Paul McCartney-led group was starting a serious chart run with nine Top 5 pop singles over the next six years.)
At the top of CKLW's chart this week? Jim Croce's rollicking "Bad, Bad Leroy Brown," a song about a no-good guy from a Midwestern city that was #1 on the national Hot 100 for two weeks and became the overall #2 song for 1973. Sadly, Croce died less than a month later in a crash of his chartered plane after a performance in Louisiana.
Related: Jim Croce: What might have been
(And in case we've piqued your curiosity, #1 for the full year was Tony Orlando and Dawn's "Tie A Yellow Ribbon Round The Ole Oak Tree," which established a symbol to welcome home American troops from Vietnam.)
28. "Higher Ground" – Stevie Wonder (Tamla)
26. "Ramblin' Man" – Allman Brothers Band (Capricorn)
17. "Love Me Like a Rock" – Paul Simon (Columbia)
10. "We're An American Band" – Grand Funk Railroad (Capitol)
9. "Uneasy Rider" – Charlie Daniels (Kama Sutra)
8. "The Morning After" – Maureen McGovern (20th Century)
7. "Get Down" – Gilbert O'Sullivan (MAM)
6. "Brother Louie" – Stories (Kama Sutra)
5. "Feelin' Stronger Every Day" – Chicago (Columbia)
4. "Monster Mash" – Bobby "Boris" Pickett (Parrot)
3. "Live And Let Die" – Wings (Apple)
2. "Delta Dawn" – Helen Reddy (Capitol)
1. "Bad, Bad Leroy Brown" – Jim Croce (ABC)
Related: The #1 singles of 1973

Latest posts by Best Classic Bands Staff
(see all)