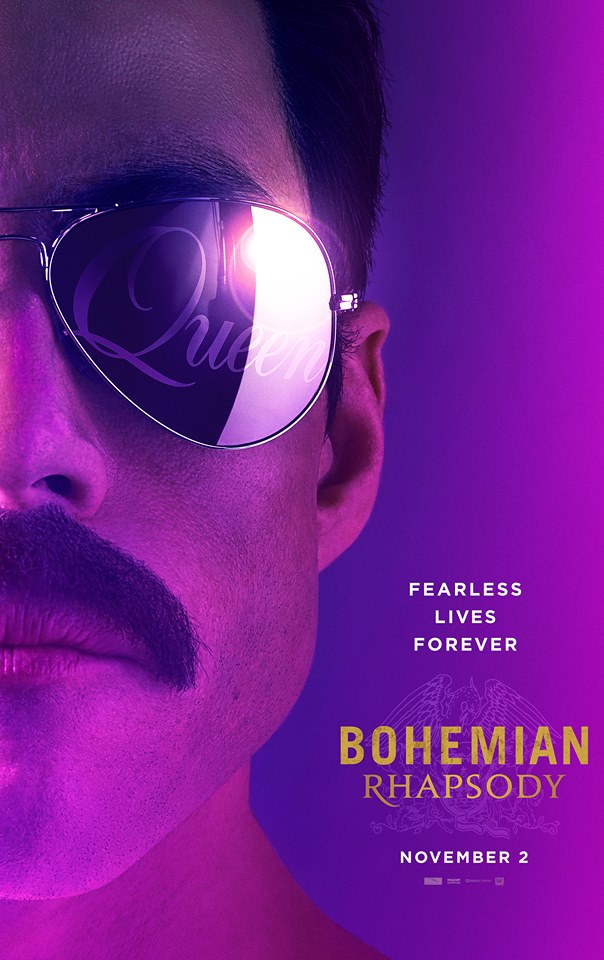 The third trailer for the Queen biopic, Bohemian Rhapsody, was released on October 16. The film, from Twentieth-Century Fox, is scheduled for release on Oct. 24 in the U.K. and Nov. 2 in the U.S. It will have its world premiere at London's SSE Arena in Wembley on Oct. 23. [Rotten Tomatoes indicates the film has an enormous "Want to See" rating of 97%, though as of October 22 that was based on just 1561 respondents.]
"I want to give the audience a song that they can perform," says Brian May's character, as he claps his hands.
Watch the new trailer below.
Queen's Brian May and Roger Taylor are among the film's producers. Filming was well underway when things went topsy-turvy following the Thanksgiving break as director Bryan Singer failed to return to the London set. On Dec. 1, 2017, production was halted "due to the unexpected availability" of the director. Five days later, British actor-director Dexter Fletcher (2016's Eddie the Eagle) was hired to replace Singer and finish the picture.
Rami Malek (TV's Mr. Robot) portrays legendary Queen frontman, Freddie Mercury; Ben Hardy (X-Men: Apocalypse, Mary Shelley, Only the Brave) plays Roger Taylor; Gwilym Lee (The Hollow Crown, Jamestown) plays Brian May; Joe Mazzello (The Social Network, G.I. Joe: Retaliation) plays John Deacon. Lucy Boynton (Murder on the Orient Express) stars as Mercury's lifelong companion, Mary Austin.
The film's soundtrack includes their July 1985 Live Aid performances of "Bohemian Rhapsody," "Radio Ga Ga," "Hammer to Fall" and "We Are the Champions." The album also features other rare live tracks spanning Queen's entire career, new versions of classic rock favorites, and a selection of the band's studio recordings.
Watch the "We Will Rock You" trailer, released Oct. 16
The film is described in a release as "a foot-stomping celebration of Queen, their music and their extraordinary lead singer Freddie Mercury, who defied stereotypes and shattered convention to become one of the most beloved entertainers on the planet. The film traces the meteoric rise of the band through their iconic songs and revolutionary sound, their near-implosion as Mercury's lifestyle spirals out of control, and their triumphant reunion on the eve of Live Aid, where Mercury, facing a life-threatening illness, leads the band in one of the greatest performances in the history of rock music."
Watch the second Bohemian Rhapsody trailer, released July 16
The first trailer was released on May 15. "So now what," asks Brian May's character after performing the title song's famous guitar solo. "This is when the operatic section comes in," replies Freddie Mercury's character, with a big grin, from behind the control board.
Watch the first Bohemian Rhapsody trailer
When the first photos were released on April 26, May said in a statement: "I'm thrilled with the way our Freddie film is shaping up. Much more than a documentary of someone's life, it's a piece of pure art, chiselled out of solid rock. It speaks of families and relationships and hopes and dreams, and heartache and disappointment, and ultimately of victory and fulfilment, in a way that everyone can connect to. It hasn't been an easy journey – but all the most worthwhile journeys are like that! Rami and Lucy and the boys give monumental performances – more than worthy of the originals !!"
Watch the "Becoming Queen" clip, released October 18
Related: Our Album Rewind of Queen's A Night at the Opera

Latest posts by Best Classic Bands Staff
(see all)