Guitarist/vocalist Peter Green, who co-founded Fleetwood Mac more than 50 years ago, was the subject of a celebratory concert held at the London Palladium on Feb. 25, 2020. The all-star event, billed as "Mick Fleetwood and Friends Celebrate the Music of Peter Green and the Early Years of Fleetwood Mac," featured such acolytes as David Gilmour, Pete Townshend (who was not originally listed on the bill), Billy Gibbons, Christine McVie, Steven Tyler, and others.
The event was filmed for an audio-video collection. A Super Deluxe edition, comprised of 4-LPs/2-CDs/Blu-ray, as well as other configurations, originally scheduled for Oct. 16, 2020, was released on April 30, 2021.
Watch many of the performances below.
On April 8, a clip was shared of David Gilmour performing "Albatross" on pedal steel guitar.
On the one year anniversary of the concert, a performance of "Rattlesnake Shake" with Steven Tyler and Billy Gibbons was released.
Original Fleetwood Mac member, Jeremy Spencer, made a surprise appearance, performing on "The Sky is Crying" and "I Can't Hold On." The guitarist left the band in 1971. Watch his performance and several others, via fan videos, below.
Related: Green died five months later, in July 2020
Others on the bill included Neil Finn, who joined Fleetwood Mac for their recent tour, former Rolling Stones bassist Bill Wyman, John Mayall, Zak Starkey, Jonny Lang, Kirk Hammett, Noel Gallagher, and Rick Vito.
Last Dec. 4, a performance of "The Green Manalishi (With the Two Prong Crown)," led by Fleetwood, Gibbons and Hammett (playing Green's legendary 1959 Les Paul) became the first official release.
Clips from members of the audience have been available since the performance.
McVie sang "Stop Messin' Around" and "Looking For Somebody."
Townshend sang lead on "Station Man," from Fleetwood Mac's early Kiln House album.
Listen to many more performances below the links.
Watch the official trailer for the concert film
Before performing "Man of the World, Finn said, "Tonight I get to pay my respects to the man who started it all, Peter Green. He wrote songs that were sad, tender and truthful."
The Feb. 25 celebratory concert was at the intimate London Palladium, which seats less than 2300.
Gibbons and Tyler were featured on "Oh Well (Part 1)."
Fleetwood, Dave Bronze, Andy Fairweather Low, and Ricky Peterson served as the house band. See the setlist below.
With the legendary Glyn Johns serving as the executive sound producer, the concert was recorded for release in a variety of formats, including a Super Deluxe Edition box set consisting of 4-LPs/2-CDs/Blu-ray. A film of the concert, directed by Martyn Atkins, will screen in theaters in various countries on June 2 and June 7.
The event sold out almost instantly. The proceeds of the concert will benefit the Teenage Cancer Trust.
Just eight days earlier, another mighty assemblage of rock legends took place on a different London stage, to celebrate the musical life of Ginger Baker, who died at 80 on October 6, 2019. That show was organized by Eric Clapton, and included fellow British rockers Steve Winwood, Ronnie Wood, Roger Waters, and more.
Guitarist Green, drummer Fleetwood and bassist John McVie were all members of John Mayall's Bluesbreakers when they recorded a handful of songs together (one of them an instrumental titled "Fleetwood Mac," named after the rhythm section). A short while later, Green and Fleetwood broke away to start their own band, joined by second guitarist Jeremy Spencer and bassist Bob Brunning. The latter was replaced a few weeks later by McVie and the new group took on the wordy name Peter Green's Fleetwood Mac featuring Jeremy Spencer. Green left the group in April 1970.
Listen to Spencer and Bill Wyman perform "The Sky is Crying"
Before introducing Gilmour, and his performance, on pedal steel guitar, of the Green composition, "Albatross," Fleetwood said, "In 1969, after a long, long night driving back from a gig way up north… I was looking for a way to keep awake. I had the radio on. The Beatles were talking about an album that had come out that day, Abbey Road. Either George or John said, 'This is where we do our "Albatross" thing, like Fleetwood Mac.' Our minds were truly blown."
Fleetwood then dedicated its performance to Green and to George Harrison, whose birthday it was on the day of this concert.
The entire lineup returned for the evening's final song, a rousing performance of "Shake Your Moneymaker."
Mick Fleetwood and Friends Celebrate the Music of Peter Green and the Early Years of Fleetwood Mac Setlist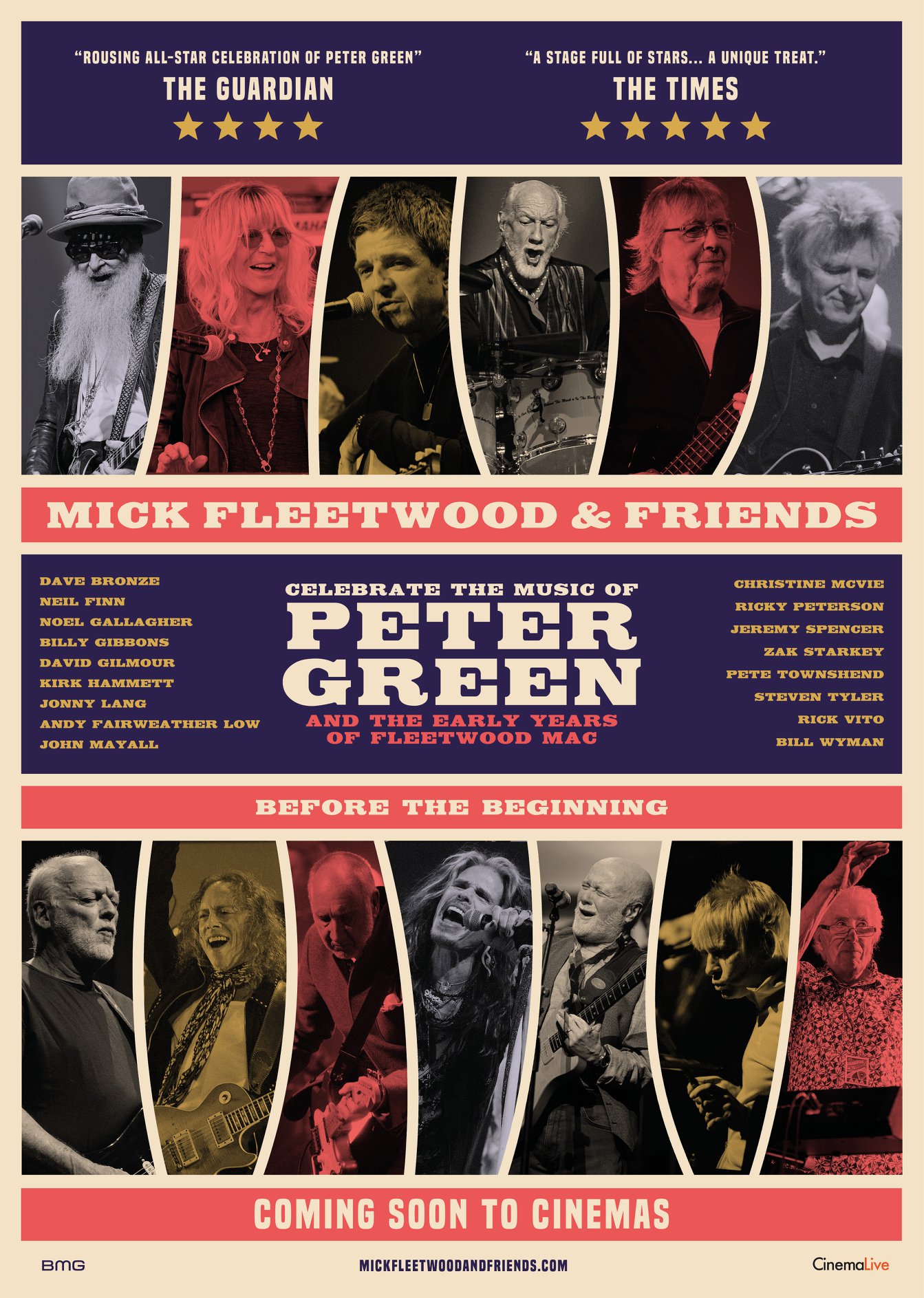 Rollin' Man
Homework
Doctor Brown (with Billy Gibbons)
All Your Love
Rattlesnake Shake (with Steven Tyler)
Stop Messin' Around (with Christine McVie)
Looking For Somebody (with Christine McVie)
Sandy Mary (with Noel Gallagher)
Love That Burns (with Noel Gallagher)
The World Keeps Turning (with Noel Gallagher)
Like Crying
No Place To Go
Station Man (with Pete Townshend)
Man of the World (with Neil Finn)
Oh Well, Part 1 (with Billy Gibbons and Steven Tyler)
Oh Well, Part 2 (with David Gilmour)
Need Your Love So Bad
Black Magic Woman
The Sky is Crying (with Jeremy Spencer)
I Can't Hold On (with Jeremy Spencer)
The Green Manalishi (with Billy Gibbons and Kirk Hammett)
Albatross (with David Gilmour)
Shake Your Moneymaker
Watch the official rehearsal trailer, released on the day of the concert
When the Green concert was announced on Nov. 11, 2019, Fleetwood said, "The concert is a celebration of those early blues days where we all began, and it's important to recognize the profound impact Peter and the early Fleetwood Mac had on the world of music. Peter was my greatest mentor and it gives me such joy to pay tribute to his incredible talent. I am honored to be sharing the stage with some of the many artists Peter has inspired over the years and who share my great respect for this remarkable musician."

Latest posts by Best Classic Bands Staff
(see all)