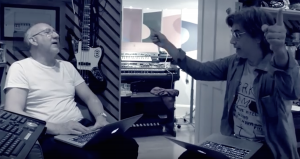 It's been a while since we heard Pete Townshend sing lead vocals on a new recording, so it was with obvious interest that we listened to the new collaboration he did with Jean-Michel Jarre entitled "Travelator, Pt. 2."
While he hasn't been in the U.S. spotlight recently, the French composer is an electronic music pioneer, with an estimated 80 million records sold during a career that began in the 1970s. He enjoyed a worldwide hit with his 1976 album Oxygène.
Jarre's new album, Electronica 1: The Time Machine (via Sony Music Germany), features 16 collaborations with, among others, Vince Clarke of Erasure, Moby, the late Edgar Froese of Tangerine Dream, Laurie Anderson and Townshend.
Jarre says: "I wanted to gather around me, people from different generations, people who have influenced me, who are a constant source of inspiration. Gathering a kind of tribe of different friends. Today, because everyone is doing electronic music, there is no boundary anymore."
Pete Townshend and dance music are somewhat strange bedfellows but so was The Who's "Eminence Front" when it appeared on the group's 1982 LP It's Hard.
"Travelator, Pt. 2" is a fun, uptempo track ("move your feet to the beat") and we look forward to dancing to the song this fall. Have a listen…

Latest posts by Best Classic Bands Staff
(see all)