As part of a well-choreographed promotional campaign for his upcoming studio album, Egypt Station, and accompanying "Freshen Up" tour, Paul McCartney returned to Liverpool today (July 25) for an interview at the Liverpool Institute for Performing Arts. The wide-ranging "Casual Conversation" (in Macca speak), streamed live via Facebook, covered his schooldays there when he would occasionally be caned by a tormenting headmaster known as "the Baz," sharing pranks and collaborating on songs with John Lennon, musicians he admired (notably Elvis Presley and Frank Sinatra) and, of course, his new album.
Earlier this week, McCartney reenacted the Beatles famous walk across Abbey Road and followed it by playing a surprise concert at London's Abbey Road Studios. He's said he plans to do several club dates this year and revealed to the crowd assembled at LIPA's auditorium that there would be another surprise concert in Liverpool the next evening, which turned out to be at the Cavern Club.
In the 70-minute interview with Jarvis Cocker, McCartney talked about trading in a trumpet that his father had given him for his birthday when the guitar craze came along. "You met a lot of friends who had guitars… it's where I met George. He used to get on the bus the stop after I did. It was about a half an hour ride to school, and we developed our friendship and started talking about guitars and learn chords off each other.
"It was a craze… rock 'n' roll was coming in from skiffle. I remember sitting here [gestures to the auditorium] in the pews with a copy of a music paper, the NME, and seeing a picture of Elvis… wow!… we were just enthralled with this guy and when we heard his records that was it. We wanted to be like that; that's how we wanted to live.
"We just fell for the whole thing… we thought he was a great singer, had a great sense of humor, made great records."
On writing and recording "Hey Jude" 50 years ago, on July 31 – Aug. 1, 1968: "I played it to John and he liked it. There was one line in it that I thought I was going to change and I'm [playing it and singing] 'the movement you need is on your shoulder' and I turn around and say 'I'll be changing that, don't worry' and he says 'You won't you know. It's the best line in it.' So he signed off on it.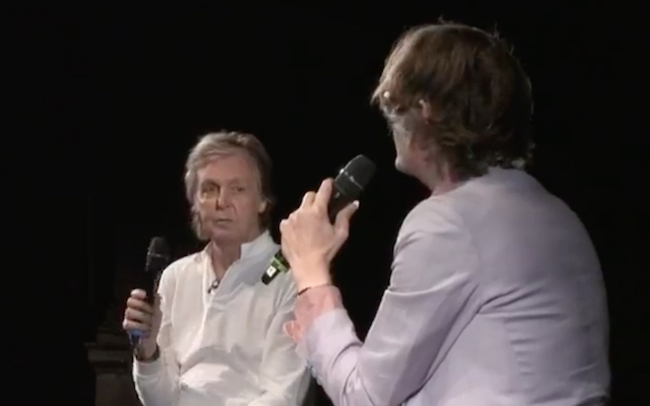 "We went into [the studio]. We always used to work only during the day but as we got more and more successful, we'd heard that people like Frank Sinatra worked through the night, so we said 'we'll have some of that!' that became a sort of cool thing to do."
On the Beatles early recording sessions: "We came down from Liverpool and got our first recording contract with Sir George Martin, bless him. We were told what they wanted us to do 'cause they were grownups and we were twenty something. They just said 'show up at 10 o'clock, get ready, tune up and then at 10:30 the producer will come in. And from there you'll have one-and-a-half hours to finish that song… completely.'
"We never thought of the pressure because we didn't know anything else! So George Martin would come down after me and John would have written the song the week before. We'd bring it in on Monday morning and only me and John knew it. So we had a couple of acoustic guitars and we'd just sing it. George and Ringo would watch and George would clock the chords and Ringo would come up with the beat and we would just start recording. That was the only time you had… you did it. And then you had to do another song. And you would knock off by five-ish and you had put four songs in the can. We had hard working days and the evenings off."
Watch the complete interview
Paul McCartney in Casual Conversation with special guest Jarvis Cocker at The Liverpool Institute for Performing Arts
#EgyptStation

Posted by Paul McCartney on Wednesday, July 25, 2018
Paul McCartney 2018 Tour Dates (Tickets for the North American dates are available here and here)
Sep 17 – Quebec City, QC – Videotron Centre
Sep 20 – Montreal, QC – Bell Centre
Sep 28 – Winnipeg, MB – Bell MTS Place
Sep 30 – Edmonton, AB – Rogers Place
Oct 05 – Austin, TX – Zilker Park
Oct 12 – Austin, TX – Zilker Park
Dec 03 – Krakow, Poland – Tauron Arena
Dec 05 – Vienna, Austria – Vienna Stadhalle
Dec 06 – Vienna, Austria – Vienna Stadhalle
Dec 12 – Liverpool, UK – Echo Arena
Dec 14 – Glasgow, UK – SSE Hydro
Dec 16 – London, UK – 02 Arena
Related: Links for 100s of classic rock tours

The BCB team brings you the latest Breaking News, Contests, On This Day rock history stories, Classic Videos, retro-Charts and more.

Latest posts by Best Classic Bands Staff (see all)