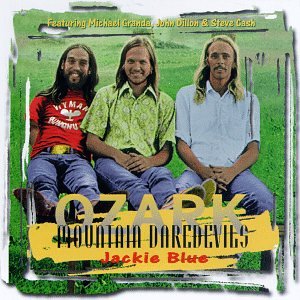 The country-rock band the Ozark Mountain Daredevils were formed in 1972 in Springfield, Mo., by Randle Chowning, John Dillon, Larry Lee, Steve Cash, and several others, and were signed to A&M Records by in-house producer David Anderle, who was said to be looking for an Eagles-type band.
Anderle paired the group with record producer Glyn Johns, best known for his work with the Rolling Stones and The Who, and they recorded and released their self-titled debut in 1973. The album rose to #26 on the U.S. sales chart thanks in large part to the success of their harmonica-led, debut single, "If You Wanna Get to Heaven," written by Cash and Dillon, which reached #25 on the Hot 100.
The song, with its prominent use of harmonica, features the lyrics: "If you want a drink of water, you got to get it from a well. If you want to get to heaven, you got to raise a little hell."
A second album, It'll Shine When It Shines, went even further than its predecessor, peaking at #19. When the album's first single failed to chart, a second song was released to radio, "Jackie Blue." The pleasing track, co-written by the band's drummer, Larry Lee, and Cash, reached #3 on the Hot 100 and #1 on Record World on May 17, 1975.
The group continued to record and release albums throughout the '70s amid personnel changes but none achieved the success of the first two.
Cash, one of the band's founding members, died October 13, 2019, after an extended illness. The band announced his passing on their Facebook page. Cash was 73. No cause of death was revealed.
He sang, and played harmonica (which his bandmate John Dillon urged him to learn), as well as percussion and keyboards. That's his harmonica on "If You Want to Get to Heaven."
The band made the following statement about Cash's passing:
"It is with great sorrow that we have to inform you that one of our founding partners, Steve Cash, passed away this past weekend.
Steve Cash spent 48 years pouring his heart and soul into this band. He was our poet laureate, an amazingly talented harp player, but more importantly, he was our friend and brother and that presence cannot be replaced.
We ask that you send good thoughts to his family in this difficult time. Steve Cash may be gone from this Earth, but his lyrics and music will live on forever."
Cash left the band briefly in the early '80s but returned, though the group never again achieved national success. He told the Springfield (Mo.) News Leader, ""I think it has a lot to do with the fact that we live here in Springfield and are out of that LA-Nashville-New York connection," he said. "We don't have a manager in any of those places, and it puts us out of touch. I've talked to a lot of record executives who say 'I didn't know you guys were still alive.'"

Latest posts by Best Classic Bands Staff
(see all)