Nancy Wilson of Heart: An Intimate Conversation
by Russell Hall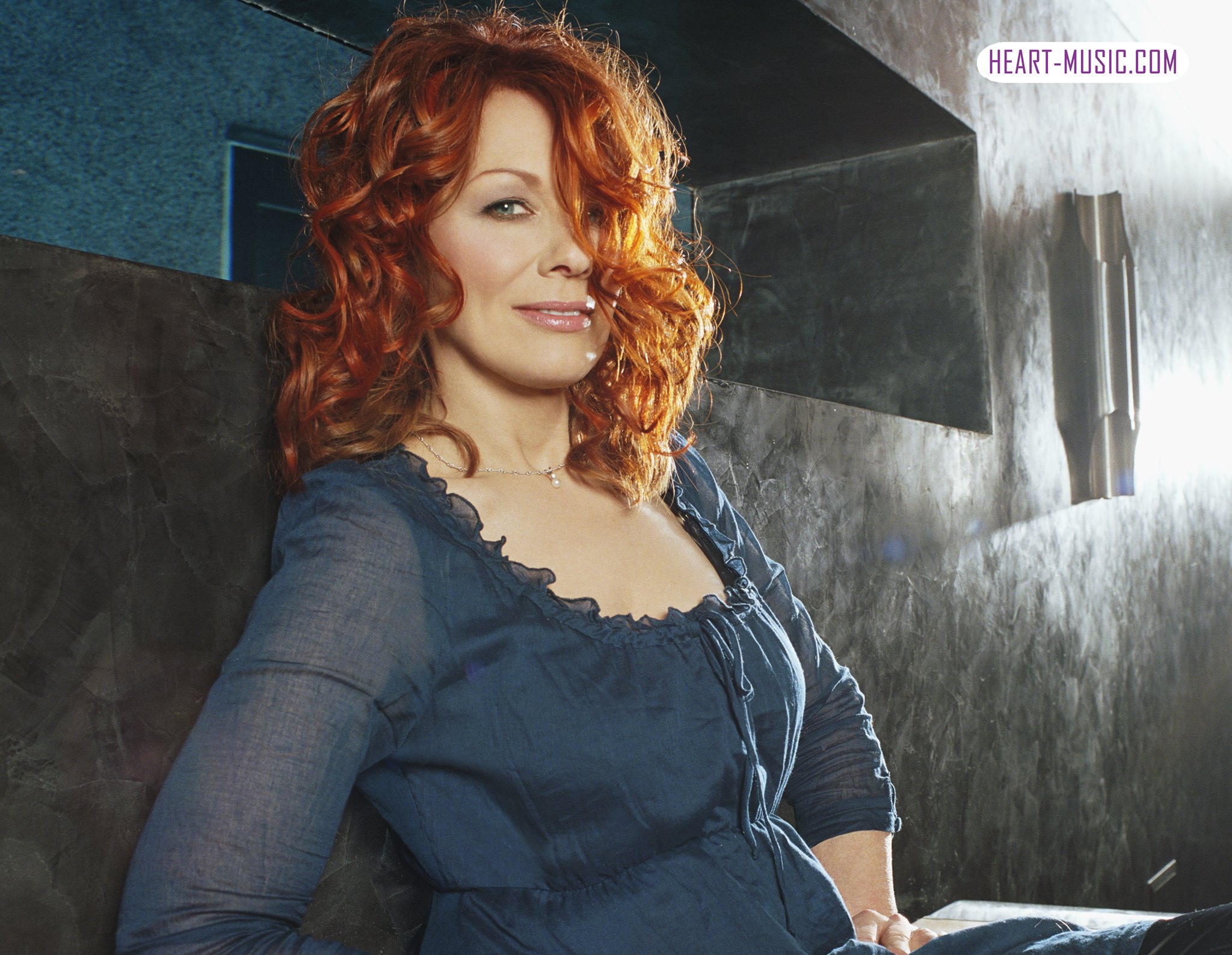 [This interview originally appeared on Best Classic Bands in April 2017. Since then, she and sister Ann have solved their differences and are performing together again as Heart.
She talks about the band's legacy below.]
Hard to believe, but more than four decades have passed since Heart released Dreamboat Annie, the landmark debut album that featured the classic rock gems "Magic Man" and "Crazy on You." Fronted by the sister team of Ann and Nancy Wilson—the former a powerhouse singer, the latter an exceptionally gifted guitarist—Heart subsequently became a fixture on the road and on radio, filling the airwaves with such smash hits as "Barracuda," "Straight On" and "These Dreams." There have been fallow periods, to be sure, but to this day the Wilson sisters' fierce work ethic has kept Heart vibrantly alive.
Although they long ago solidified their reputation as classic rock icons, the Wilson sisters have continued to push forward creatively, releasing Heart albums every three or four years and maintaining a grueling tour schedule. The past five years have been exceptionally active, marked by prestigious recognition and renewed vigor. In December 2012, Ann and Nancy were asked to perform "Stairway to Heaven" at the annual Kennedy Center Honors, in a tribute to their British hard-rock counterparts, Led Zeppelin. The sisters' stirring rendition—which featured orchestral backing along with two choirs—triggered tears of joy from Robert Plant and went viral on social media. A few months later, in April 2013, Heart was honored with induction into the Rock and Roll Hall of Fame.
Related: Our 2021 interview with Nancy Wilson
Meanwhile, the albums have continued to come, with 2016's studio LP, Beautiful Broken, earning rave reviews and breaking into the Top 10 on the Rock Album Charts.
Of course, any band that's endured as long as Heart has is bound to experience occasional tribulations. Unfortunately, at present, the group is undergoing a rough patch as the Wilson sisters seek to repair a family rift that occurred late last summer. Details are beyond the scope of this article, but in brief, Ann's husband pleaded guilty in March to non-felony assault charges related to a confrontation with Nancy's two teenaged sons. Each sister expressed optimism that time will be the great healer. You can read the details here.
[Ann pushed forward with a lengthy solo tour; Nancy formed a new band that sought to inject simmering R&B into her rock roots. Fronted by Prince protégé Liv Warfield, the aptly dubbed Roadcase Royale featured Wilson on rhythm guitar, Warfield's guitarist Ryan Waters on lead and Heart veterans Dan Rothchild, Ben Smith and Chris Joyner on bass, drums and keyboards, respectively.
On September 22, 2017, Roadcase Royale released their first album, First Things First, by Loud & Proud Records. The album was timed to coincide with the band's opening slot for Bob Seger's big 2017arena tour. But after a dozen or so dates, the tour was postponed, due to Seger's medical issues.]
Watch Roadcase Royale perform a Heart favorite
Nancy Wilson shared her thoughts with Best Classic Bands on a range of topics—including the path that Heart blazed for women in rock, the impact the Beatles had on her and Ann, and the ingredients that have elevated a trove of Heart songs to classic status. She also addressed the controversy that was hanging over the band. First, however, we asked her about the Roadcase Royale project.
You met Liv Warfield and her band when they opened for Heart in 2016 at the Hollywood Bowl. How did that lead to forming Roadcase Royale?
Nancy Wilson: It was interesting. Liv and I became friends, really fast. On that last night, it was like, "Why don't we be the people who say we're going to get together, and then actually do it?" A few months later I met with Liv and her guitar player, Ryan Waters, in New York, to talk about maybe doing something together. We talked over a bunch of ideas, and then I talked with some of my band members. I wanted my two rhythm-section guys and my keyboard player to come into the new band with Liv and her guitar player, Ryan Waters, and try something. We set it all up, and after the Heart tour was finished, we all got together in L.A. and went to a rehearsal space. We were like, okay, this might be kind of embarrassing—everybody getting to know everybody a little bit—but let's see what happens. So we kind of dipped our toe into that water, and it was instantly great. We had a rapport, we had great humor, we played well together and suddenly we were writing a new song. It was like, "Wow, this is it—this works!" We kept going and did another session where we wrote more songs and re-learned some Heart songs. All of a sudden we were recording.
Did you have a style of music in mind from the start?
It's funny. Liv was already trying to move away a little bit from R&B, from soul, and go a bit more in a rock 'n' roll direction. And I love sort of sliding into R&B styles. Between her coming toward "rock," and me going towards "soul," I think we created our own sound—a sound that's different from what you normally hear out there. It's definitely a rock band, but there's R&B involved.
Let's talk about Heart. In retrospect it seems that you and Ann were the first women to achieve success fronting a hard rock band without sacrificing some of your femininity. Do you agree?
I do. I think maybe it's because we came from a sort of romantic, "rose colored glasses" background, but also from a family that was strong and capable, a military family. Plus there were two of us—two women—in the front-and-center role, in a big live rock band, with men and women playing together. That was the difference between us and a lot of other female rock acts. We weren't afraid to be romantic gypsies. We were also coming from a kind of folk-rock ethic, not unlike what Led Zeppelin did, except with two women in front. That was our ideology. I think a lot of girls felt they had to try to put the toughest appearance forward in order to sing and play rock guitar. We just had this other place we came from, where we didn't go into it feeling like we had to compete in the world of men. We started in folk music and made our way to rock.
Was there a point where you recognized that you were blazing a trail, that besides making great music you were also carrying a banner
People would say that to us all the time: "You're pioneers for women in rock!" We were like, "Uh, okay." We just did what we wanted to do. But we also happened to have a strong mother in our lives. She was a fiercely independent, self-educated woman from a military background. Both my parents were pretty enlightened. They encouraged us to follow our bliss, as they used to put it. They gave us permission to get out there and do that, without a lot of gender specifics. But [being a woman] did make it harder on many levels. It was harder to be taken seriously. "See, I actually play the guitar—it's not a prop. I'm actually doing this for real. We're not just ornamental up there—we're the creators and the front people." It was interesting to see how shocking we appeared to everyone else, when we were just doing what felt natural for us.
Related: BCB's review of Heart's Beautiful Broken
There are so many classic Heart songs. Do you have a sense of what makes a song endure?
I'm really happy about that, happy that in addition to maintaining this great thing we call Heart, the songs themselves have floated as well. One of the reasons is that we were steeped in the music of the late '60s and early '70s—the Beatles, Led Zeppelin, Joni Mitchell, Paul Simon, so many amazing bands and writers. We felt that was our territory, to also try to write about things that weren't just shallow, girl-boy relationship stuff, but things that were more poetic, that touched people on a human level. "Dog and Butterfly," for instance, offers sort of a Zen lesson. And "Barracuda" addresses how much you want to call out somebody when they're an asshole sometimes. People can certainly relate to that. And of course there's the music. The music and the words need to describe each other.
Some bands that emerged in the '70s have essentially become "oldies" acts. How has Heart avoided that?
We love putting together new material, and continuing to update. It's like being in a marriage where you want to renew your vows every five years or so. It's also about remembering what you started out trying to do, instead of just resting on your laurels and letting the songs be a cash cow. A "jukebox" situation is not where the band wants to be, and it's not where I want us to be. Keeping things fresh is definitely tough, especially when you're on tour as much as we are. But that's okay—it works.
You and Ann saw the Beatles perform live when you were just young schoolgirls. What was that experience like?
It was transformative, really cool just to be in the same room. We were already fanatical about the Beatles. In 1966 they came to the Seattle Coliseum and played live for about 30 minutes. You could almost hear them. (laughs) Even prior to that performance, we already had a band, with four girls. Our mom made us costumes that looked like the Beatles' costumes, except with skirts instead of slacks. We took our binoculars to the show, and we weren't screaming. We were really trying to see and hear them. We didn't want to marry them—we wanted to be them. And in a way, we sort of got to do that.
People still talk about the performance of "Stairway to Heaven" at the Kennedy Center Honors. Were you surprised by the attention that performance received?
At the time, as we actually performed it, we couldn't tell how it was going over. We were super nervous—after all, it's only "Stairway to "Heaven," in front of the president and Led Zeppelin and everybody else who was there. No pressure, right? There were really big butterflies, right up until the moment we stepped out there. Ann and I took a deep breath, looked at each other, bumped our skull rings and walked out onstage. We were thinking, "Try not to be nervous, get through it, play it deliberately and carefully and well." I felt we did a good job, but we didn't realize [how special it was] until we saw how it had been put together—saw how Led Zeppelin reacted, and saw how beautifully it played, with all the various reveals that came throughout the song. Not to mention that Jason Bonham was the drummer. I'm sure that was a factor in why it was so emotional for Led Zeppelin to see that performance played out in front of them.
Watch Nancy and Ann Wilson perform "Stairway to Heaven" at the Kennedy Center Honors
You and Ann are currently going through a rough patch. Are you confident you will resolve your differences, and Heart will continue forward?
In anybody's story there's going to be some low valleys—it's called "life." Life deals you some rough stuff once in a while. We've lived and worked through so many years together. It's sort of like living in a submarine with your sister, your family and your band's family. The main focus for me now is to concentrate on my relationship with Ann, to make sure we survive as friends and as sisters, together, more than focusing on the rock band Heart. Time is the ultimate healer. Right now it's about regaining our balance as a family.
[Heart had a big 2019 reunion tour.]
Related: Sisters Nancy and Ann performed together on stage in March 2019
What are you most proud of, when you consider Heart's legacy?
There are certain songs that I'm always going to feel happy to be part of creating—how much they affect people, how much people love those songs, and how they become the soundtrack to people's lives. I love putting more love into the world, with songs. It means a lot to people, and even means survival to people, sometimes. I'm also proud that a couple of sisters were able to break down a lot of the barriers that existed before we were out there—for women, but also for humans in general. Any culture is only as good as how they treat and view their women.

Latest posts by Russell Hall
(see all)