Terry Jones, a founding member of the famed British comedy troupe Monty Python, and the director of Life of Brian and The Meaning of Life, is suffering from dementia. The BBC reported that Jones, who is 74, has primary progressive aphasia, which affects his ability to communicate. The news of Jones' condition was revealed as the Welsh affiliate of the British Academy of Film and Television Arts (BAFTA) announced that Jones (who was born in Wales) would receive its BAFTA Special Award for Outstanding Contribution to Film and Television.
Update: Jones died on Jan. 21, 2020
BAFTA, on its website, stated that Jones was "proud and honored to be recognized in this way and looking forward to the celebrations."
On September 24, fellow Python Michael Palin posted this on his Facebook page: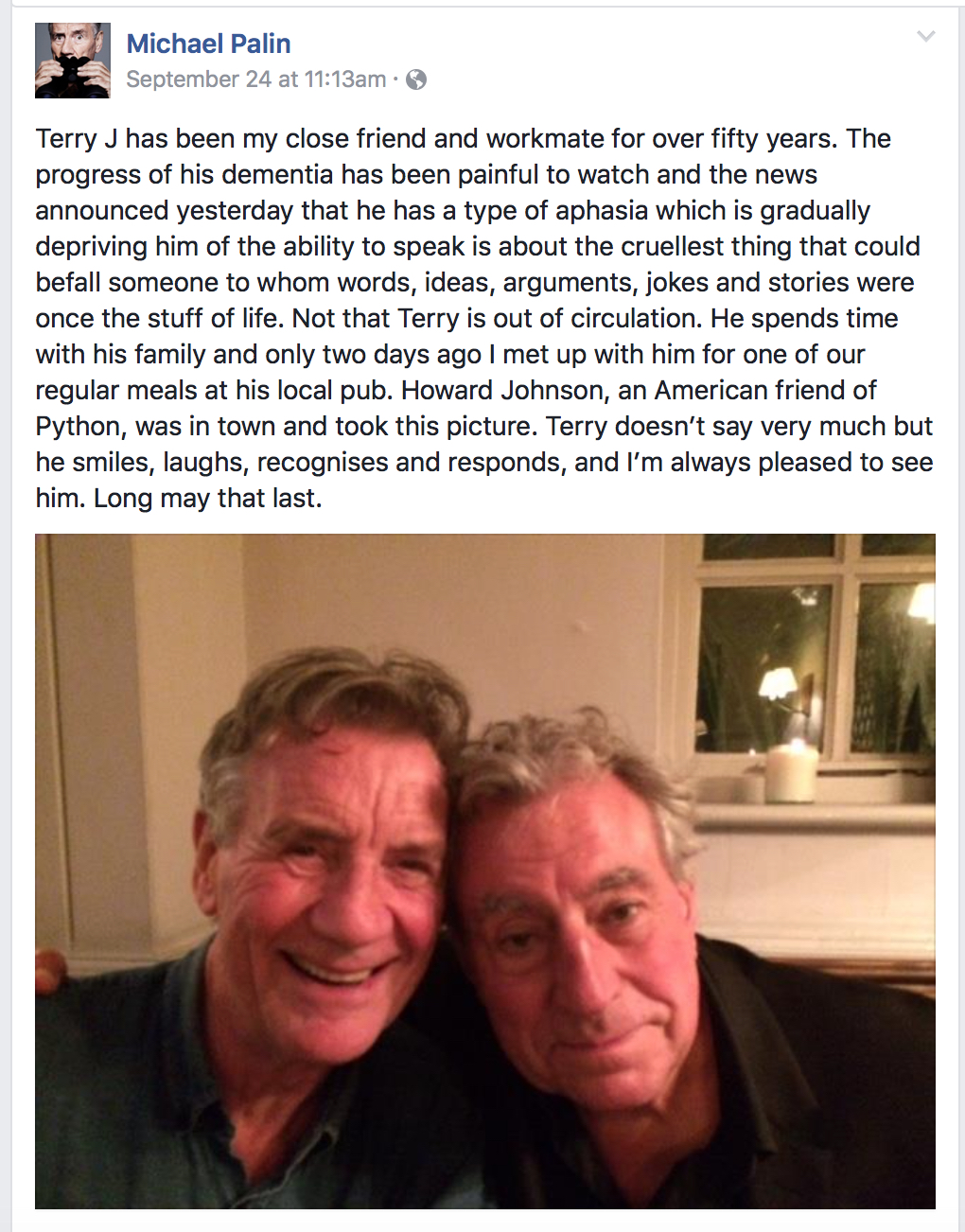 Jones started the comedy sextet with Terry Gilliam, John Cleese, Eric Idle, Palin and the late Graham Chapman. Initially, they starred in Monty Python's Flying Circus, which first aired on the BBC in 1969. They produced 45 episodes over four seasons, writing and performing their own sketches. Monty Python went on to make films and create other projects; they called it quits in 1983, with all of its members turning to solo careers, although there were reunions at various times, as recently as 2014.
Watch Terry Jones (as the older gentleman) in the Monty Python's Flying Circus sketch "Nudge Nudge"…
In addition to his work with Monty Python, Jones has written books and screenplays and his poems have appeared in Poetry Review. He wrote the first draft of the screenplay for Labyrinth, a 1986 film directed by Jim Henson, which counted David Bowie among its stars. He also wrote works for children, including Fantastic Stories, The Beast with a Thousand Teeth and a collection called The Curse of the Vampire's Socks.
Watch nine seconds of classic Python…
Don't miss a post; sign up for Best Classic Bands' Newsletter; form is on every page.

Latest posts by Best Classic Bands Staff
(see all)