This year marks just over five decades since the start of Monkee-mania – the day that four mop-headed young men made their breakthrough television debut. The Monkees was an instant hit and the perfect vehicle to promote the group's albums. Despite winning two Emmy Awards including Outstanding Comedy Series, it was canceled after only two seasons, but the quartet left an indelible mark on popular culture and music with hits like "Last Train To Clarksville," "I'm A Believer" and "Daydream Believer." The Monkees have moved up the release of their first new studio album in 20 years, Good Times!, to May 27, as they commence a massive 40+ date tour in Fort Myers, Florida on May 18th, set to wrap up in late October in Shippensburg, PA.
All three surviving band members (Micky Dolenz, Michael Nesmith, and Peter Tork) have written new songs for the album as well as providing vocals and music performances. The unmistakable voice of the late Davy Jones is also included with a vintage vocal on the Neil Diamond-penned "Love To Love."
Good Times! also features songs from indie and classic rock rock figures Rivers Cuomo (Weezer), Ben Gibbard (Death Cab for Cutie), Andy Partridge (XTC) and Zach Rogue (Rogue Wave). Noel Gallagher and Paul Weller have collaborated on a tune. Adam Schlesinger of Fountains of Wayne produced the album.
Here's the lyric video for the Cuomo-penned "She Makes Me Laugh"…
The Monkees completed many songs for Good Times! that were originally written and recorded for the group during the 60s. The late Harry Nilsson wrote the title track, which he recorded at a session with Nesmith in 1968. The production was never completed, so the band returned to the original session tape (featuring Nilsson's guide vocal) and have created a duet with his close friend Dolenz. "Good Times" will mark the first time Dolenz and Nilsson have sung together since Dolenz' 1973 single "Daybreak." Here's Nilsson's original demo…
The album also includes the Neil Diamond-penned "Love To Love," the Carole King and Gerry Goffin collaboration "I Wasn't Born To Follow," "Whatever's Right," written by legendary songwriting duo Tommy Boyce and Bobby Hart, who were responsible for many of the classic Monkees hits, and "Gotta Give It Time," by Jeff Barry and Joey Levine. (See full track listing below.)
Original members Dolenz and Tork will take part in the tour, sans Jones, who died in 2012, and Nesmith, who hasn't participated in most reunion shows despite being invited.
In other Monkees news, the band will release the entire series of The Monkees television show on Blu-ray for the very first time. All 58 episodes have been restored in high-definition from the original film negatives. The 10-disc Blu-ray collection also includes the 1968 cult-classic film, Head, along with many never-before-seen outtakes. The collection, limited to 10,000 individually numbered pieces, will now be available on June 24 and can be purchased exclusively at Monkees.com.
The Monkees amassed a dozen Top 40 hits, including three #1s. Between September 1966 and December 1967, "Last Train To Clarksville," "I'm A Believer," and "Daydream Believer" collectively occupied the top position for 12 weeks. Other Top 5 hits included the Diamond-penned "A Little Bit Me, A Little Bit You," " Valleri" and "Pleasant Valley Sunday."
Their debut album, The Monkees, occupied the #1 position for 13 consecutive weeks, and More Of The Monkees for 18 weeks. Both Headquarters and Pisces, Aquarius, Capricorn & Jones Ltd. went to the top as well, for a four-in-a-row feat in just 13 months. The final tally: 16 million albums and 7.5 million singles sold in a mere 2 1/2 years.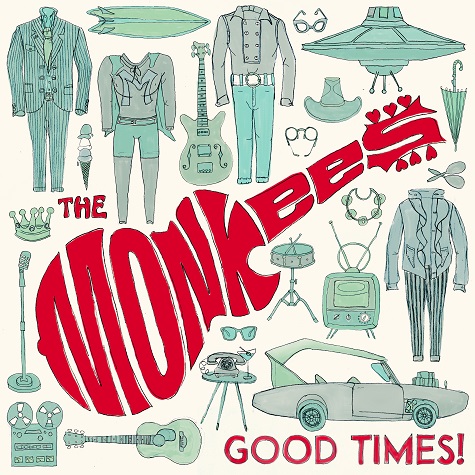 Good Times! Track Listing (with songwriters noted)
1. "Good Times" (Harry Nilsson)
2. "You Bring The Summer" (Andy Partridge)
3. "She Makes Me Laugh" (Rivers Cuomo)
4. "Our Own World" (Adam Schlesinger)
5. "Gotta Give It Time" (Jeff Barry/Joey Levine)
6. "Me & Magdalena" (Ben Gibbard)
7. "Whatever's Right" (Tommy Boyce/Bobby Hart)
8. "Love To Love" (Neil Diamond)
9. "Little Girl" (Peter Tork)
10. "Birth Of An Accidental Hipster" (Noel Gallagher/Paul Weller)
11. "I Wasn't Born To Follow" (Carole King/Gerry Goffin)
12. "I Know What I Know" (Michael Nesmith)
13. "I Was There (And I'm Told I Had A Good Time)" (Micky Dolenz/Adam Schlesinger)
The Monkees 2016 Tour Dates (Click here for tickets)
May
18 Fort Myers, FL – Barbara B. Mann Performing Arts Hall
19 Melbourne, FL – King Center for the Performing Arts
20 Tampa, FL – Ruth Eckerd Hall
21 Atlanta, GA – Frederick Brown Jr. Amphitheater
24 Charlotte, NC – Blumenthal PAC – Belk Theater
26 Washington, DC – Warner Theatre
27 Boston, MA – The Wilbur Theatre
28 Philadelphia, PA – Keswick Theatre
29 Red Bank, NJ – Count Basie Theatre
June
1 New York, NY – The Town Hall
3 Toronto, ON – Casino Rama – Entertainment Centre
4 Windsor, ON – The Colosseum at Caesars Windsor
5 Cleveland, OH – Hard Rock Live Northfield Park
7 Fort Wayne, IN – Foellinger Theatre
8 Grand Rapids, MI – Meijer Gardens Amphitheater
10 Louisville, KY – Louisville Palace Theatre
11 Hammond, IN – The Venue At Horseshoe Casino
12 Indianapolis, IN – Murat Theatre at Old National Centre
14 Dayton, OH – Rose Music Center at The Heights
16 Salt Lake City, UT – Red Butte Garden Amphitheatre
28 Dallas, TX – AT&T PAC – Winspear Opera House
30 Tulsa, OK – Hard Rock Hotel & Casino – The Joint
July
1 Mayetta, KS – Prairie Band Casino & Resort
14 Ottawa, ON – Lebreton Flats Park
16 Hampton Beach, NH – Hampton Beach Casino Ballroom
22 Hot Springs, AR – Oaklawn Racing and Gaming – Finish Line Theater
24 Augusta, GA – Bell Auditorium
August
6 Reno, NV – Grand Sierra Resort
September
4 Vancouver, BC – PNE Amphitheatre
14 Tucson, AZ – Fox Tucson Theatre
15 Phoenix, AZ – Mesa Arts Center – Ikeda Theater
16 Los Angeles, CA – Pantages Theatre
17 Las Vegas, NV – Primm Valley Casino Resorts – Star of the Desert Arena
20 San Francisco, CA – The Warfield
21 Modesto, CA – Gallo Center For The Arts
23 Lincoln City, OR – Chinook Winds Casino Resort
24 Lincoln City, OR – Chinook Winds Casino Resort
25 Seattle, WA – The Moore Theatre
29 Austin, TX – Paramount Theatre
October
1 Biloxi, MS – Hard Rock Biloxi
3 Branson, MO – Welk Resort Theatre
21 Anaheim, CA – City National Grove Of Anaheim
22 Paso Robles, CA – Vina Robles Amphitheatre
29 Shippensburg, PA – Shippensburg University – H. Ric Luhrs PAC

Latest posts by Best Classic Bands Staff
(see all)