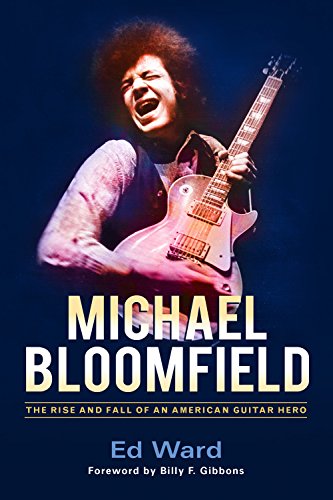 On this day (Feb. 15) in 1981, we lost one of the first major guitar heroes of the 1960s, Michael Bloomfield. Two new books published in 2016 celebrated his legacy. Here is what we said…
Around the same time that Eric Clapton and Jimmy Page were just getting their names known around London, and before anyone knew about some cat named Jimi, America had a homegrown guitar hero of its own, Michael Bloomfield. The Chicago-born blues maven was tearing it up as a member of the local Paul Butterfield Blues Band (whose landmark album East-West was released 50 years ago this month) and helping to make rock history as Bob Dylan's electric guitarist of choice on his 1965 game-changer "Like a Rolling Stone" and the album it led off, Highway 61 Revisited.
Bloomfield, who died of a drug overdose in 1981 at age 37, has not been treated well by history. He's only just been inducted into the Rock and Roll Hall of Fame last year, as a member of the Butterfield Band, and is rarely mentioned within the classic rock press despite his profound influence on other guitarists.
Here's Bloomfield performing with the Electric Flag at the Monterey Pop Festival in 1967…
Now two books are attempting to remind rock and blues fans of the importance—and sheer genius—of Bloomfield. Michael Bloomfield: The Rise and Fall of an American Guitar Hero is an updated version of a biography by Ed Ward, first published in 1983. The book includes much new content, including interviews (among them a famous one from 1968 with Rolling Stone founder Jann Wenner). And, particularly useful, it includes a comprehensive, nearly 60-page discography of Bloomfield's work, likely to be the final word on the recordings he created during his all-too-brief stay. (Available here.)
Related: When Dylan went electric at Newport
The second newly available Bloomfield tome is an Original Amazon Kindle Single titled The Last Night of the Guitar Virtuoso, written by Aaron Skirboll. Says the author, "Beyond Bloomfield's music and his incredible story as a 13-year-old learning to play guitar at Chicago clubs at the feet of blues masters like Muddy Waters, Howlin' Wolf and Little Walter, and his days with Butterfield and Dylan, the story explores my search to find answers to his mysterious unsolved death in 1981." You can purchase it here for just $2.99.

Latest posts by Best Classic Bands Staff
(see all)