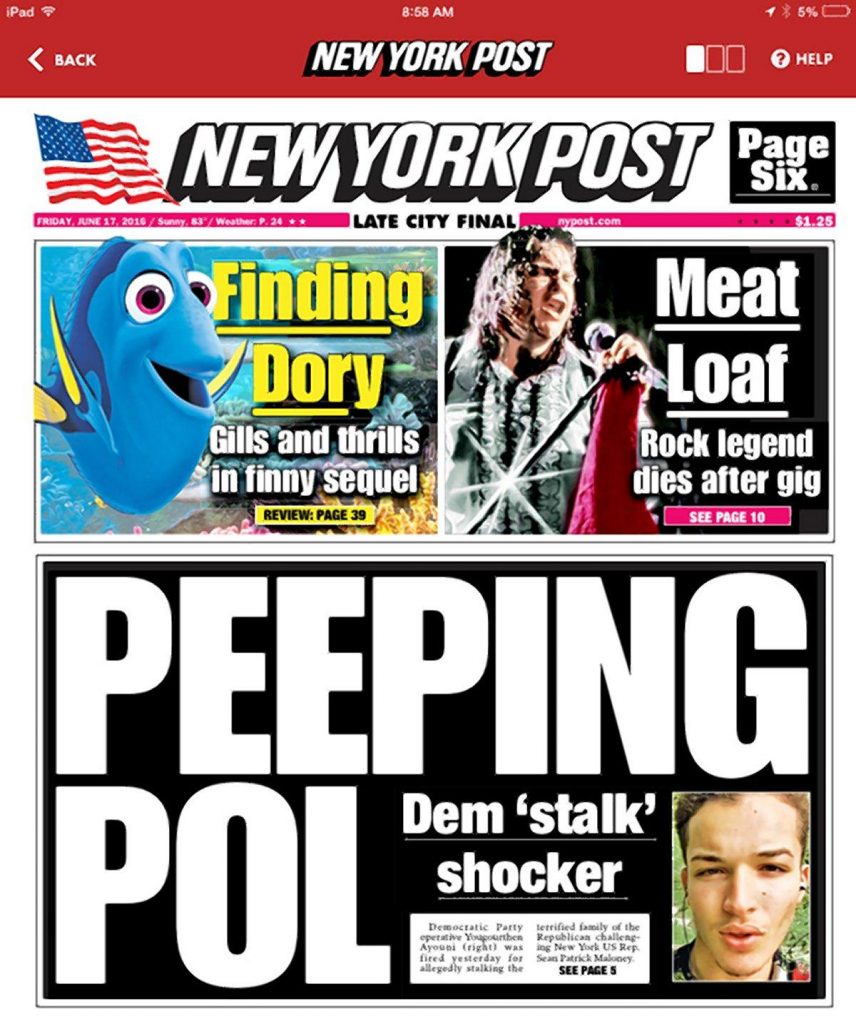 "The reports of my death have been greatly exaggerated," Mark Twain aka Samuel Clemens was once fortunate enough to say. In 2016, Marvin Lee Aday pka far and wide as Meat Loaf could say that, too.
Yes, the Bat Out of Hell singer did fall onto the stage during a concert on June 16, 2016 in Edmonton, Canada in the middle of his already show-stopping song "I'd Do Anything for Love." (See the video below.)
No, he was not dead as the New York Post clumsily reported on the cover of some of its editions.
Instead, as his Facebook page told us, Meat was OK, still with us, let's not get too bent out of shape here.
Further confirming the facts, Meat Loaf's publicist Jeremy Westby told USA Today that "the singer was suffering from severe dehydration when he collapsed near the end of his show at the Northern Jubilee Auditorium. 'He extends his heartfelt thanks for everyone's support and well-wishes and is expecting to make a speedy and full recovery.'"
This was not the first time that Meat Loaf had collapsed onstage. He did so in London in 2003 and was then diagnosed with an irregular heartbeat condition called Wolff-Parkinson-White syndrome. As USA Today also mentioned, he "fainted during a concert in July 2011, in Pittsburgh. After several minutes on the ground, Meat Loaf got back up and finished his show." Meat Loaf attributed that incident to an asthma attack. He is known as a performer who gives his all onstage, and from early on after Bat Out of Hell launched him to stardom in 1977, he has on occasion performed with an oxygen tank beside the stage to keep him going.
Meat Loaf told USA Today in 2015 "that he expects he'll die onstage. He has even drawn up a list of instructions for the band should that premonition come true. 'If it's too morbid to leave me lying there, then they'll take me off, and the band will play When the Saints Go Marching In. Then the piano player will play Take Me Out to the Ballgame and the band will get everybody to stand up and sing. Even if I'm dead, the show's going on.'" The latter song choice references Meat Loaf's longtime passion for playing softball.
As a side note, the Post's NYC tabloid competitor the New York Daily News had some fun with the other paper's gaffe, observing, "What a bunch of meat heads."
Less than a week after collapsing, Meat Loaf returned like a bat out of hell to the stage on June 21 in Lethbridge, Canada.
The larger-than-life classic rock star died in 2022.
Watch a fan video of Meat Loaf singing "I'd Do Anything For Love," at his "comeback" performance on June 21, the same number he was singing when he collapsed in Edmonton
Related: The inside story of the Bat Out of Hell album

Latest posts by Best Classic Bands Staff
(see all)