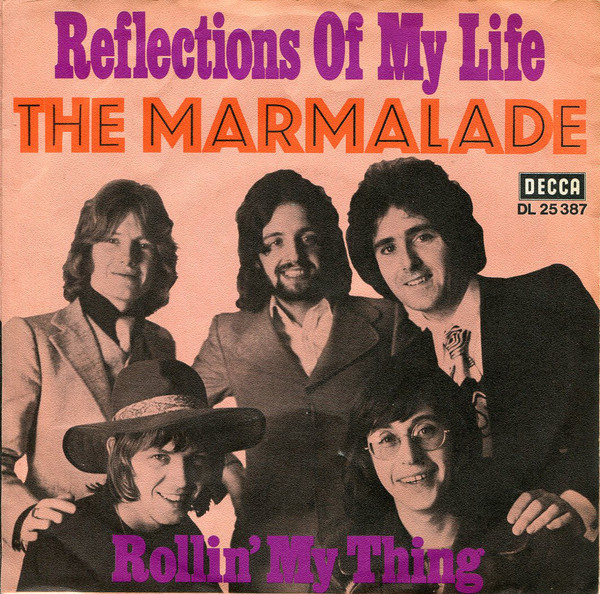 Dean Ford, the lead vocalist of the Scottish band Marmalade, best known for their 1969-70 hit single, "Reflections of My Life," died December 31, 2018. Ford, whose real name was Thomas McAleese, was 72. His daughter, Tracey McAleese Gorman, noted in a Facebook post that her father's cause of death was due to complications from Parkinson's disease.
From 1968 to 1976, Marmalade scored eight Top 10 hits in the U.K., one of which topped the chart: a cover of the Beatles' "Ob-La-Di, Ob-La-Da." But it was "Reflections of My Life," which reached #3 in the U.K. and #7 in the U.S. on May 23, 1970, that ultimately earned them their worldwide fame.
The song was written by Ford/McAleese and his frequent songwriting partner, Marmalade keyboardist/guitarist, William "Junior" Campbell. The group also included Graham Knight on bass guitar, Alan Whitehead on drums and Pat Fairley on guitar.
Upon Ford's death, Campbell said, "Just this little guy with big ears and big hands, but from the moment he opened his mouth to sing Roy Orbison's 'In Dreams,'… [I] knew he was something special. He was an exceptional talent and I am privileged and proud to have performed with him, and to have written songs with him… some of which apparently still mean something, to many, all over the world. I loved him dearly."
Ford/McAleese was born Sept. 5, 1945, in North Lanarkshire, Scotland. He formed his first group, the Tonebeats, as a 13-year-old. Several years later, during a performance in Glasgow, to which Campbell refers above, he was asked to join the popular local group, the Gaylords.
Related: Top radio hits of 1970
McAleese took his stage name by combining the first name of Dean Martin and last name of Tennessee Ernie Ford, as the group became billed as Dean Ford and the Gaylords. They relocated to London during the height of the British Invasion and changed names to the Marmalade (ultimately dropping the "the").
"Reflections of My Life" was recorded in October 1969, with added brass and strings, and released in the U.K. in November 1969 and in March 1970 in the U.S. On May 23, the single reached #7 on the Record World singles chart.
Several years later, the members went their separate ways and Ford began a solo career. In 1975, he sang two songs on the Alan Parsons Project album, Pyramid.
Years later, Ford fell on hard times. He moved to Los Angeles, where numerous reports note that he became a limousine driver for many music stars, including Michael Jackson and Bob Dylan.
Ford had resumed recording in recent years, releasing an album, This Scottish Heart, in 2018. In 2014, he recorded a beautiful, updated version of "Reflections in My Life," with producer Joe Tansin.

Latest posts by Best Classic Bands Staff
(see all)