"Unless you were in Colorado during the early 1970s, you never heard of Magic Music," so says Lee Aronsohn, well known for his TV work as the Emmy-nominated writer-producer of two hugely successful series, Two and a Half Men and The Big Bang Theory.
Magic Music is one of the most fondly remembered bands of the 1970s' so-called "Boulder Revolution" that included Dan Fogelberg, Stephen Stills, Chris Hillman, Manassas, and many more. They formed in 1970 and lived from hand-to-mouth in the mountains. The band delighted local residents, university students and audiences with their original songs, acoustic instruments, and rich harmonies. They came out of the mountains in school busses and their growing popularity brought them to the brink of success more than once.
They played gigs opening for Cat Stevens, Doc Watson, the Nitty Gritty Dirt Band, and Richie Havens, among others.  They were offered publishing and recording contracts that they never signed, yet they kept touring.
Magic Music broke up in 1976 without ever releasing an album.
Aronsohn was a student at Colorado University – Boulder during the band's heyday and remembered the music decades later. Thanks to his efforts, the band reunited in 2015 to make a film which he directed, 40 Years in the Making: The Magic Music Movie. Since reuniting for the documentary, Magic Music have since been appearing for select performances and are currently booking dates for 2019.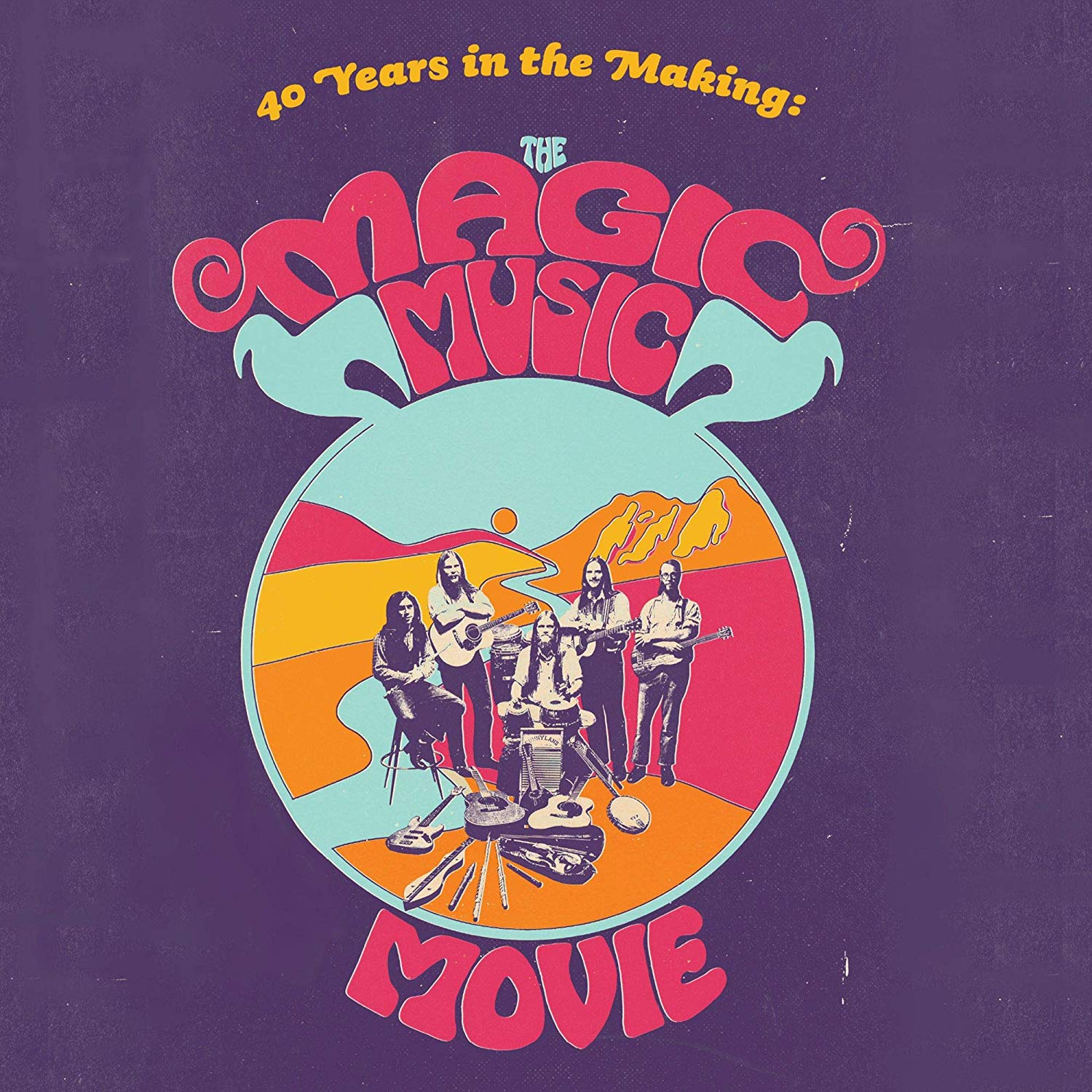 September 14 brings the release, via The Orchard, of 40 Years in the Making: The Magic Music Movie Original Motion Picture Soundtrack, which features the lost recordings of the obscure but influential Colorado band, originally recorded between 1970-1976 but never released. The documentary played numerous film festivals before getting a limited theatrical release in August, receiving rave reviews. It's now available for streaming. (See the trailer below.)
Magic Music is George Cahill (Tode), Chris Daniels (Spoons), Rob Galloway (Poonah), Will Luckey (Wilbur) and Kevin Milburn (CW). Past members include Lynn Poyer (Flatbush, deceased) Bill Makepeace (Das) and Pam Nation (Petunia).
The soundtrack includes 22 tracks including fan favorites like "Cedar's Sigh," "Bring the Morning Down," and "Gandy Dancer." The songs are a reflection of the era, capturing the ideals and optimism of mountain life in the 1970s, the celebration of nature, and love.
Watch them perform "Bright Sun Bright Rain"
"We recorded these tracks for various live radio shows, in the studio for broadcast and to give to friends. They are the real-deal: two-track recordings capturing what we did live, no overdubs," remembers Chris "Spoons" Daniels, one of the long-standing members of the band. "They've been mastered to sound fantastic and they sound incredible, capturing the essence of the band and the era."
Watch the trailer for the film
Related: Our feature on Colorado's Caribou Ranch recording studio

Latest posts by Best Classic Bands Staff
(see all)