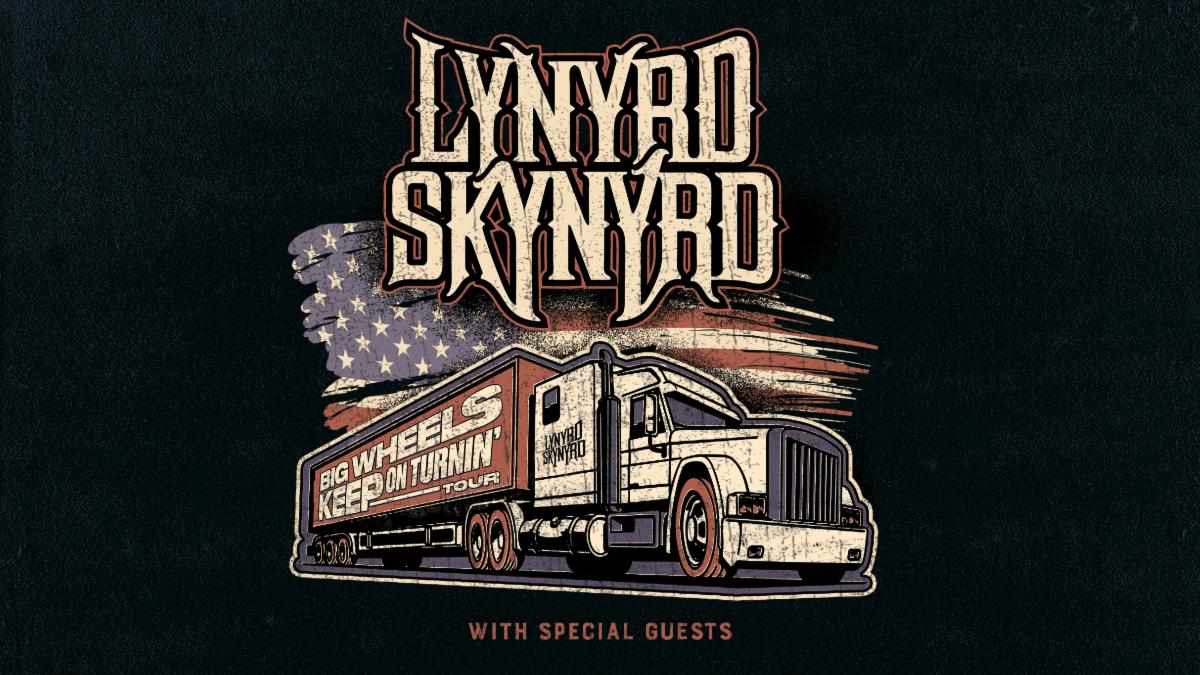 In 2018, Lynyrd Skynyrd announced they would embark on their "Last of the Street Survivors Farewell Tour." The career-concluding run logged over 50 stops by the end of the year.
As original member Gary Rossington told Dan Rather on The Big Interview in 2018, "It takes a long time to finish a farewell tour when you're like us, 'cause we've played everywhere… I keep jokin' it'd take ten years to do the farewell tour."
Perhaps he wasn't kidding. On June 8, 2021, the band announced the post-pandemic resumption of the tour. They've also decided to delay their farewell by switching its name to "Big Wheels Keep on Turnin'."
"We were two shows into the end of the three-year plan for the farewell tour, when the virus hit and everything was just gone," said Johnny Van Zant in the June 8 announcement. "Once something is taken away from you, you truly realize how important it is and such a part of your life. Music is a great healer, and that's what we all turn to when things are good or bad. A Skynyrd show is a family affair, and we want these dates to help heal our fans as much as ourselves."
Rossington added, "Maybe it's not our time to go. And maybe it's our time to lift people's spirits and lives and bring back some joy and happiness after so much turmoil this past year. We're still standing, still keeping the music going."
Thirteen of the "Big Wheels Keep On Turnin'" tour shows will go on sale to the public on June 11 at 10 a.m. local time here. The schedule begins June 13 with shows currently through Nov. 19.
Tesla will perform as support for a majority of the dates, and Kansas, Joan Jett and the Blackhearts, Blackberry Smoke, Allman Betts Band, and the Marshall Tucker Band wrap up the other dates.
The 2019 edition took the band the U.K. and Europe over the summer sandwiched between several dozen North American performances. They returned Stateside for dates that continued through September.
The farewell tour's original name was derived from the Lynyrd Skynyrd song, "The Last of the Street Survivors" and the band's fifth studio album Street Survivors.
The tour features guitarist Rossington joined by Johnny Van Zant (lead vocals), Rickey Medlocke (guitar), Mark "Sparky" Matejka (guitar), Michael Cartellone (drums, percussion), Keith Christopher (bass guitar), Peter Keys (keyboards), Dale Krantz Rossington (vocals), Carol Chase (vocals) and special guest Jim Horn.
They typically perform a 17-song set that's chock-full with some of classic rock's best known anthems: "What's Your Name," "Simple Man," "Gimme Three Steps," "You Got That Right," "Sweet Home Alabama" and their signature song, "Free Bird."
Here's a look at their setlist and performances via fan clips from throughout the tour.
Skynyrd open their shows with an album track from their second release, 1974's Second Helping. The LP was produced by legendary musician Al Kooper, who signed the band. (He's referenced at the end of the first verse as "Mr. Yankee Slicker.) The chorus alludes to hoped-for riches that record labels often dangle in front of acts that they're wooing. "Want you to sign today, Gonna give you lots of money, Workin' for MCA."
Watch them perform the song at the Rock the Ring festival in Switzerland in 2019
It would be impossible to address the band's history without mentioning the tragedy of 1977 when their chartered airplane ran out of fuel due to a faulty engine and crashed, just three days after the release of their fifth studio album. Its title, Street Survivors, and original cover art – depicting the band standing in front of a fiery scene – added to the shocking loss of Ronnie Van Zant, Steve Gaines, Cassie Gaines, assistant road manager Dean Kilpatrick, as well as the pilot and co-pilot.
Street Survivors became their highest charting album and yielded three favorites: "You Got That Right," "That Smell" and "What's Your Name," which became their second-biggest single (#13).
Watch "What's Your Name," at Mohegan Sun Arena in Uncasville, Conn.
Two of the band's co-founders, Allen Collins and Ronnie Van Zant, wrote "That Smell." It's been a rock radio staple since its release.
Watch it performed at the Exit 111 Festival in Tennessee in 2019
Related: How a radio legend and a bottle of Jack saved a Skynyrd concert
The set continues with the third single from Street Survivors, "You Got That Right." The spirited song features the lyrics "I like to drink and to dance all night, Comes to a fix not afraid to fight."
Watch them perform it in Bangor, Maine
In their early years of their recording career, Skynyrd was on a regular timetable, and a new studio album was an annual event. With Al Kooper still behind the boards, they issued Nuthin' Fancy in 1975, their third release, and the first to feature drummer Artimus Pyle. Notably, it was the group's first album to become a Top 10 seller.
Nuthin' Fancy's leadoff track was "Saturday Night Special" and the song about gun control became a Top 40 hit, reaching #27.
Watch it from the front row at the 2019 Holland International Blues Festival
The band has been regularly performing four songs from their 1973 debut album, Pronounced 'Lĕh-'nérd 'Skin-'nérd. Some choices are obvious (see below). The ballad, "Tuesday's Gone," is a setlist regular and yet another written by Collins and Ronnie Van Zant.
Watch their performance in Berlin
As their set approaches the finish line, the band pull out several of their all-time classics. "Can you sing," asked Johnny Van Zant. "Whether you're from Jacksonville, Florida or right here in Belgium… we can all relate to this."
Watch them perform "Simple Man" at the 2019 Graspop festival
When "Gimme Three Steps," from the band's debut album, was first released as a single in 1973, it failed to chart. Rock fans knew better and the song – yet another collaboration from Collins and Van Zant has become one of Skynyrd's signature songs.
Watch it from Erfurt, Germany
The concerts end with a one-two punch, beginning with their biggest charting single.
"Sweet Home Alabama" was co-written by Rossington, Ronnie Van Zant and Ed King, who provided both the "1-2-3" count-off and the familiar opening guitar lick in the classic recording. The song was released as the only single from their classic second album, Second Helping, and reached #8 on the Hot 100.
The band has dedicated it to King since his passing on August 22, 2018, as they did on June 30, 2019, in Birmingham, U.K.
The shows close, fittingly, with a 12+ minute version of "Free Bird." Although the song from their debut album was released as a single in '73, it wasn't until "Sweet Home Alabama" became a hit a year later that Top 40 programmers embraced "Free Bird." Once they did, it reached #19 in '75.
A year later, MCA released the legendary One More From the Road, a two-record live set. "Free Bird," which closes the collection, was released as a live single. It reached #38 on the pop chart.
Lynyrd Skynyrd were inducted into the Rock and Roll Hall of Fame in 2006.
(Tickets to see Skynyrd's tour are available here and here.
Related: Listings for 100s of classic rock tours

Latest posts by Best Classic Bands Staff
(see all)