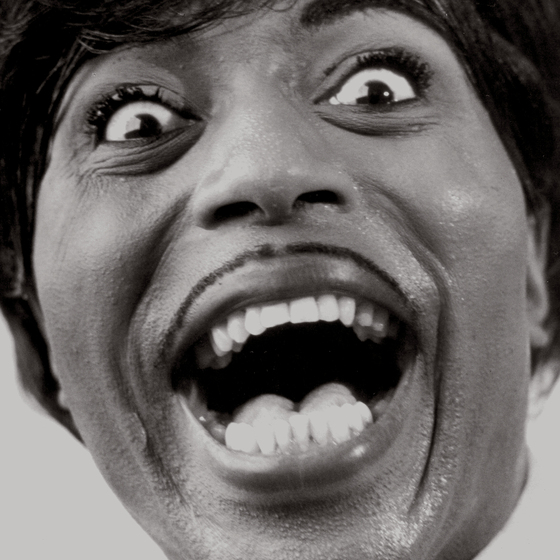 The music of one of the biggest influences in the development of rock'n'roll is being celebrated with the release of Mono Box: The Complete Specialty and Vee-Jay Albums: a deluxe, 5-LP Little Richard box set coming July 15 via Concord Records' Specialty imprint. The collection includes the entire output of studio albums that the legendary figure recorded for both labels, spanning 1957–1965. The albums, each featuring original label and jacket art, have been meticulously remastered from analog tapes and are presented in their original mono mixes. The set includes a 16-page booklet featuring new liner notes by journalist Bill Dahl, plus era-specific photos.
Little Richard's impact on popular music far surpassed his showing on the pop charts. His pioneering efforts in the growth of rock'n'roll aren't evident from a cursory look at his chart history: he had just four songs reach the Top 10. But his achievements have been properly recognized by historians. He was a member of the Rock Hall's inaugural class in 1986 and has received Lifetime Achievement awards from the Songwriters Hall of Fame, the Recording Academy and the Rhythm and Blues Foundation, among others.
Try not to tap your foot; it's impossible…
In early May of this year, his friend, the musician "Bootsy" Collins, had tweeted "Lil-Richard needs our love & understanding right now." The alleged health scare grabbed headlines but through his attorney, Richard insisted that he was healthy.
In the early '50s, Little Richard Penniman combined the spirit of church music, the bawdiness of blues and the swing of New Orleans jazz and turned it into something altogether new — rock'n'roll. When the Macon, Georgia native signed to Art Rupe's Specialty Records, Little Richard began to develop his signature sound and flamboyant persona. His legendary 1957 debut, Here's Little Richard, featured the iconic tracks "Tutti Frutti" and "Long Tall Sally." His 1958 follow-up, Little Richard, found the singer on his rise to superstardom, with hits like "Lucille" and "Good Golly Miss Molly."
The artist's third (and final) album for Specialty, The Fabulous Little Richard (1959), was released soon after he had traded in a life of fame to focus on spreading the gospel. The LP featured standout tracks from Richard's 1955-57 Specialty sessions, including "Whole Lotta Shakin' Going On," "Lonesome and Blue" and "Kansas City."
Don't miss a post! Sign up for Best Classic Bands' Newsletter; form is on every page.
Little Richard returned to his rock'n'roll roots in the early '60s via a new record contract with Vee-Jay Records. His first release with the label was 1964's Little Richard Is Back with a backing band that featured a young Jimi Hendrix on guitar and included covers of "Hound Dog" and "Money Honey." Richard's second and final studio release with Vee-Jay was 1965's His Greatest Hits with the singer revisiting his classic hits nearly a decade later, introducing new arrangements and instrumentation.
In his liner notes for the Mono Box, Dahl writes, "As the end of the decade grew near and the first rock and roll revival loomed, Richard emerged at its forefront, his outrageous image earning him overdue network TV exposure. It's impossible to imagine how the genre would have developed if not for his massive innovations."

Latest posts by Best Classic Bands Staff
(see all)