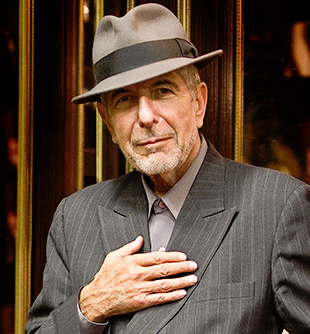 Singer-songwriter, poet and novelist Leonard Cohen died November 7, 2016, after a fall in his Los Angeles home. He was 82. "The death was sudden, unexpected, and peaceful," his manager Robert Kory said in a statement.
In an extensive article/interview published in The New Yorker one month earlier, Cohen hinted that he may not be around much longer: "I've got some work to do. Take care of business. I am ready to die. I hope it's not too uncomfortable. That's about it for me," he said.
Cohen's list of honors and awards is enormous, including a Grammy Lifetime Achievement Award and induction into the Rock and Roll Hall of Fame and the Songwriters Hall of Fame.
Cohen had commemorated his 82nd birthday on September 21 with the release of the bone-chilling title cut from his new LP, You Want It Darker. The album, the Canadian-born Cohen's 14th studio recording, was released on October 21 by Columbia Records and was produced by his son, Adam Cohen.
A notice on Cohen's Facebook page shared the news of his passing to his 2.2 million followers on the social media site. Within 38 minutes, it had already received a remarkable 50,771 shares.
Said Cohen in the album announcement: "As I grew older, I understood that instructions came with this voice. What were these instructions? The instructions were never to lament casually. And if one is to express the great inevitable defeat that awaits us all, it must be done within the strict confines of dignity and beauty."
In its review, Rolling Stone called the album "a realistically grim, spiritually radiant and deeply poetic worldview, generally spiked with a romantic thrum and an existential wink."
Related: Tributes pour in for Cohen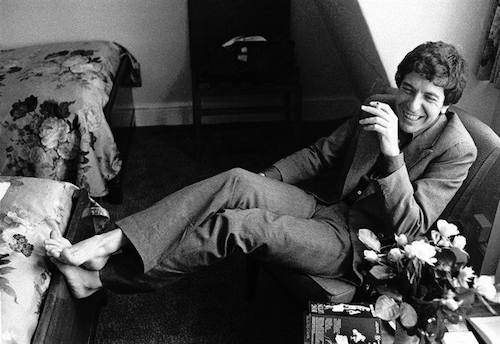 He was born Leonard Norman Cohen on September 21, 1934, in Westmount, Quebec, Canada. Cohen learned to play guitar in his teens and formed a folk group called the Buckskin Boys. He began publishing his poetry while attending McGill University in Montreal. He published his first book of poetry, Let Us Compare Mythologies, in 1956, followed by other poetry collections such as The Spice-Box of Earth (1961), Flowers for Hitler (1964) and the novels The Favourite Game (1963) and Beautiful Losers (1966).
Cohen attended McGill's law school from 1956-57, followed by a year at the School of General Studies at Columbia University. Eventually he returned to Montreal and during the '60s spent some time living on Hydra, a Greek Island.
By 1967 he'd decided to concentrate more on songwriting than poetry or prose, and he moved to New York, where he fell in with the Warhol crowd and was signed to Columbia Records by the legendary talent scout John Hammond. One of his earliest compositions, "Suzanne," which opened his debut album, was popularized by Judy Collins and subsequently covered by dozens of artists. His most acclaimed song was "Hallelujah," which has reportedly been recorded more than 200 times by a wide variety of artists, most notably by the late Jeff Buckley. The song, originally released on the 1984 album Various Positions, was the subject of a 2012 book, The Holy or the Broken: Leonard Cohen, Jeff Buckley & the Unlikely Ascent of 'Hallelujah,' by Alan Light.
Cohen never had a song chart on the U.S. singles chart, although 10 albums reached the Billboard albums chart, including the early albums Songs of Leonard Cohen (1968, produced by John Simon), Songs From a Room (1969, produced by Bob Johnston), Songs of Love and Hate (1971, also produced by Johnston) and Leonard Cohen: Live Songs (1973). His highest charting album was 2012's Old Ideas, which reached #3, but Cohen's influence extended far beyond what his commercial success might suggest, however. He was revered by other songwriters, and in recent years his legend seemed to grow: he was filling arenas such as Madison Square Garden during this decade, a rarity for quiet, introspective artists such as Cohen in today's concert market.
Cohen didn't tour widely until 1970, during which he made a now famous appearance at England's Isle of Wight festival. He continued to record sporadically in the coming decades, with each new release eagerly anticipated by his devoted cult audience, even as the general public passed them by. Albums such as Death of a Ladies Man (1977, produced by Phil Spector), I'm Your Man (1988) and recent releases Old Ideas (2012) and Popular Problems (2014) were hailed as events by his followers.
In 1994, Cohen entered a monastery in Los Angeles, where he remained for five years; he was ordained as a Buddhist monk. He released 10 New Songs, a new album, in 2001 after he left the monastery. He published a new book of poetry, Book of Longing, in 2006; it was set to music by composer Philip Glass and performed live that year. In 2008, with his voice now a deep bass that found him more talk-singing than vocalizing as he had on his early work, he launched his first concert tour in 15 years, subsequently releasing the album Live in London from that tour. More live recordings were released on CD and DVD on Songs from the Road in 2010. A biography, I'm Your Man: The Life of Leonard Cohen, by Sylvie Simmons, was published in 2012. A world tour took place that year into 2013.
In 2005, Cohen discovered that his manager Kelley Lynch had embezzled $5 million from him. Cohen won a civil suit against Lynch; he did not recover any money, however, Lynch was sentenced to 18 months in jail in 2012.
Watch Leonard Cohen perform "Suzanne" at the Isle of Wight in 1970
For the fifth anniversary of Cohen's passing, a video for his song, "Puppets," from his posthumous album, Thanks For the Dance, was released.

Latest posts by Best Classic Bands Staff
(see all)