Led Zeppelin's Epic Live 'How the West Was Won'
by Jeff Burger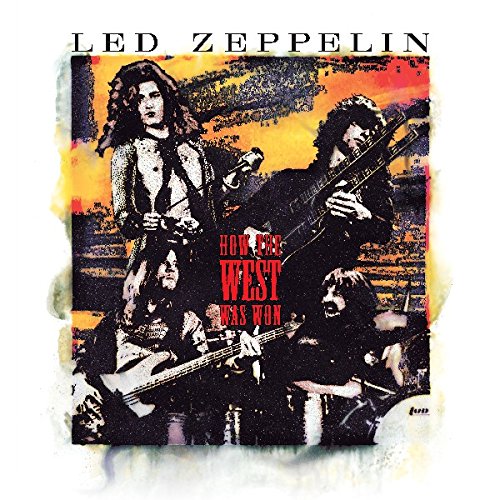 For decades, a quality live album eluded Led Zeppelin. The only option for fans who wanted a concert recording was 1976's overproduced The Song Remains the Same, which failed to do justice to the group's pyrotechnics. The BBC Sessions, released in 1997, was a step in the right direction, but it wasn't until 2003, nearly a quarter century after the band's 1980 breakup, that they truly delivered the goods on How the West Was Won, a chart-topping three-disc set that culls the best material from three June 1972 Los Angeles–area concerts.
That album was remastered under the supervision of the band's Jimmy Page and reissued in 2018. (A "super deluxe" version supplements the compact discs with the album's vinyl debut and an audio DVD with a surround-sound mix.) The two-and-a-half-hour album doesn't add any tracks to the 2003 release, but fans won't complain. The sound quality is superb, the band is operating at its peak, and the program hits many of the important bases from the group's catalog.
From their debut album comes "Dazed and Confused," here in a wild 25-minute version. Led Zeppelin II yields "Heartbreaker," "What Is and What Should Never Be," "Moby Dick" and, last but not least, a 21-minute "Whole Lotta Love" that quotes from John Lee Hooker's "Boogie Chillun," the '50s rocker "Let's Have a Party," the blues standard "Goin' Down Slow" and Sonny Boy Williamson's "Bring It on Home." (A side trip into Rick Nelson's "Hello, Mary Lou" that appeared mid-song on the 2003 edition of this album has for some reason been edited out here, however.)
Listen to the 21-minute "Whole Lotta Love"
Related: How Zeppelin broke through with "Whole Lotta Love"
Led Zeppelin III is represented by "Immigrant Song," "Since I've Been Loving You," "That's the Way" and "Bron-Y-Aur Stomp" while the group's untitled fourth album contributes "Black Dog," "Stairway to Heaven," "Going to California" and "Rock and Roll."
Houses of the Holy—the group's fifth album, whose release was still nine months away at the time of these concerts—is previewed with strong versions of "Over the Hills and Far Away," "Dancing Days" and "The Ocean." (There's also a bit of that LP's "The Crunge" in "Dazed and Confused," along with "Walter's Walk," a Houses outtake that first surfaced on 1982's Coda.)
Listen to "Immigrant Song" from How the West Was Won
Virtually without exception, these are essential performances. Some of Page's guitar solos will take your breath away, and the band has never sounded tighter or more invigorated. It's no stretch to say that this is one of the greatest live rock albums ever made, and it sounds better than ever in its remastered 2018 version.
Latest posts by Jeff Burger
(see all)