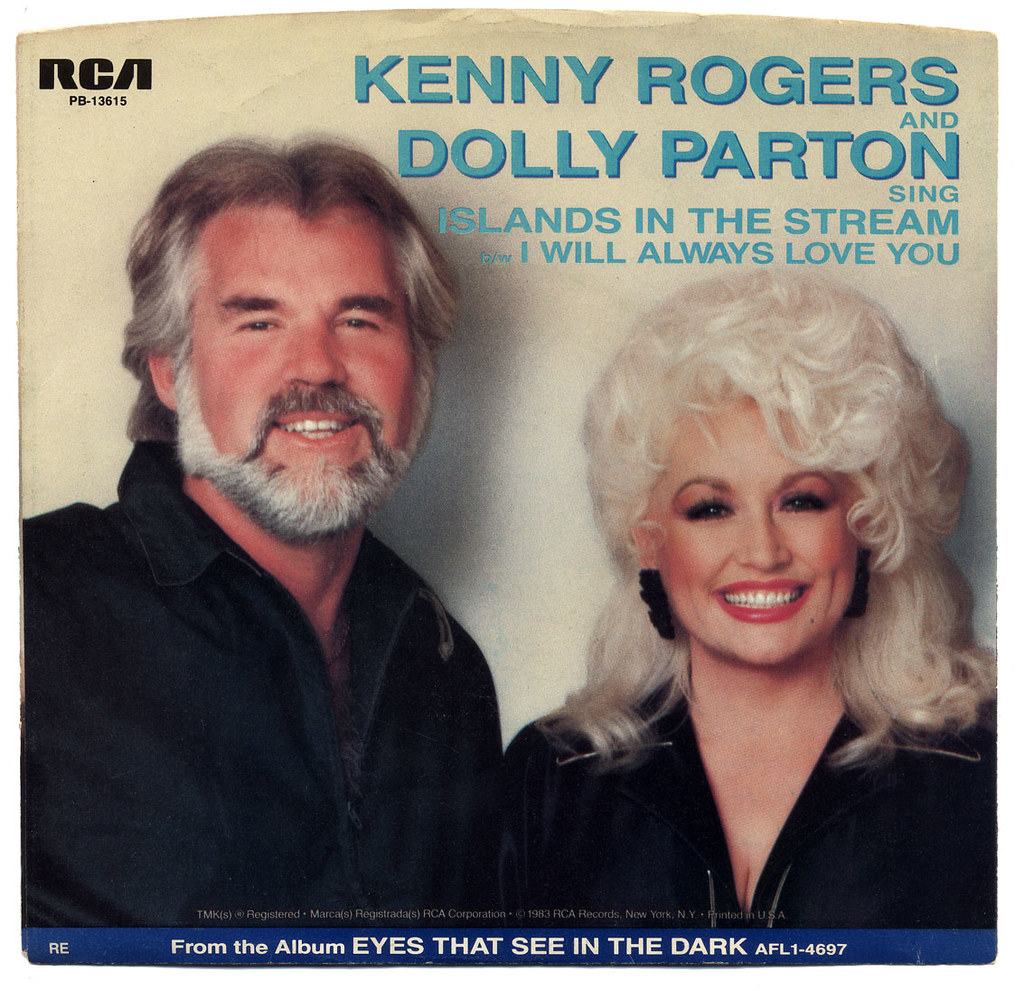 Kenny Rogers is being mourned by fellow music legends, who are paying tribute to the country-pop superstar. News of "The Gambler"'s passing on Mar. 20 at age 81 arrived Mar. 21 via a statement from his family. Leading the way with tributes were Dolly Parton, who recorded the chart-topping 1983 duet, "Islands in the Stream," with Rogers; Don Henley, whose 1970 debut album Rogers produced; and Lionel Richie, who wrote one of his biggest hits.
On her Twitter page, Parton wrote, "You never now how much you love somebody until they're gone."
(Watch her video message, which accompanied her tweet, below.)
Related: Our obituary of the country-pop superstar
You never know how much you love somebody until they're gone. I've had so many wonderful years and wonderful times with my friend Kenny, but above all the music and the success I loved him as a wonderful man and a true friend. pic.twitter.com/hIQLIvt8pr

— Dolly Parton (@DollyParton) March 21, 2020
Watch the pair sing their hit
Rogers offered advice to 22-year-old Don Henley and his band, Shiloh, and produced their debut album. "In addition to his tremendous talent, Kenny was a generous and caring man, a wise mentor to so many of us," said Henley. "Fifty years ago, The Gambler took a gamble on me and my first band from small-town Texas, and his big-hearted support launched many careers, including mine. He also gave me some of the best career advice I ever got: 'You'd better be nice to the people you meet on the way up, because you're going to meet those same people on the way back down.'"
In 1980, Rogers recorded a Lionel Richie composition, "Lady," for his Greatest Hits album. The song became a #1 pop and country hit and helped the collection stay atop the sales chart for weeks.
Today I lost one of my closest friends 💔So much laughter so many adventures to remember, my heart is broken… My prayers go out to Kenny's Family.🙏 pic.twitter.com/2lbwFffeYq

— Lionel Richie (@LionelRichie) March 21, 2020
The Rogers family would like to thank you for the generous outpouring of love and support coming in from all over the world these past two days. It's a beautiful reminder of the impact Kenny & his music has had & will continue to have on so many. #SweetMusicMan
Pic: Randy Dorman pic.twitter.com/BSEc4Hw99D

— Kenny Rogers (@_KennyRogers) March 22, 2020
Country Music has lost the great Kenny Rogers, who has forever left a mark on Country Music's history. His family and friends are in our thoughts during this difficult time. pic.twitter.com/tKPXUXU2kp

— CMA Country Music (@CountryMusic) March 21, 2020
No one bridged the gap between country and pop more often and better than Kenny Rogers. He will be missed, but his music and diverse style of story telling will live on forever. pic.twitter.com/J1V2dyRjm7

— Billy Ray Cyrus (@billyraycyrus) March 21, 2020
I can't express on twitter the impact Kenny Rogers the artist and the man had on me. He was always very kind and fun to be around. Rest In Peace Gambler…

— Blake Shelton (@blakeshelton) March 21, 2020
Kenny Rogers. You sing the soundtrack to so many good memories. We miss you already. pic.twitter.com/XitFElTFw7

— Nashville Tennessee (@visitmusiccity) March 21, 2020
Hearing Kenny Rogers' magnificent voice singing MY lyrics, my music, to 'I'm Missing You,' that was definitely a highlight! When KR sang that song, he OWNED it. What a talent and what a sweet man. Kenny, you certainly made this world a better place. Rest In Peace my friend. pic.twitter.com/n5fH2chRe1

— Steve Wariner (@stevewariner) March 21, 2020
What a career, what a talent, what a legacy. Now this world is left with a big shadow center stage where Kenny Rogers stood. No one else can take his place. Now he's taken his place amongst the Heavenly stars. It's a very sad day for all of us. But God is smiling. #restinpeace pic.twitter.com/EMZ1ZUG38E

— Tanya Tucker (@tanyatucker) March 21, 2020
I'm really sad to hear about Kenny Rogers passing. Kenny had a wonderful voice and so many great songs. He will be missed, but we'll always have his music. Love & Mercy to Kenny's family. – Brian

— Brian Wilson (@BrianWilsonLive) March 21, 2020
Tough times just got a little tougher. Thanks for the music that'll ease our souls today and for years to come, Kenny Rogers. ❤️ pic.twitter.com/ZjT1bJ0p7V

— Grand Ole Opry (@opry) March 21, 2020
Kim Carnes recorded a big duet with Rogers, "Don't Fall in Love With a Dreamer."
Thanks for everything Kenny. Love, Kim. ❤️ pic.twitter.com/bfN0xKXVtf

— Kim Carnes (@kim_carnes) March 22, 2020
Jerry Lee Lewis: "I am filled with profound sadness with the loss of my friend and fellow artist, Kenny Rogers. God Bless him and his family. He will be greatly missed by all, but his outstanding legacy will live on. Love you, my friend."

Latest posts by Best Classic Bands Staff
(see all)