Keith Richards' second solo album, 1992's Main Offender, recorded with the X-Pensive Winos, has received a variety of 30th Anniversary editions featuring a host of previously unreleased live recordings. The title arrived in multiple formats on March 18, 2022, via BMG, spanning from a single CD or LP through a Deluxe edition and Super Deluxe edition. The bonus highlight is the "Winos Live in London '92" performance recorded at the Town & Country Club, in Kentish Town, featuring such Rolling Stones favorites as "Gimme Shelter" and "Happy." Richards talked to Apple Music about how he put the band together, with Charlie Watts' input.
"I always assumed if I did anything by myself that I'd do it with Charlie," he told interviewer Zane Lowe. "Charlie has said 'no, you don't want me in. It'd just be like half the Stones. And that's not what you should be.
"Charlie said, 'If you're going to do anything by yourself, Steve Jordan is the man to go to.' And so once I got over the shock of change, I found it real easy because Steve and I suddenly found a thing going.
"Steve and I had been working. We just finished Hail! Hail! Rock 'n' Roll, the Chuck Berry movie. And by then, we were hooking, pretty much solid all the time. I said, 'We should keep this thing going, man. What if I call Waddy Wachtel and Ivan Neville?' And everything just fell into place. And it's yeah, a little dream band of mine that. Hey, it's 30 odd years ago now. But I always remember that period working with the Winos as such. It was like a vacation there. Hard working man, because those cats are very meticulous. Because they knew that it was my first time out as a lead, as a front thing. So I was being well protected from all around."
In 2021, Jordan sat behind the drum kit for the Rolling Stones' U.S. tour. "Once again, it was Charlie Watts that nominated Steve to take his place because he knew he wasn't going to be able to make the tour," Richards said. "He thought that he was going to maybe just replace for a bit, but as it turned out, well … And Steve's been a great friend of the band since we both got together. And so Mick and I and Steve worked sometimes together in rehearsing places. So he was not like a total stranger, but for me it felt very comfortable to have my old friend solid there on the seat."
Watch Lowe's full interview with Richards below.
Main Offender is the latest collection of Richards' archival material to be released and follows 2021's Live at the Hollywood Palladium and 2019's expanded edition of his first solo album, Talk is Cheap.
A Super Deluxe edition includes an 88-page book with never-before-seen photos, reproductions of handwritten lyrics, reprinted essays from the album's release, and more, plus an archival envelope containing exact replicas of promotional and tour materials from Richards' archive.
On Feb. 20, Richards hosted his own unboxing video. "It's not bad… I'm telling you," he says. "This is what I do. I play rock and roll with the best cats in the world."
View this post on Instagram
The album was originally released in October 1992 and features the much-loved X-Pensive Winos: Jordan, guitarist Wachtel, bassist Charley Drayton, keyboard player Neville, singer Sarah Dash and backing vocalists Bernard Fowler and Babi Floyd.
The 10-tracks on Main Offender include the singles "Wicked As It Seems," "Eileen" and "Hate It When You Leave." The album was produced by Richards, Wachtel and Jordan. The bonus live album was mixed and produced by Jordan.
Watch the lyric video with performance footage for the live recording of "How I Wish"
Says Richards, "This is the second time around & the Winos are kind of developing—and if I can keep those guys together for as long as I can, it's one of the best bands in the world. It's a very intriguing band and the potential is only just starting to show itself.
"If I hadn't have taken the Winos on the road, this record would probably have been totally different than it is.
"I tried to avoid making too much sense on this record because to me that ambiguity and mystery, and a little provocation to make you think, is something far more powerful and more important than just wagging your finger and saying, 'I know what he's saying don't do this, do that.' If you're a musician, silence is your canvas and you never want to fill-in the whole thing because then you've just covered it all.
"One of the most interesting parts about music is where you don't play."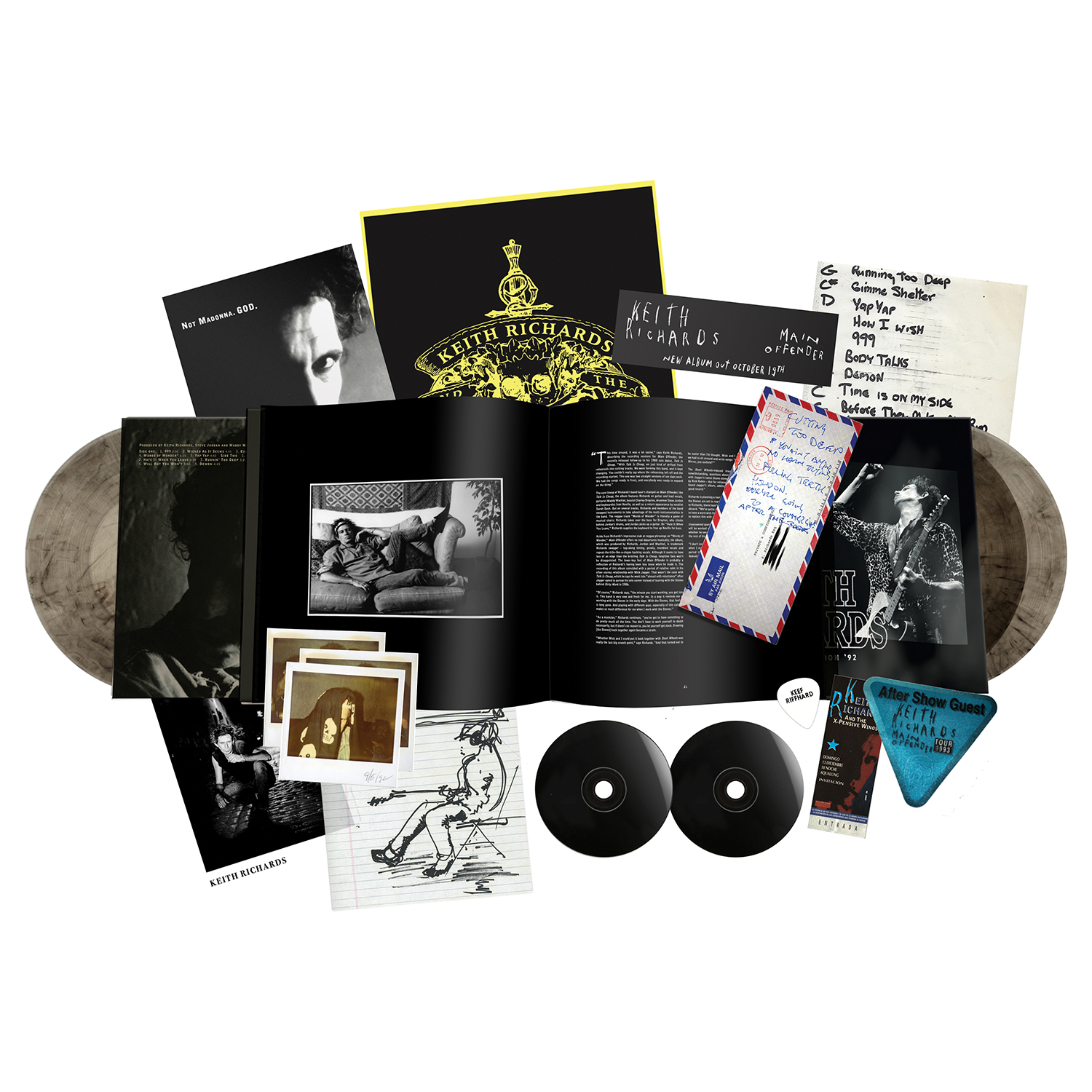 The Super Deluxe Main Offender box set includes an exclusive collector's case, housing a removable, hand-numbered print of the original, uncropped album cover portrait. Inside is a unique art book with the album pressed on smoke-colored vinyl.
Main Offender Track Listing
1. 999
2. Wicked As It Seems
3. Eileen
4. Words Of Wonder
5. Yap Yap
6. Bodytalks
7. Hate It When You Leave
8. Runnin' Too Deep
9. Will But You Won't
10. Demon
Watch the original video for "Eileen"
Winos Live In London '92 Track Listing
Take It So Hard
999
Wicked As It Seems
How I Wish
Gimme Shelter
Hate It When You Leave
Before They Make Me Run
Eileen
Will But You Won't
Bodytalks
Happy
Whip It Up
Listen to their live performance "Gimme Shelter"
Related: Richards reunited with the X-Pensive Winos in March 2022

Latest posts by Best Classic Bands Staff
(see all)