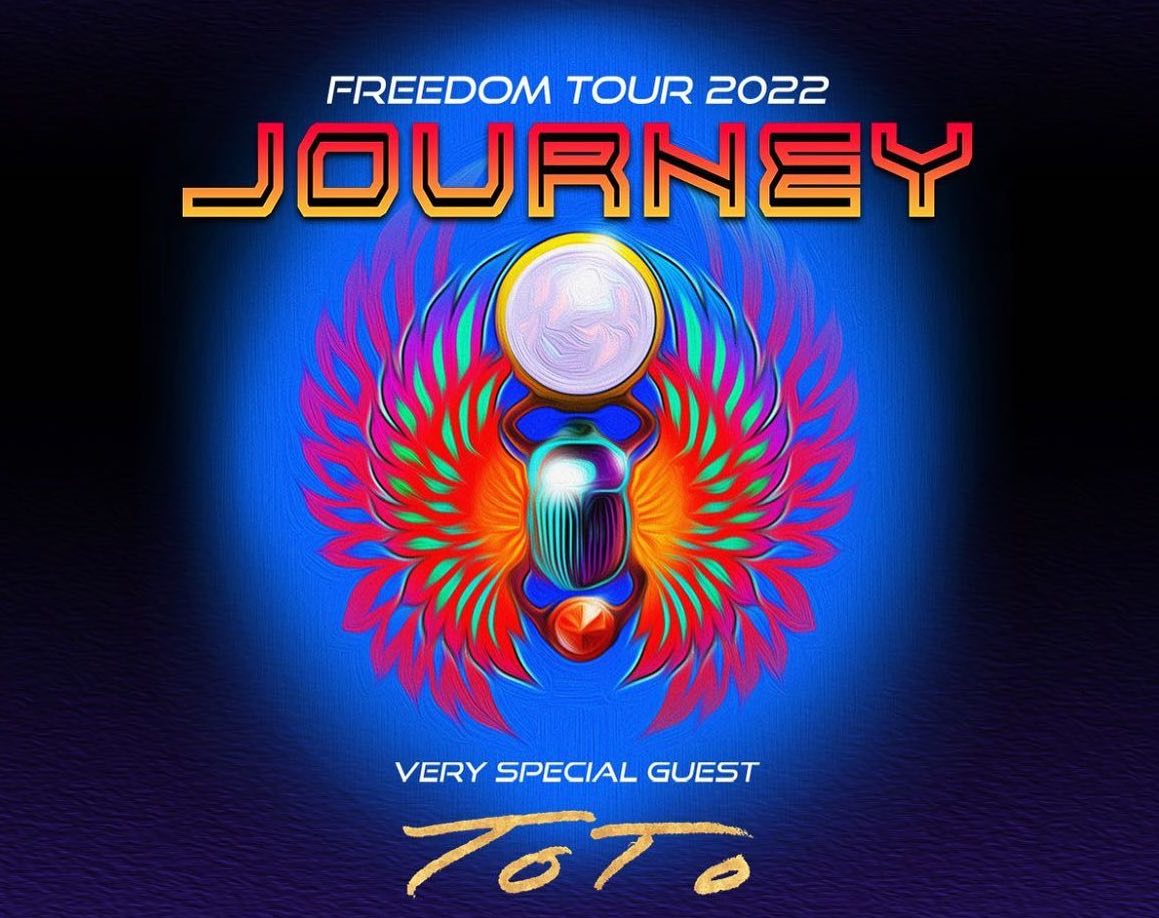 Journey have shared a fourth song, "Don't Give Up On Us," from their upcoming album, Freedom, their first studio album of all new songs in over a decade. Listen to all of the tracks below. The album arrives July 8 via BMG (and on Frontier Records in Europe and Japan).
The band returned to U.S. arenas on Feb. 22 with the Freedom Tour 2022 with Toto as special guest. Though that tour is complete, they have many more dates scheduled for the summer.
In June 2021, Neal Schon noted that they had written dozens of new songs, and were "whittling it down to 10 or 12." [It'll actually feature 15 songs.] Over that summer, the band's new lineup headlined the Lollapalooza Festival in Chicago and played Central Park at We Love NYC: The Homecoming Concert, in addition to honoring 9/11 first responders at the Tunnel to Towers concert in August.
Journey features founder Neal Schon (lead guitarist), Jonathan Cain (keyboards, backing vocals), Arnel Pineda (lead vocals) Jason Derlatka (keyboards, backing vocals), and Deen Castranovo (drums, backing vocals). Randy Jackson returns on bass guitar.
Of "Don't Give Up On Us," Schon says, "It is a very melodic song. It's soulful, coming more from that R&B place and a little more Motown sounding but it definitely rocks. I feel like it's got Journey all over it."
Watch them perform "Any Way You Want It" on the tour's opening night, Feb. 22
"I wanted kind of a punky rendition of 'Any Way You Want It'," says Schon, the group's guitarist, songwriter, and producer, about the first single, "You Got the Best of Me." "I usually don't go in saying I'm going to look for something like that, but then it just came to me, like 'Wheel in the Sky' did years ago. It just kind of flew out of my mouth."
Of the third track, Schon notes, "We didn't immediately work on the song, it just sat there as a jam for a long time, and then every once in a while, I'd come in to work on something, and Narada (Michael Walden) would play it for me, and I'd go, 'Wow, we should really f**king work this thing up, there's something there.'"
Listen to "Let It Rain"
See the complete track listing below the dates.
Journey 2022 Freedom Tour Dates (Tickets are available here and here)
Jul 15 – Resorts World Theatre – Las Vegas, NV*
Jul 16 – Resorts World Theatre – Las Vegas, NV*
Jul 20 – California Mid-State Fair – Paso Robles, CA
Jul 22 – Resorts World Theatre – Las Vegas, NV*
Jul 23 – Resorts World Theatre – Las Vegas, NV*
Jul 27 – Tingley Coliseum – Albuquerque, NM
Jul 29 – NMSU Pan American Center – Las Cruces, NM
Jul 30 – United Supermarkets Arena – Lubbock, TX
Aug 05 – Soaring Eagle Casino – Mount Pleasant, MI
Aug 08 – CMAC PAC – Canandaigua, NY
*with symphony orchestra
Related: Links to 100s of current classic rock tours
Freedom Track Listing
Together We Run
Don't Give Up On Us
Still Believe In Love
You Got The Best Of Me
Live To Love Again
The Way We Used To Be
Come Away With Me
After Glow
Let It Rain
Holdin On
All Day and All Night
Don't Go
United We Stand
Life Rolls On
Beautiful As You Are
Watch the animated video for "The Way We Used To Be," released in June 2021

Latest posts by Best Classic Bands Staff
(see all)