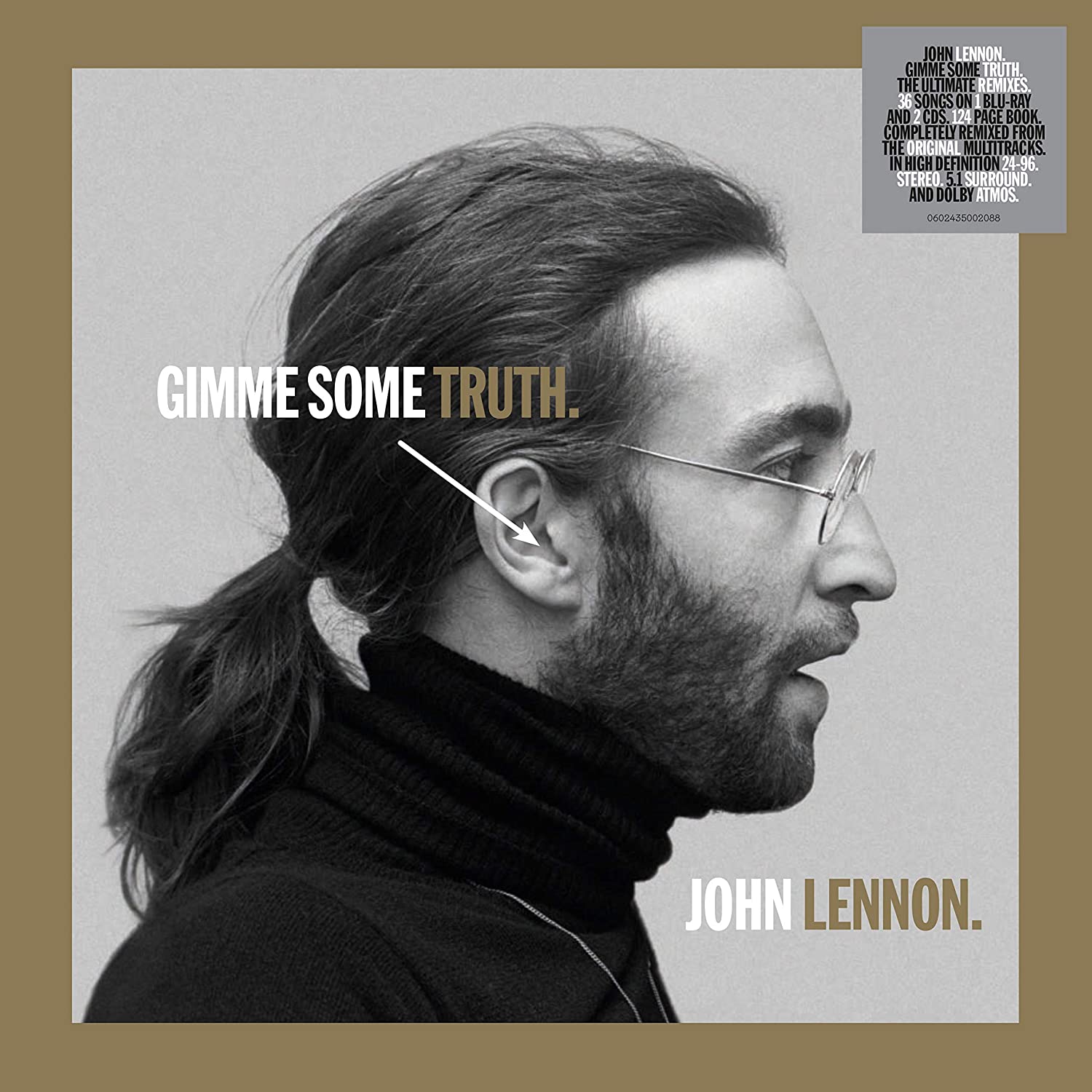 John Lennon's solo work is being released in a new collection this fall to celebrate the musician's 80th birthday. Indeed, Gimme Some Truth. (yes, there's a period in the title) arrives on October 9 via Capitol Records, the very day in which Lennon would have turned 80. The collection, completely remixed from master tapes with, says the announcement, offers "new 5.1 surround mixes and Dolby Atmos for the ultimate immersive experience." It will be available as a 36-track 2-CD/Blu-ray set or on 4-LPs, 2-LPs, 2-CDs, and as a single CD. Listen to the remixed version of Lennon's "Instant Karma! (We All Shine On)" below the Amazon links.
The new collection, produced by Sean Ono Lennon and executive produced by Yoko Ono, brings together songs from all of Lennon's solo albums including John Lennon/Plastic Ono Band (1970), Imagine (1971), Some Time In New York City (1972), Mind Games (1973), Walls and Bridges (1974), Rock 'n' Roll (1975), Double Fantasy (1980) and 1984's posthumous Milk and Honey.
It includes such solo hits as "Imagine," "Mind Games," "Give Peace a Chance" and "(Just Like) Starting Over" as well as iconic tracks like "Isolation" and the title track which were not released as singles.
The 2-CD/Blu-ray set features 36 tracks in hi-res stereo 96/24 PCM, new 5.1 surround mixes and Dolby Atmos. This edition includes a 124-page book with rare photos and extensive notes from Lennon, Yoko Ono and others, a foldout two-sided poster, postcards and Gimme Some Truth bumper sticker.
(One of the postcards is a replica of Lennon's letter to the Queen of England in 1969 when he returned his MBE in "protest against Britain's involvement in the Nigerian-Biafra thing, against our support of America in Vietnam and Cold Turkey slipping down the charts.")
Related: A book commemorating the 50th anniversary edition of Lennon and Ono's Plastic Ono Band album is being released Oct 6
The 4-LP edition and 2-CD versions also includes 36 tracks. The 2-LP and single CD versions include 19 tracks on 180-gram vinyl.
Gimme Some Truth. was mixed and engineered by multi GRAMMY® Award-winning engineer Paul Hicks, who also helmed the mixes for 2018's Imagine – The Ultimate Collection series, with assistance by engineer Sam Gannon who also worked on that release. From the Aug. 26 announcement: The songs were completely remixed from scratch, using brand new transfers of the original multi-tracks, cleaned up to the highest possible sonic quality. After weeks of painstaking preparation, the final mixes and effects were completed using only vintage analog equipment and effects at Henson Recording Studios in Los Angeles, and then mastered in analog at Abbey Road Studios by Alex Wharton in order to ensure the most beautiful and authentic sound quality possible.
The collection's first release, "Instant Karma! (We All Shine On)," features performances by Ono, George Harrison, Klaus Voormann, Billy Preston, future Yes drummer Alan White, and Mal Evans.
Listen to the remixed version
Lennon was born October 9, 1940.
Gimme Some Truth. Track Listing
2-CD/Blu-ray and 4-LP (Unconfirmed
Disc 1
1. Instant Karma!
2. Cold Turkey
3. Working Class Hero
4. Isolation
5. Love
6. God
7. Power To The People
8. Imagine
9. Jealous Guy
10. Gimme Some Truth
11. Oh My Love
12. How Do You Sleep?
13. Oh Yoko!
14. Angela
15. Come Together (Live)
16. Mind Games
17. Out The Blue
18. I Know (I Know)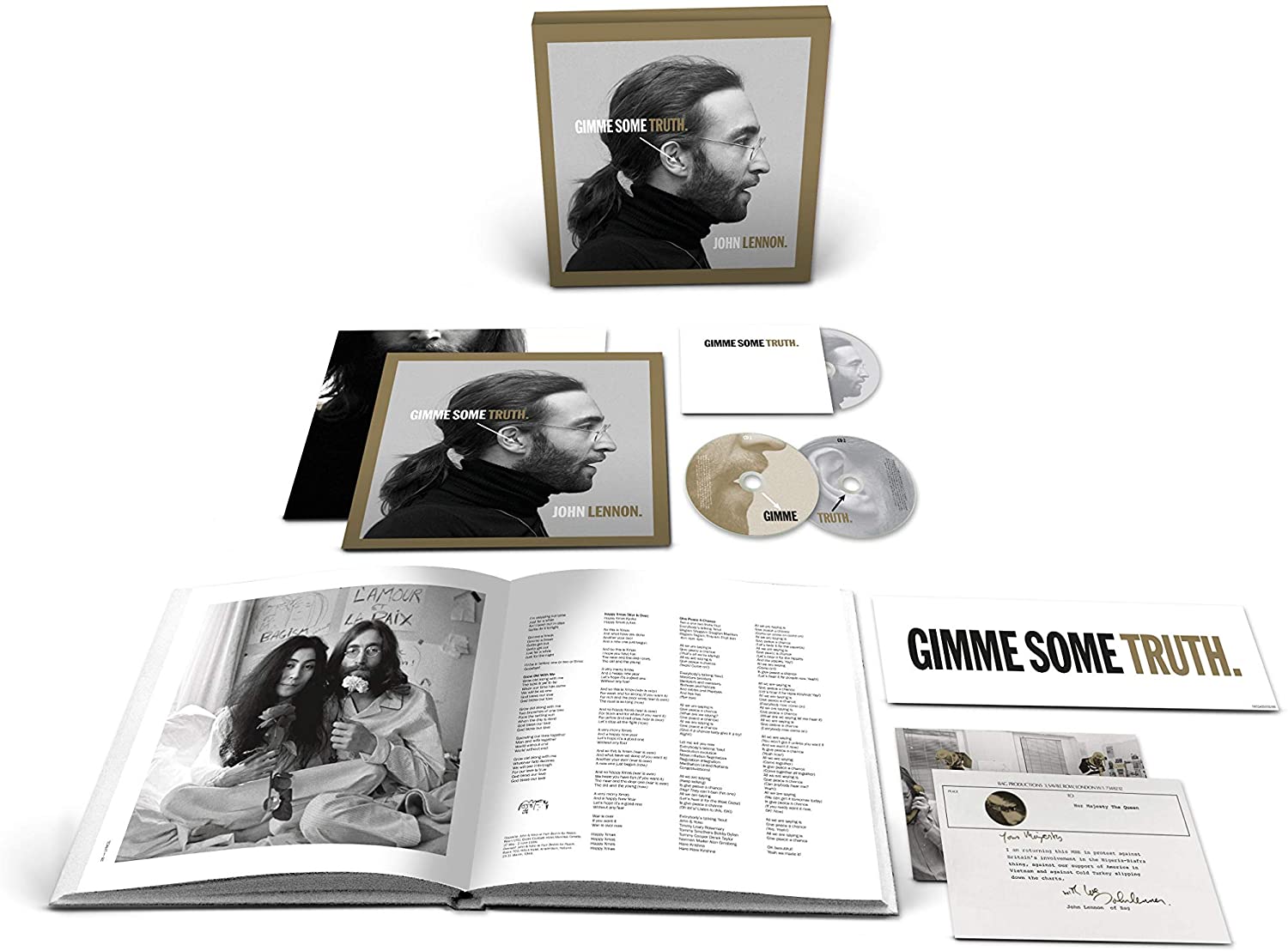 Disc 2
1. Whatever Gets You Through The Night
2. Bless You
3. #9 Dream
4. Steel and Glass
5. Stand By Me
6. Angel Baby
7. (Just Like) Starting Over
8. I'm Losing You
9. Beautiful Boy (Darling Boy)
10. Watching The Wheels
11. Woman
12. Dear Yoko
13. Every Man Has A Woman Who Loves Him
14. Nobody Told Me
15. I'm Steppin' Out
16. Grow Old With Me
17. Happy Xmas (War Is Over)
18. Give Peace A Chance
2-CD and 2-LP
1. Instant Karma! (We All Shine On)
2. Cold Turkey
3. Isolation
4. Power To The People
5. Imagine
6. Jealous Guy
7. Gimme Some Truth
8. Come Together (Live)
9. #9 Dream
10. Mind Games
11. Whatever Gets You Through The Night
12. Stand By Me
13. (Just Like) Starting Over
14. Beautiful Boy (Darling Boy)
15. Watching The Wheels
16. Woman
17. Grow Old With Me
18. Happy Xmas (War Is Over)
19. Give Peace A Chance

Latest posts by Best Classic Bands Staff
(see all)