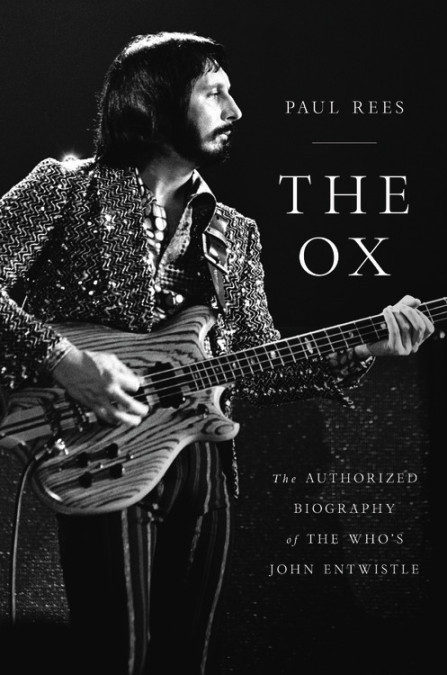 The first major biography of John Entwistle, the legendary bassist for The Who, is being published this spring. The book, from author Paul Rees, is titled The Ox, which was one of the musician's nicknames. It comes with the full cooperation of Entwistle's family and arrives Apr. 7 from Hachette Books' Da Capo Press division.
"Thunderfingers," as he was also known for his prodigious skill, is considered one of the finest bass guitarists in rock and roll history. He combined with Keith Moon to form one of the foremost rhythm sections in all of classic rock.
Pre-order in the U.K. is available here; in the U.S. here.
Entwistle contributed several songs to the Who canon, including "My Wife" from Who's Next, and "Cousin Kevin" and "Fiddle About" for the rock opera, Tommy. He is well known for his composition "Boris the Spider," an early Who track that featured Entwistle's vocal in a deep bass, and which became a regular part of the band's concert setlist.
In contrast, "the Ox" sang many of his parts in the Who's 1966 mini-opera, "A Quick One, While He's Away," in falsetto.
Entwistle died in 2002 at age 57 at the Hard Rock Hotel and Casino in Las Vegas, one day before The Who were scheduled to begin a U.S. tour. Despite the death of their founding member, the band delayed the tour for only a few days.
From the book's announcement: "Entwistle remains an enigmatic yet undeniably influential figure, renowned as much for his immense talent as for his gloriously oversized character. In the years since his death, his enduring legacy has been carefully guarded by his loved ones, preventing potential biographers from gaining close enough access to write a definitive account of his extraordinary life–until now. For the first time, and with the full co-operation of the Entwistle family, The Ox shines a long overdue light on one of the most important figures in rock history.
"Drawing on his own notes for an unfinished autobiography, as well as his personal archives and interviews with his family and friends, The Ox gives readers a never-before-seen glimpse into the two very distinct poles of John Entwistle.
"On the one hand, he was the rock star incarnate-larger than life, self-obsessed to a fault, and proudly and almost defiantly so. Extravagant with money, he famously shipped vintage American cars across the Atlantic without having so much as a driver's license, built exponentially bigger and grandiose bars into every home he owned, and amassed an extraordinary collection of possessions, from armor and weaponry to his patented Cuban-heel boots.
"But he was also a man of simple tastes and traditional opinions. He was a devoted father and family man who loved nothing more than to wake up to a full English breakfast, or to have a supper of fish, chips, and a pint at his local pub.
"After his untimely death, many of these stories were shuttered away into the memories of his family and friends."
Author Paul Rees is a former award-winning Editor of the British rock weekly Kerrang! and was Editor-in-Chief of Q magazine from 2002-2012. He is the author of six previous books, including the best-selling Robert Plant: a Life.
See why Entwistle earned the nickname "Thunderfingers" in this live solo of the Who's "5:15"
Related: Entwistle's final studio recording with the Who may surprise you

Latest posts by Best Classic Bands Staff (see all)