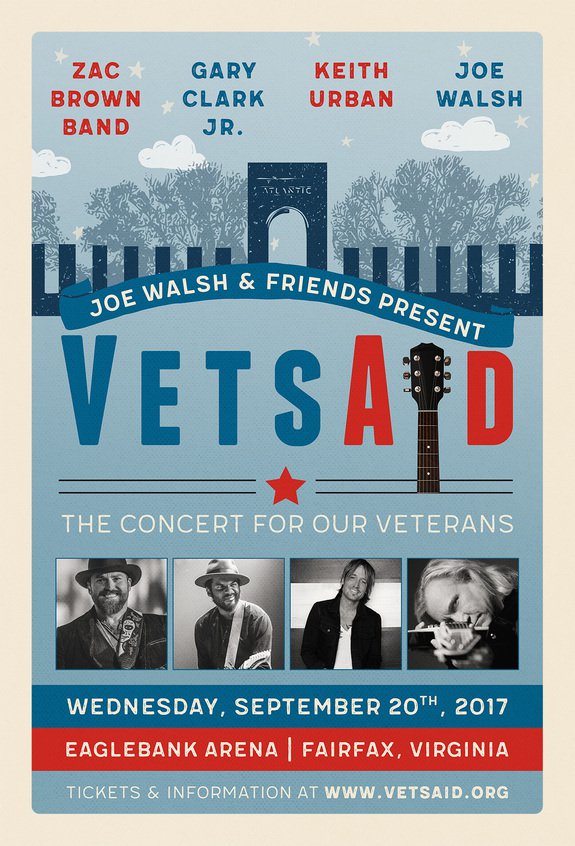 Following the much-talk-about Eagles concert over the weekend at Dodger Stadium, Joe Walsh announced on July 17 his first annual concert to support VetsAid, his new non-profit foundation to help veterans and their families. Joining Walsh on the inaugural bill for the September 20 concert at EagleBank Arena in Fairfax, VA, are Zac Brown Band, Gary Clark Jr. and four-time Grammy winner Keith Urban.
Tickets are available here.
Related: Eagles announce 'Evening With' Fall concerts
The announcement notes: "Veterans and their wellbeing have always been important to Walsh, a Gold Star family member himself. His father was a flight instructor for the first U.S. operational jet powered aircraft, the Lockheed F-80 Shooting Star, and died while stationed, and on active duty on Okinawa when Walsh was just 20 months old.
"The Rock and Roll Hall of Fame inductee and multi Grammy Award recipient has been involved with veterans' related causes for years, supporting various charities, visiting the Walter Reed National Military Medical Center and offering free guitar lessons to the wounded veterans there. He has campaigned for his good friend, Senator Tammy Duckworth of Illinois, an Iraq War veteran and double amputee.
"Joe aims to raise funds and awareness for the still urgent and significant needs of our returning soldiers. Through the establishment of VetsAid and its annual benefit concert, he wants to give back to those who have given so much in sacrifice for our country."
On August 23, Walsh announced the charity partners that will benefit from the September 20 concert revenues: Operation Mend, Hire Heroes USA, Warrior Canine Connection, TAPS, Semper Fi Fund, Children of Fallen Patriots Foundation, Stop Soldier Suicide and Swords to Plowshares.
"The first round of charities selected adheres to the highest standards in fiscal transparency and governance, delivering high-quality programs that positively impact the lives of the families they serve," said Chris Ford, CEO of the National Association of Veteran-Serving Organizations, the organization assisting the selection process.
Today (Sept. 18), Walsh announced Snowball Express as a charity partner and the following additional regional and smaller organizations that will benefit from this week's concert: Equinox Ranch in North Carolina, Right Turn for Yuma Vets in Arizona, Semper K9 Assistance Dogs in Virgina, Project Horse, Inc. in Virginia, Center for American Military Music Opportunities in Virginia, Code Platoon in Illinios, Work Vessels for Vets, Inc. in Connecticut, Arkansas Run for the Fallen in Arkansas and Suiting Warriors in Delaware and Texas.
"I am particularly excited to announce that these regional charities will benefit from VetsAid," Walsh said. "In my touring I have come across Veterans all over this country and have seen these smaller organizations, often run by Vets, working in their communities doing a lot of good. One of the main reasons I am launching VetsAid is to not only reward the well-established charity groups doing good works in the field but also to recognize and support these modest ones who are in the trenches and for whom a little money can go a long way!"
Watch Walsh, Clark and Dave Grohl perform a Beatles favorite
"War is hell for everyone involved," Joe Walsh explained. "I lost my father when I was a baby, before I could even make a memory of him. I stopped counting the number of friends I lost in the Vietnam War or that came home forever scarred mentally or physically or both. We've only just begun to appreciate the long-term impacts on our troops home from Iraq.
"I had to do something and seeing as though rock-and-roll seems to be what I do best," Walsh continued, "it's also the least I could do for those who have served and continue to serve our country. We're all in this together as Americans and seems to me lately that people are forgetting that. I asked my buddies Zac, Gary and Keith to step up and I'm so grateful that they did. Let's put on a show, raise some money and celebrate our vets… and let's do it every year!"
Walsh talked about the Foundation on The Late Show with Stephen Colbert on August 2, 2017
And he performed one of his signature hits on the same program

Latest posts by Best Classic Bands Staff
(see all)