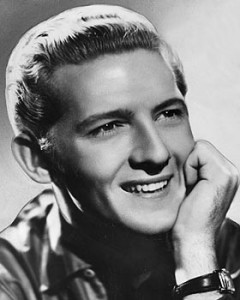 One of the originators of rock and roll music alongside his Sun Records labelmate Elvis Presley, Jerry Lee Lewis enjoyed some long-overdue vindication when the piano-playing singer and notorious musical wild man both onstage and off received one of the ultimate symbols of American celebrity on June 13, 1989, getting a star on the Hollywood Walk of Fame.
He rocketed to fame on the strength of such hit singles as 1957's "Whole Lotta Shakin' Going On" (#3) and "Great Balls of Fire" (#2) and 1958's "Breathless" (#7) and "High School Confidential" (#21) until it became known at the start of a 1958 tour of Great Britain that the 22-year-old artist known as "The Killer" had married his 13-year-old cousin Myra Gale.
All but two of the tour dates were canceled. Back in the U.S., Lewis became virtually blacklisted from radio and his bookings plummeted from concerts for thousands of dollars to shows in small clubs for a few hundred bucks. Although there were no more Top 20 pop singles, he later enjoyed a career resurgence as a country artist from 1968 through the '70s, and in 1986 was an inaugural inductee into the Rock and Roll Hall of Fame.
Watch a brief clip from the ceremony: "Jerry Lee Lewis is happy to be here in Hollywood, California!"
Lewis was born on Sept. 29, 1935, and has seen seven marriages, the deaths of two wives and two sons, various arrests, tax troubles and numerous other travails.
He suffered on February 28, 2019. A May 21, 2019, update on his Facebook page, indicated that he was "progressing miraculously in his recovery." So much, in fact, that he revealed in a January 2020 interview that he had recorded a new album with producer T-Bone Burnett. Lewis died on Oct. 28, 2022. Details of the album have yet to be revealed.
Related: First Generation Rockers: Who's Still With Us?

Latest posts by Best Classic Bands Staff
(see all)