Remembering Toto Drummer Jeff Porcaro
by Dony Wynn
"I've been a drummer over many lifetimes. We all have. We are brothers in arms."
Legendary rock drummer Jim Keltner, standing next to Jeff Porcaro as he said this, only nodded his head in agreement. I, a mere pup at age 19, stood agog. No other word for it.
Those of us who were fortunate enough to have witnessed the brilliance of Jeff's drumming during his time here on Earth, before he died far too young in 1992 at 38 years old, can hardly refute the veracity of his claim. The man could flat out play drums. But for those who knew him, he was much more than that, impressive as that was.
Best known as the drummer in Toto, the multimillion selling, Grammy-winning and chart-topping band formed in 1977 around him and his keyboard playing brother Steve and their friends David Paich (also on keys) and Steve Lukather (guitar) – all friends from Grant High School in Van Nuys, CA – Jeff was born into a musical family. His father Joe was a noted Los Angeles studio musician; not so ironically, a drummer. But Jeff was already carving his own path at a young age by setting the Buddy Rich manual aside, preferring to put on the headphones and learn to play exactly what those classic drummers he grew up on played on so many hits, all to better understand the all-important role of a great drummer in creating magical music.
In this way he was able to perfectly understand pocket, the feel, why this fill did that, why that tacit (break in playing) allowed new expression – all of the ways we drummers help the singer tell their story while leading our merry band of musicians into uncharted territory. And therein was Jeff's strength: the innate confidence in self to not only listen well, but lead people making thousands of dollars an hour wherever he commanded, which was, more times than not, a fun place to be. When Jeff sat down and lit into his drums you could literally feel the energy lift throughout the room. Very few drummers possess that skill, as it quite simply cannot be taught. Jeff had that life force in spades.
Jeff's first big professional break was making $400.00 a week playing Las Vegas as a teen with Sonny & Cher. The first time the public at large heard Jeff was on the Top 10 Seals and Crofts single, He knew how to make them sound… great. Not good. Great. "Diamond Girl."
Yup, that's Porcaro on this big 1973 hit
Then the whole world moved to his beats on the hugely popular Silk Degrees album by Boz Scaggs, who was backed on tour by the core of what became Toto. Jeff was soon drumming in studios around the clock with a who's who list of contemporary talent. The recording world became his oyster.
My kinship with Jeff began when I moved to Los Angeles in the fall of 1977. I'd grown up with a fellow musician from South Louisiana, Bobby Kimball, and he'd just been picked to be the singer by this group of musicians who had decided to stake their claim in the pantheon of music as Toto. Jeff took me under his wing, introducing me to everyone, teaching me the ins and outs of tuning, head selection, cymbal selection…. I mean, here's this huge star in the musician world taking time from his insanely busy day to give this rube a helping hand. This is what I alluded to earlier: yes the man was unbelievably great on drums, but he also had a heart as big as anyone I've ever met. A bona fide human being.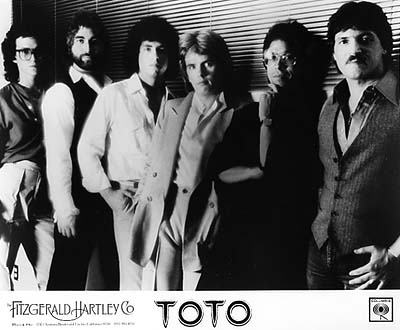 Toto became the platform in which Jeff was able to showcase all his creative abilities from writing to co-producing, and even taking a major hand in all the Toto artwork too.
Jeffery Thomas Porcaro became one of the most expressive rhythmatists the world has ever seen or heard, playing with a dizzying array of artists from Barbra Streisand to Sergio Mendes, from Steely Dan to Michael Jackson, literally thousands of recordings that mark him as one of the most recorded drummers in popular music. Why? He knew how to make them sound… great. Not good. Great.
Mark Knopfler noted how Porcaro added the special sauce when talking about Dire Straits' On Every Street LP: "One of the reasons why I loved making this album so much was because of Jeff Porcaro. He's an artist." That was Jeff – bringing out the best in the musicians he played with and infusing the sessions with a joy that lifted the results even further.
Even though Jeff's no longer on the earthly plane (his bass playing brother Mike, who was also a member of Toto, died in 2015 at age 59 from Amyotrophic lateral sclerosis [ALS], aka Lou Gehrig's Disease), this creative being left behind a large part of his soul. Talk to most any gifted pop and rock drummer from the generations that followed him about inspirations and influences, and it's a near-sure bet that the name Jeff Porcaro will quickly be invoked. He's still here with us every day, and there are butts moving the world over to prove it. I'm very privileged to have been close to a man who graced us with such passion. We all should be so lucky.
Jeff Porcaro was born April 1, 1954. He passed on August 5, 1992, at just 38.
Toto released a greatest hits collection, 40 Trips Around the Sun, in 2018, with several new tracks.

Latest posts by Dony Wynn
(see all)