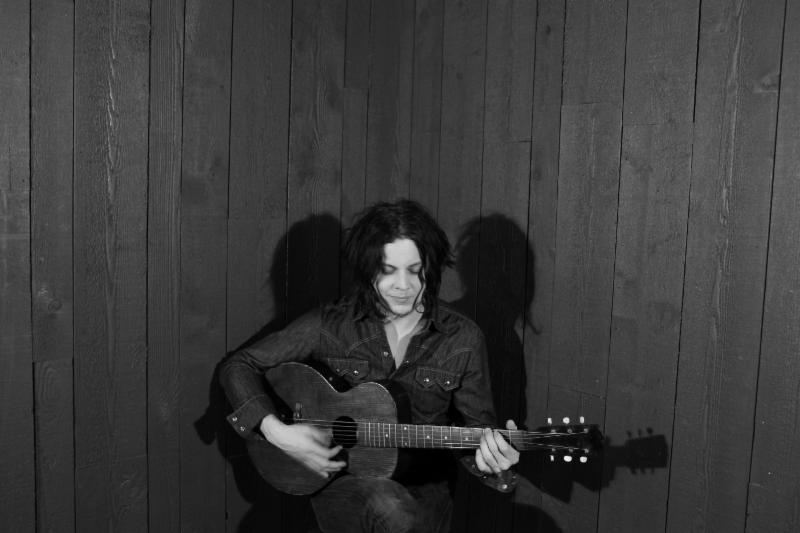 Jack White Acoustic Recordings 1998-2016, a 26-track double-LP and double-CD, will be released physically and digitally worldwide on September 9 by Third Man Records/Columbia. Included on the collection are album tracks, B-sides, remixes, alternate versions and previously unreleased tracks from the White Stripes, the Raconteurs and White solo, all completely remastered.
The album, arranged in chronological order, begins with "Sugar Never Tasted So Good" (originally found on the White Stripes' second 7-inch single) and songs like "Apple Blossom" and "I'm Bound To Pack It Up" (remixed here from the original recordings on 2000's De Stijl), "Hotel Yorba" and "We're Going To Be Friends" (from 2001's White Blood Cells), "You've Got Her In Your Pocket" and "Well It's True That We Love One Another" (from 2003's Elephant), "Forever For Her (Is Over For Me)," "White Moon" and "As Ugly As I Seem" (from 2005's Get Behind Me Satan) "Effect & Cause" (from 2007's Icky Thump), and the Beck-produced "Honey, We Can't Afford to Look This Cheap," first found on the B-side to the White Stripes' final single, 2007's "Conquest."
All songs were written and produced exclusively by White, except "Never Far Away" (produced by T Bone Burnett), "Honey, We Can't Afford To Look This Cheap" (produced by Beck), "Top Yourself (Bluegrass Version)" and "Carolina Drama" (written and produced by White & Brendan Benson), and "Machine Gun Silhouette" (written by White & Rob Jones). The complete track listing is below.
SIDE A
1) Sugar Never Tasted So Good
2) Apple Blossom (Remixed)
3) I'm Bound To Pack It Up (Remixed)
4) Hotel Yorba
5) We're Going To Be Friends
6) You've Got Her In Your Pocket
7) Well It's True That We Love One Another
8) Never Far Away
SIDE B
9) Forever For Her (Is Over For Me)
10) White Moon
11) As Ugly As I Seem
12) City Lights (Previously Unreleased White Stripes Track)
13) Honey, We Can't Afford To Look This Cheap
14) Effect & Cause
SIDE C
15) Love Is The Truth (Acoustic Mix)
16) Top Yourself (Bluegrass Version)
17) Carolina Drama (Acoustic Mix)
18) Love Interruption
19) On And On And On
20) Machine Gun Silhouette (Acoustic Mix)
SIDE D
21) Blunderbuss
22) Hip (Eponymous) Poor Boy (Alternate Mix)
23) I Guess I Should Go To Sleep (Alternate Mix)
24) Just One Drink (Acoustic Mix)
25) Entitlement
26) Want And Able
Jack White Acoustic Recordings 1998-2016 is available for pre-order physically and digitally here. All digital pre-orders will receive an instant free download of the previously unreleased White Stripes track "City Lights."

Latest posts by Best Classic Bands Staff
(see all)