A few weeks ahead of the Feb. 14 release of the first new album of original songs from Huey Lewis and the News, the singer talked about the hearing loss that has affected him since 2018.
Listen to plenty of the new songs below.
In a taped interview that aired Jan. 26 on CBS Sunday Morning, Lewis says, "Right now, I'm having a good day. Yesterday was a really bad day."
Lewis has been diagnosed with Meniere's disease, which causes sounds that he hears to be severely distorted. He told CBS' John Blackstone of the precise moment when it first made its impact.
"Just before a gig in Dallas, Texas, on January 27, 2018," he says, "I went onstage and it was horrible. Couldn't hear anything. Sang out of tune. Had the worst night of my life."
Watch the CBS Sunday Morning interview with Lewis
The new album, originally scheduled for 2019, arrived Feb. 14 with just seven tracks, on BMG. Weather features the group's first new, original songs since 2001's Plan B album, plus one cover (of the classic Eugene Church soul burner "Pretty Girls Everywhere"). It was produced in-house by Lewis and the band, just like every record they've made since the early 1980s.
On Feb. 13, Lewis introduced the video for "Her Love is Killin' Me," on The Jimmy Kimmel Show. The clip features plenty of guest stars.
Along with the 2019 album announcement, the band shared the album's opener, "While We're Young."
In a press release, Lewis calls Weather "some of the band's best work. Songs evoke the superlative eras of Sports and Fore! (one of the small number of albums to ever generate five or more Top 10 hits on the Billboard Hot 100), and extend to blues shuffles, classic R&B, and even a hint of country twang.
Listen to "One of the Boys," a song Dave Cobb originally asked Lewis to write for Willie Nelson
Huey Lewis and The News recorded Weather at their own Troutfarm Studio in Marin County, Calif., says the release, "and once again brought in the mixing expertise of studio legend Bob Clearmountain. Clearmountain and The News have had a long-running relationship, and he is credited with mixing many of the band's hits, including 'Do You Believe In Love,' 'The Heart of Rock & Roll,' 'I Want a New Drug,' and 'If This Is It,' to name a few."
Listen to "Pretty Girls Everywhere"
Weather, the announcement continues, "marks a fresh opportunity for new generations of fans to discover why Huey Lewis and The News have sold over 30 million albums, topped numerous charts, earned Grammy wins, Academy Award nominations and a spot on Billboard's recent list of the Top 125 Artists of All Time. As Lewis says, 'You've got to look on the bright side and stay creative. Even if I never sing again, things could always be worse. After all, I'm deaf, not dead.'"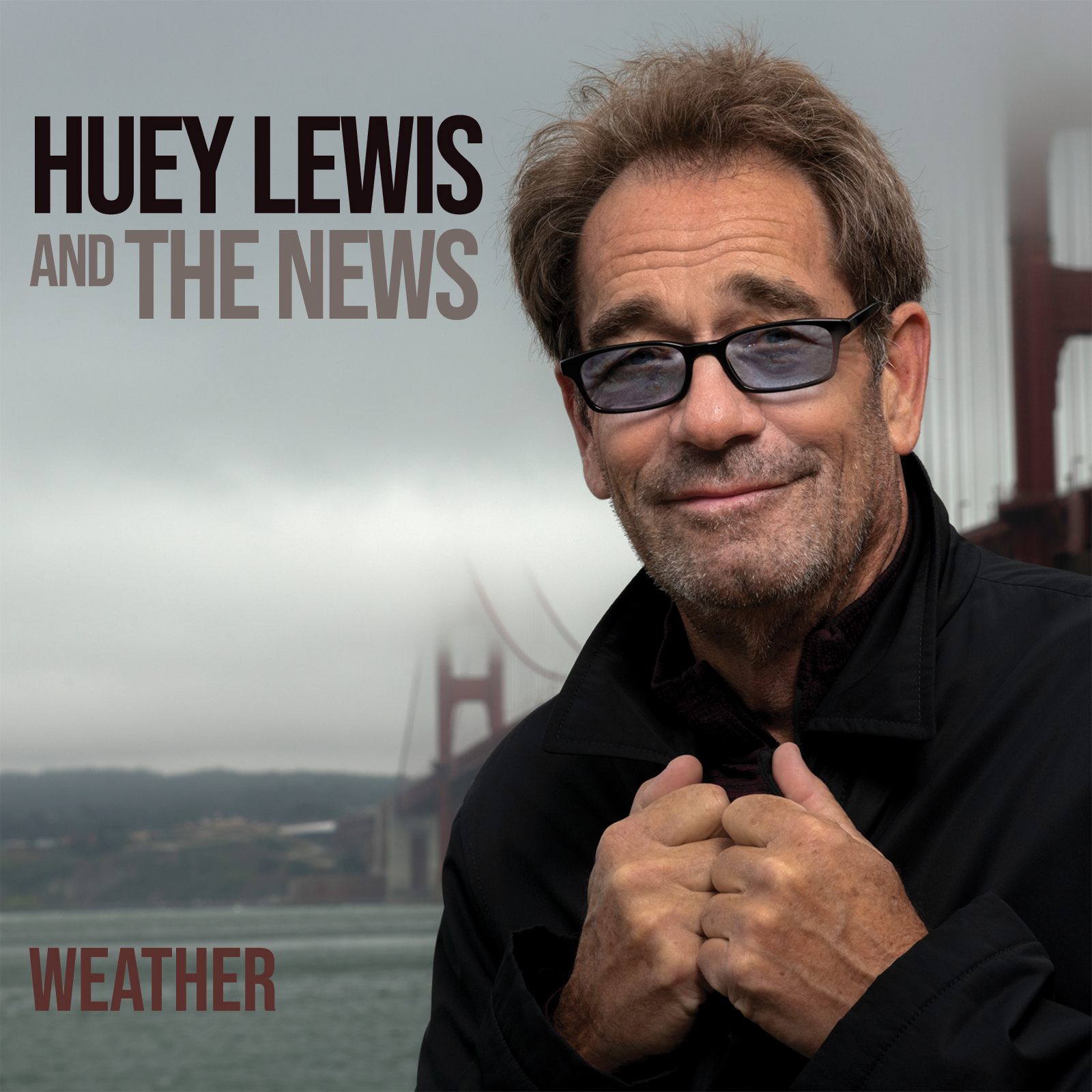 Weather Track List
While We're Young
Her Love is Killin' Me
I Am There For You
Hurry Back Baby
Remind Me Why I Love You Again
Pretty Girls Everywhere
One of the Boys
An earlier January 18, 2019, surprise announcement had originally noted that the album was expected to be released in the spring of 2019. That news followed the April 2018 revelation that Lewis had cancelled all performances because he had lost most of his hearing. In a May 7, 2018, interview with NBC's The Today Show, Lewis said, "I can't hear music. I can do everything but what I love to do the most."
In an interview, published on Feb. 7, 2019, with the San Francisco Chronicle, Lewis spoke in detail about the ups and downs of the past year.
"For the first two months I was like suicidal," he told the paper. "Really, it can drive you absolutely crazy. After two months of wanting to blow my brains out and not being able to hear anything, I had to figure something out. So creatively, I got involved in our musical."
He's referring to The Heart of Rock & Roll, a jukebox musical centered around his band's hits. Although he didn't create it, he's involved and wrote a new song for it. It enjoyed a solid out-of-town tryout in San Diego and the hope is to bring it to Broadway.
In his original disclosure on April 13, 2018, Lewis wrote to his fans, "Although I can still hear a little, one on one, and on the phone, I can't hear music well enough to sing. The lower frequencies distort violently making it impossible to find pitch. I've been to the House Ear Institute, the Stanford Ear Institute, and the Mayo Clinic, hoping to find an answer. The doctors believe I have Meniere's disease and have agreed that I can't perform until I improve."
However, in October 2018, in news that was not widely picked up, Best Classic Bands reported that Lewis had sung in public for the first time in eight months, when he performed his hit, "Hip to Be Square." Read our story here.
"Boom, I sang it, it was great, I could hear everything!" he told the Chronicle. "Next day, my hearing's still good. It's fantastic. Huey's back! I'm going to sing again!
"[Then] my hearing goes to s— again."
At the time, Lewis said, "I haven't given up. I have not given up."
With the back-to-back smash success of the 7x Platinum-certified Sports and 3x Platinum Fore!, followed by the Platinum-certified Small World, the group has written and performed such crowd-pleasing classic rock hits as "Heart of Rock & Roll," "Stuck With You," "I Want a New Drug," "If This Is It," "Hip to Be Square," "Do You Believe In Love" and "Workin' for a Livin'."
The group also wrote and performed "The Power of Love" and "Back in Time" for the hit film Back to the Future. Nominated for an Academy Award for Best Original Song, "The Power of Love" went on to reach #1 and was a worldwide smash.
Huey Lewis and the News are Lewis (vocals and harmonica), Johnny Colla (saxophone, guitar and vocals), Bill Gibson (drums, percussion and vocals), Sean Hopper (keyboards and vocals), Stef Burns (guitars and vocals) and John Pierce (bass). The live show features their long-time horn section of San Francisco bay area musicians including Rob Sudduth (tenor saxophone), Marvin McFadden (trumpet), and Johnnie Bamont (baritone saxophone).
Lewis turns 70 on July 5, 2020. Given his hearing issues, it's not anticipated that there will be a tour. "I miss the guys and the camaraderie. Could I play a show where there'd be a loud PA," he asked the CBS Sunday Morning interviewer. "Probably not."

Latest posts by Best Classic Bands Staff
(see all)