[This first appeared on Best Classic Bands in March 2016 and is taken from an interview by our friend Dennis Elsas that he did with Gregg Allman in 2011.]
Now in his late '60s, Gregg Allman is not merely a survivor. And that's in defiance of expectations and the odds. Haunted by the tragic deaths of his brother Duane in 1971 and Allman Brothers Band bassist Berry Oakley a year later, his past substance abuse issues are all but legendary. He has faced serious health problems during the last decade. Yet he has recently been making some of the best music of his life.
He was able over the last quarter century or so to not just regroup the Allmans as an active touring and recording act but rebuild their musical brand to levels of respect and acclaim that equaled their early '70s heyday. And then in 2014 called it a day for the band on a high note.
In 2012 he published a well-received memoir, My Cross to Bear. In 2015, he released a live album/DVD, Back to Macon, GA, that won him acclaim. His final studio album, Southern Blood, was released posthumously.
Related: Jimmy Carter, Cher attend Gregg Allman's funeral
Dennis Elsas spoke with Gregg for WFUV back in early 2011 when his current upswing began with his Low Country Blues album on which he rendered some of his favorite classic blues numbers (alongside one new original song), produced by T-Bone Burnett. In their talk we learn about his early blues education, why he avoided the studio for a spell, and a little-known secret about the artwork on the Allman Brothers' At Fillmore East album. (You can also listen to their conversation on Dennis' website.)
Elsas is, as many Best Classic Bands readers know, one of the most respected album rock air personalities in the nation. From a quarter-century-plus stint as a DJ and music director at WNEW-FM to his endeavors today as afternoon drive host at the esteemed WFUV and as co-host of the weekly Beatles talk and "call-in" show, "Fab Fourum," heard exclusively on the Beatles Sirius/XM Channel (18) plus weekend shifts on Sirius/XM's Classic Vinyl Channel (26), he has earned the regard of listeners and artists alike. Dennis occasionally presents his Rock 'n' Roll Never Forgets live multimedia show, a real treat that greater New York metro area rock fans should not miss.
Dennis Elsas: When I listened to the Allman Brothers for the first time back in the late '60s and early '70s, I didn't know some of those songs were old blues songs. I thought those songs were all Allman Brothers songs. In a way, the Allmans were one of those bands that gave my generation a little education into the blues, because you were sharing for us music that you had gotten turned on to. How did you get turned on to all that music?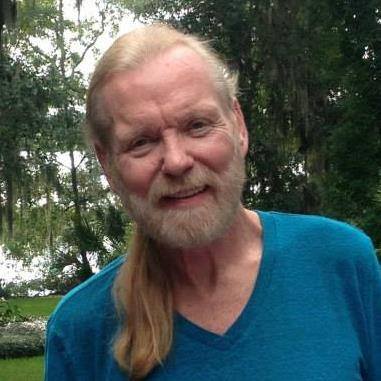 Gregg Allman: There was this radio station [WLAC in Nashville], there was Big John R. [John Richbourg] and Herman Grizzard. Big John R died a few years ago and I got to meet him before he died. But back when everybody else was listening to The Beach Boys, this station came on and had bottle club hours. [laughs] So it didn't come on until 9 or 10 and I stayed up 'til 5. And they had different shows and they played Howlin' Wolf. They played Muddy. They played B.B. I got turned onto Little Milton for the first time. And at night Herman Grizzard took over and he had a jazz show and that's when I first heard Hammond organ, first heard Jimmy Smith. First got turned onto jazz. And I thought, man this is… why can't we get a player just to play all this? But it would come on late at night. I don't know why we didn't think of just sitting there and recording it all and compile all the tunes but it sure enriched our entire repertoire, that's for sure.
DE: This is the first Gregg Allman solo album in a long time. And I had heard that after [producer] Tom Dowd died, you were hesitant to go into the studio with a stranger. Is that true?
GA: Oh, yeah. Very. Yeah, after Tommy died, I got real skittish about it. I just dived into the live performing more than anything. I don't know, man, the years just got away.
Related: Gregg's son, Devon, and Dickey Betts' son, Duane, have big 2019 plans
DE: So who said, we want you to maybe meet this guy T-Bone Burnett. How did that come about?
GA: That was my manager, Michael Lehman. I was on a tour with the Brothers and it was coming to a close. We were somewhere around Detroit or Minneapolis, and he came out and I had never met him before. I didn't know him from Adam's house cat. I don't know how I escaped it because he already had a bunch of big hits, the movie Oh Brother, Where Art Thou? So I said, what are you doing in town? He said I have a couple of builders with me. I'm measuring the Sun Studios board by board so I can go back and build it on this piece of land next to my house. (laughs) I thought, man, that's got to be the hippest thing I ever heard of. We started talking, we really got along well. He had this modem that somebody had given him with all these old obscure blues songs. He said, why don't I peel off about 25 of them and I'll send them to you on a disc and you find 15 of them that you would like to record, and see what we got. So we went into the studio. I don' know, it all just fell together. It's really amazing; a whole lot of magic going on.
DE: Listening to the album…. For me, the fun thing is I get a brand new album, especially one I've been looking forward to. I put it in the car and I take a long ride. And I just kind of see what hits me. I got hooked in the middle of the record with "Just Another Rider." For my ears, that is the classic Allman sound. And I don't know whether you were looking to write another classic Allman sound. But it's there.
GA: (laughs) That's strange. I can't really hear that. Not like you can.
DE: I don't know if it's the way that you're singing it. If it's the words. The first time I introduced it on the radio I said, "Oh, 'Just Another Rider,' maybe this is the continuation of 'Midnight Rider.'" That's how a DJ's brain works… wants to relate everything. But then you just put it on, the lyrics are in a different place but there's just that classic sound. And you're home. I'm back in my Allmans comfort zone. (Allman laughs) And I'm like. yeah, that's what I bought the ticket for.
GA: In your comfort zone.
DE: Anything you want to tell us specifically about "Just Another Rider?"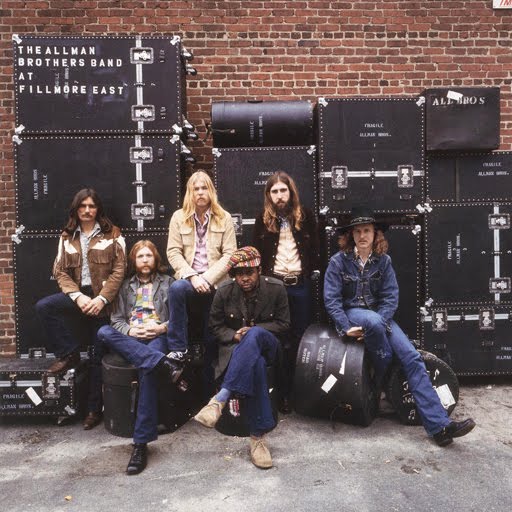 GA: It's just a song that Warren [Haynes] started it, the basic idea, which started with like a main line. It took a while. When he moved away from Sarasota for a while, we had some changes within the band. And people got married. It seemed like all that happened at once. Geez. Anyway, Warren moved to New York. I don't see him that much anymore. But when I do we usually sit down and start writing something. So this definitely wasn't like a forced thing with like a deadline on it. I don't play that deadline stuff. I'll have something written and he'll start finishing it up and vice versa. We make a pretty good team.
DE: Is there a snapshot somewhere in your head of the Fillmore other than the one you've seen on the album cover all these years?
GA: Actually there kind of is. First of all, the pictures on the Fillmore East record were taken… at the Fillmore West. (laughs) Not many people know that. (laughs) Ain't that something? Because the Fillmore East was like a theater and the Fillmore West had these silk things hanging from the ceiling. And when you open it, the picture that's right here you can still see all those silk tapestries hanging from the ceiling. That was a stone hippie place.
Best Classic Bands is pleased to be publishing excerpts of many of Elsas' interviews with classic rock legends as a regular feature: The Dennis Elsas Conversation, including ones with Robert Plant, John Fogerty, Roger Daltrey and Bill Wyman.

Dennis Elsas grew up in Jackson Heights, Queens with a transistor radio under his pillow, listening to the great New York AM rock 'n' roll stations. As FM began to emerge, so did his broadcast career with the founding of campus radio station WQMC at Queens College in the mid '60s. His first paid on-air job was at WVOX, a suburban radio station in New Rochelle, NY, where he created a free-form progressive rock show called Something Else Again. And, then – just after midnight on July 11, 1971 – he launched what would be a 25 plus-year career at WNEW- FM (102.7) in New York City.

Dennis was hired at WNEW-FM by the station's program director, Scott Muni, one of the legendary DJs he had grown up listening to. He quickly ascended to the position of Music Director, and received the rock 'n' roll music industry education of a lifetime. The station was emerging as one of the premiere rock radio stations and Dennis was integral to creating its sound. He was also meeting and interviewing a stream of rock 'n' roll heroes, including Elton John, Mick Jagger, Pete Townshend, Paul McCartney and John Lennon.

Lennon was his in-studio guest on Saturday afternoon, September 28, 1974. They had met previously at the Record Plant Recording Studio as Lennon was finishing his latest album Walls and Bridges. During the conversation, Elsas casually invited him to visit WNEW-FM. When Lennon actually showed up, Dennis was more than a little surprised. What began as a discussion of the new album quickly turned into two hours of rare Beatles memories, speculation on a reunion, and candor about his immigration fight. Lennon even took over as DJ, playing some favorite, obscure 45s he'd brought with him, reading live commercials, and giving the weather reports.

Years later, excerpts of that historic afternoon were used in the Beatles Anthology, numerous books, and various documentaries. The entire show has become part of the permanent collection of the Paley Center For Media (formally the Museum of Television and Radio). It is also a pivotal part of the recent award winning PBS American Masters film "LENNONNYC".

The interview also inspired Elsas to produce, co-write and host the radio documentary, It Was Forty Years Ago Today: The Beatles Invade America which won a number of prestigious awards (e.g. New York State Broadcasters Association Best Documentary, New York Festivals World Medal.) It aired on WFUV in February, 2004. Revised for the fiftieth anniversary in 2014, it is now featured in the Grammy Museum's traveling exhibit Ladies and Gentleman…The Beatles!

In May 1976, Dennis took over the prime 6-10 PM slot on WNEW-FM, bringing his creative programming of the station's vast rock 'n' roll record library to the nighttime audience. Rock 'n' roll history was being made at 102.7, and whether he was in the studio with Meatloaf, backstage with Bob Seger or onstage with John Mellencamp, Dennis was sharing the experience with his listeners. In the 1980's he created the popular Beach Party program. The station became known as the place "Where Rock Lives" and Elsas remained there through 1998.

While still at WNEW-FM, Dennis expanded his broadcasting activities to include two years as the music correspondent for television's PM Magazine, and to host such syndicated radio shows as Rock Today, Rock 'n Roll Never Forgets and Billboard Entertainment News.

Dennis' voiceover career also grew with numerous projects for HBO, Cinemax, Showtime and The Movie Channel. Corporate and commercial clients included American Express, Time, Lancôme, Procter and Gamble, and Kraft Foods. He is now featured as the "Voice of Rock History" at the Museum at Bethel Woods – the story of the Sixties and Woodstock – and has been the announcer for the Rock and Roll Hall of Fame broadcasts and VH1's Concert of the Century at the White House. Dennis was the narrator of Discovery Magazine on the Discover Network and the "voice" of the Smithsonian Channel.

But his abiding passion is to be on the air, programming music that blends old favorites with new discoveries, interviewing artists and interacting with his listeners. Today he's happily doing that seven days a week.

Since the summer of 2000 he's been hosting weekday afternoons (2-6 PM) on New York's WFUV (90.7 FM, and streaming at WFUV.org). With an eclectic mix of rock, folk, jazz and blues and, guests in the studio that have included Elvis Costello, Ben Folds, Patti Smith, Edie Brickell and Ringo Starr, Dennis continues the tradition of progressive radio he helped to create.

In May 2004 he joined Sirius/XM's Classic Vinyl (26) and can be heard every Saturday and Sunday sharing his Classic Rock knowledge and memories with a worldwide audience.

In 2010 Dennis created Rock 'n' Roll Never Forgets – a live multimedia show featuring highlights from his history making interviews with John Lennon, Elton John, Jerry Garcia and more. As one of the pioneers of the progressive FM radio revolution at WNEW-FM and continuing today with new opportunities at WFUV and Sirius/XM, Dennis shares his favorite stories and unique perspective on rock and radio in person with enthusiastic audiences.

Latest posts by Dennis Elsas (see all)