The Grateful Dead's Eponymous 1971 Live LP—'Skull & Roses'—Expanded: Review
by Jeff Burger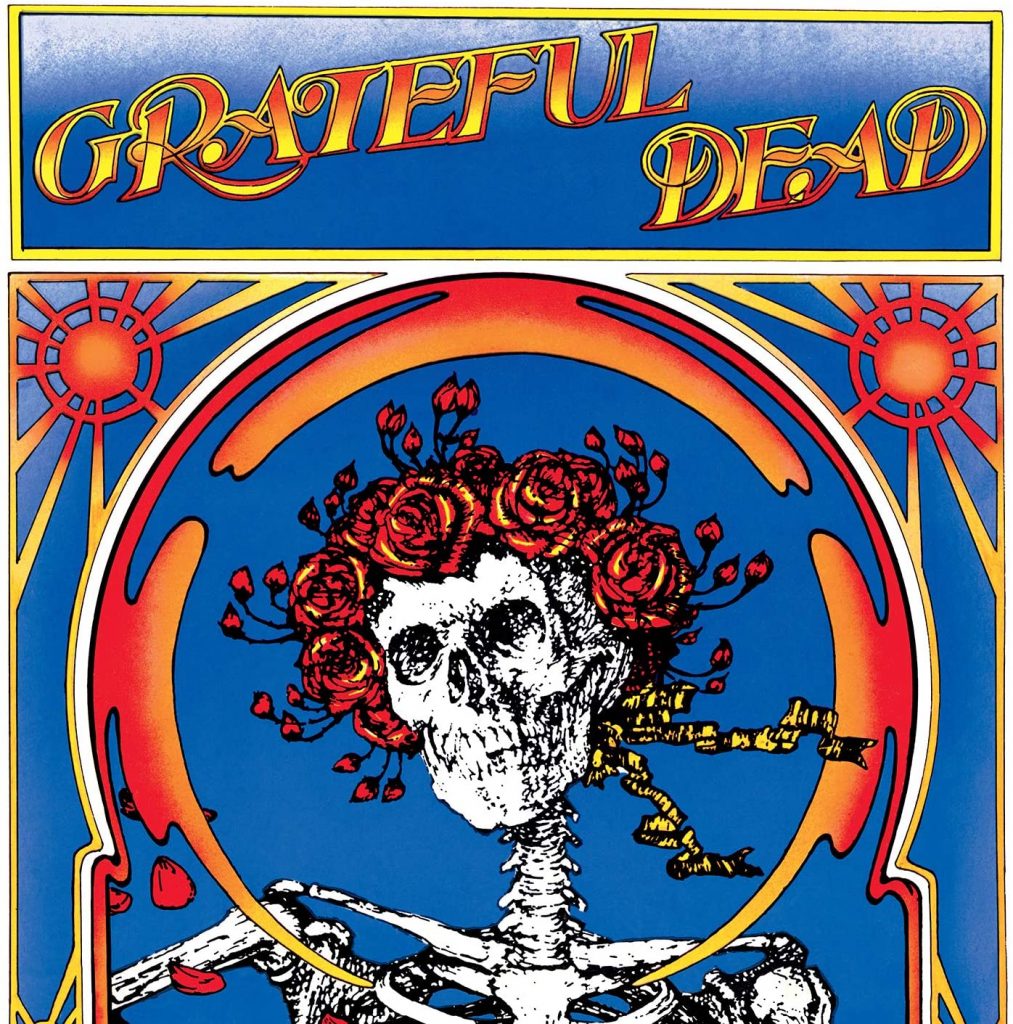 Like the Beatles' so-called White Album, The Grateful Dead's eponymous second concert LP (following 1969's well-named Live/Dead) has come to be known by a description of its cover art: Skull & Roses.
The record, released on October 24, 1971, contains performances from March and April of that year at seven New York and San Francisco concerts. At the time, the group was enjoying the back-to-back successes of Workingman's Dead and American Beauty, which had been released within five months of each other in 1970. Those albums found the Dead forsaking their earlier extended jams and psychedelic bent in favor of tightly constructed, melodic country-rock that emphasizes prominent, harmony-laden vocal work.
The 11-track Grateful Dead (Skull & Roses)—which features the band's original lineup of Jerry Garcia, Bob Weir, Ron "Pigpen" McKernan, Phil Lesh and Bill Kreutzmann—doesn't sound much like those LPs. Indeed, it draws no songs from either of them. It does include nods to country, but it paints a picture of a more versatile group, employing funky rock and offering a return to psychedelia via its centerpiece: an 18-minute version of Weir and Kreutzmann's "The Other One," which first appeared on 1968's Anthem of the Sun. There are also a couple of Jerry Garcia/Robert Hunter cowrites, the rocking "Bertha" and "Wharf Rat," a wino's tale, as well as the infectious "Playing in the Band," by Hunter and Weir.
The rest of the album consists of imaginatively arranged country and rock covers, among them Kris Kristofferson's "Me & Bobby McGee"; Chuck Berry's "Johnny B. Goode"; Merle Haggard's "Mama Tried"; "Me & My Uncle," by John Phillips of the Mamas and the Papas; and a nine-minute medley that weds Buddy Holly's "Not Fade Away" to the traditional "Goin' Down the Road Feelin' Bad."
Listen to "Me and Bobby McGee" from the April 27, 1971 Fillmore concert
Related: Read our Album Rewind of the expanded American Beauty
As much as the fans liked Workingman's Dead and American Beauty, they apparently liked Grateful Dead (Skull & Roses) even more, buying enough copies to make it the group's first gold record. And with good reason: while no single song here proves quite as dazzling as Live/Dead's "Dark Star," the band impresses consistently, delivering solid new originals, all of which became concert staples, as well as covers that showcase strong interpretive abilities and affection for the Bakersfield Sound.
Now, a 50th anniversary edition of the album offers good reasons to upgrade from old copies: the original record—a double LP that later fit on a single CD—has been well remastered for this 2021 release, and it is accompanied here by a second disc that delivers a pristine recording of a previously unissued July 1971 Fillmore West concert.
Granted, that 10-number concert—which doubles the album's length to nearly two and a half hours—duplicates some tunes from the original release. Granted, too, the Dead catalog now includes approximately five gazillion other concert recordings.
That said, the second disc's versions of songs that also appear on the first CD—especially "The Other One"—are worth hearing, and there are also some extremely noteworthy performances of numbers that aren't on the original release, including an affectionate 10-minute reading of another Haggard classic, the prison ballad "Sing Me Back Home," and a nearly 18-minute take on "Good Lovin'" that sounds vaguely like the Rascals' original hit for about two minutes before veering off into classic Grateful Dead jam territory.
Listen to the nearly 18-minute cover of "Good Lovin'"
Latest posts by Jeff Burger
(see all)