Graham Nash in 2014: 'David Crosby Gave Me Back My Self Confidence'
by Dennis Elsas
For those of us fortunate to be living in the New York City metro area in the 1970s on into the two decades that followed, and listening to rock music as it flourished on the legendary album rock station WNEW/102.7 FM, Dennis Elsas was like a trusted friend, a voice on the airwaves that shared our deep passion for the music. And one who had impeccable taste in the songs he would play along with keen insights into why those tracks and the artists that created them were so significant.
The New York native joined WNEW in 1971, where he became an integral part of the classic rock experience for millions of listeners over the years to follow. By then he'd also shown his considerable chops as not simply an interviewer but gifted conversationalist who was able to elicit fascinating thoughts, observations and remembrances from rock's biggest stars.
Elsas is, as many Best Classic Bands readers know, one of the most respected album rock air personalities in the nation. From a quarter-century-plus stint as a DJ and music director at WNEW-FM to his endeavors today as afternoon drive host at the esteemed WFUV and as co-host of the weekly Beatles talk and "call-in" show, "Fab Fourum," heard exclusively on the Beatles Sirius/XM Channel (18) plus weekend shifts on Sirius/XM's Classic Vinyl Channel (26), he has earned the regard of listeners and artists alike. Dennis occasionally presents his Rock 'n' Roll Never Forgets live multimedia show, a real treat that greater New York metro area rock fans should not miss. He celebrated his 50th anniversary on New York radio in 2021.
Best Classic Bands is pleased to be publishing excerpts of many of his interviews with classic rock legends as a regular feature: The Dennis Elsas Conversation, including ones with Robert Plant, John Fogerty, Gregg Allman and Bill Wyman. Here's his 2014 interview with Graham Nash, born Feb. 2, 1942.
ELSAS: What was wonderful for me as I was reading the book [Wild Tales: A Rock & Roll Life] is that I thought, y'know, I'm such a smart guy, I know everything there is to know about The Hollies and Crosby, Stills & Nash and the individual careers. After all, either I was listening as a kid or playing all the music on the radio or meeting you in various situations. But there is all of this history. Sometimes I almost feel…. You know that movie Zelig?
NASH: Sure. Love that movie.
ELSAS: And you're Zelig at some point. Somehow you are there for everything.
NASH: A great Woody Allen movie… about an incredible life. And I realize that, and I realize just how lucky I've been in my life. I'm this kid from the north of England, and I still feel like that kid. You know, I am 72 years old now, but I still feel like I'm 25 inside. I have no idea who that person looking at me from the mirror is. But inside I still feel young and passionate and creative, and I'm very grateful for that.
ELSAS: When the book starts you're flying into Los Angeles, and you're Graham Nash of The Hollies, about to, as you tell us in the opening of the book, go through an amazing life change. And about to meet with your new girlfriend at the time, Joni Mitchell, who will be visited that afternoon by [David] Crosby and Stephen [Stills], and the life begins to change.
Sometimes when I am playing "Suite: Judy Blue Eyes," I try to explain to the audience and remind myself of how totally unlike anything it was that I had ever heard before.
NASH: How about when I first heard it from Stephen? I thought the guy was from Mars. I had never heard a song like this: four distinct movements, four distinct grooves – unbelievable! I still remember the moment he first played it for me. It was astounding to me. I was used to writing songs with The Hollies that were moon, June, two-and-a-half minutes right before the news kind of songs. This was something completely different.
We recorded the "Suite." It took us maybe about 16 hours to record it. We got to the end of it. We thought it was a great take. Stephen said… "I think we can do it better." So we spent the next 11 hours – because obviously in the 16 hours we had rehearsed it a great deal – re-cutting the "Suite." And we got to the end of that, and Stephen said, "Naw. We got it the first time."
ELSAS: It's interesting that there was the one document of a Crosby, Stills, Nash & Young live album, and that was 4 Way Street. And in your book you even write how disappointed you all were at the time about the record. And you are obviously the group archivist, you are the chief cheerleader. Whenever I see you onstage it is very clear that Graham has brought everyone together and Graham will make sure that we all – that is the musicians and the audience – will have a good time. At what point did you say, you know, I've got to get a document of this band at some point when they really sounded great?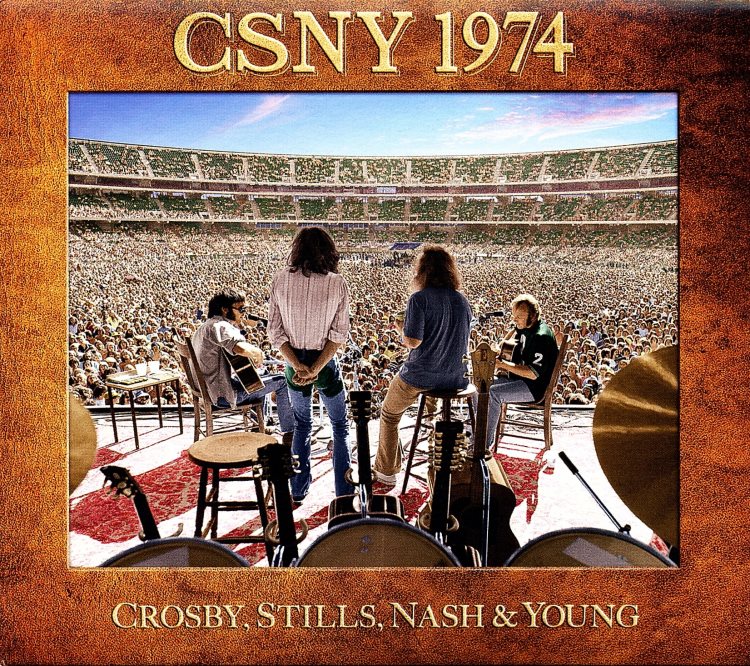 NASH: We knew, because we recorded every single show of the 31 shows [on CSNY's 1974 tour] on two-track. But we did multi-track on nine shows. So we knew that we were going to try to put together a record of this music. What happened is after the last show at Wembley Stadium in London, when we returned to the United States, we watched that show and none of us liked it. We were playing too fast, we were too high, we were too excited, we didn't like it. So the idea of making an album from that tour got put on the back burner.
But I always knew there was an incredible record to be made because we had played some great music and I knew it. And then one day about four-and-a-half years ago, somebody showed me the bootleg of the Wembley show. And I was talking to Neil about it, and I said, "You know, that's not us. That may have been us that night. But that's not who we were. Why is this the only available thing that people can get and watch and listen to CSNY live? I need to make the record of this tour." And I put together a demo with [acclaimed photographer] Joel Bernstein. We drove to Neil's ranch and played it for him, and he said, "Go right ahead."
And my partners trust me. They know I want the best from them. They know that I will be democratic enough to have as much as an equal amount of songs as possible so that nobody overwhelms anyone else. They know that about me. They trust me. And they also trust my sense of production and sonic quality. And so once I got Neil's okay to do it, they all kind of left me alone to do it.
I'm a fan of David, Stephen and Neil on this box set. When I spent the last four-and-a-half years putting this box set together, I fell back in love with who those people were. I became a fan again of the music of this strange quartet.
ELSAS: As I was reading your book. I thought, well, this is very telling. You talk about one of your first experiences meeting David Crosby with The Byrds, and you say, "Crosby wasn't happy with The Byrds. They were refusing to put his songs on the albums, and in return, David was behaving badly. He was refusing to show for rehearsals, staging hissy fits, and acting out. Little did I know David had a PhD in acting out."
NASH: And still does to this day.
ELSAS: And I thought, well there it is. That explains why we as fans watch you onstage, know the history, know of all the difficulties that… well you've been through your own, but certainly David's have been more public and well-known….
NASH: And deeper….
ELSAS: And there he is, still your partner. You say much later in the book that David is still the one you're most comfortable with, that you have the bond with David. Which I guess would explain the large catalog of Crosby and Nash albums and the touring over the years. I find that interesting in that you knew early on, or no, you say, "Little did I know that David had a PhD in acting out," you had no idea about the trip you were about to take, choosing to sign up with David.
NASH: No, that's true. But you see, David saved my life. One of the worst things you can do to an artist is to give them self doubt, is having them lose confidence in what they're doing. By the time I was coming to the end of my career with The Hollies, [they] didn't want to record any of my stuff. They didn't want to record "Marrakesh Express," I'd begun "Teach Your Children," and I knew there was an interesting song there. I'd written some other songs they didn't want to record. And so I began to doubt myself as a musician. And that's the worst thing you can do to an artist. But Crosby comes along and he says, "Wait a second. I love 'Marrakesh Express.' You're not crazy. It's them that's crazy. And David gave me back my self confidence as an artist. And I'll be forever grateful that he did that.
Elsas' interview with Nash can be heard at WFUV (listen to it in full here).
Related: Our 2016 interview with Nash about his falling out with Crosby

Latest posts by Dennis Elsas
(see all)