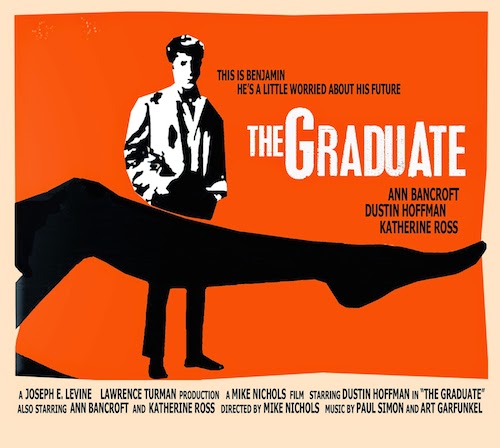 One of the most influential and groundbreaking films of its time, The Graduate, was released On This Day, December 22, 1967.
The plot is described in a press announcement for a special 50th anniversary theatrical release in 2017: "Adrift after college, 20-year-old Benjamin Braddock (Dustin Hoffman) is seduced by much-older family friend Mrs. Robinson (Anne Bancroft) in director Mike Nichols' 1967 The Graduate, the picture that captured the mood of a generation, catapulted Hoffman to superstardom and garnered seven Oscar nominations, including a Best Director win for Nichols."
Related: Simon and Garfunkel hit #1 with "Mrs. Robinson"
Benjamin, the release continues, is "the proto-millennial, who is torn between his girlfriend, Elaine Robinson (Katharine Ross), and her mother, each of whom fills the void he feels after entering the real world. Turning its lens on life during the social and political turmoil of the late '60s and supported by an iconic soundtrack by Simon and Garfunkel and Oscar-winning composer Dave Grusin, The Graduate is as relevant today as it was when it debuted 50 years ago."
Bancroft was married for over four decades to Mel Brooks before her death on June 6, 2005, at 73. In her career, she earned an Academy Award, two Tony Awards and two Emmy Awards.
The much-honored Nichols died November 19, 2014. His fourth wife (and widow) was news anchor Diane Sawyer. He is one of only 16 people to be a member of the EGOT club, having earned Emmy (4), Grammy, Oscar and Tony (9) Awards in competition. (Other members of the exclusive group are Brooks, Richard Rodgers, Helen Hayes, Rita Moreno, John Gielgud, Audrey Hepburn, Marvin Hamlisch, Jonathan Tunick, Whoopi Goldberg, Scott Rudin, Robert Lopez, Andrew Lloyd Webber, Tim Rice, John Legend, and Alan Menken. Several others are considered members, although at least one of their awards was bestowed as an honor.)
Ross, who turned 81 on January 29, 2021, also starred in Butch Cassidy and the Sundance Kid and The Stepford Wives.
Related: Butch Cassidy, 'Raindrops,' and the bicycle scene
Since 1984, she has been married to her fifth husband, actor Sam Elliott.
Watch the trailer for the film
Hoffman, born August 8, 1937, was actually 30 years old when the movie was released! (Maybe he was actually playing a grad student…) Bancroft was just six years his senior. He has been nominated for five Academy Awards, winning twice (Kramer vs. Kramer and Rain Man).
Watch Simon and Garfunkel perform "Mrs. Robinson" from the film live in Central Park

Latest posts by Best Classic Bands Staff
(see all)