Gerry Stickells, Tour Manager For Queen, Hendrix, Dies
by Greg Brodsky
Gerry Stickells, who for decades was a tour manager for such acts as Queen and Elton John, died March 6, 2019, after a long illness. He was either 76 or 77. Stickells and his agency partner, Chris Lamb, formed GLS Productions in 1977, and long ranked as among the top tour and production companies in the music business.
In a March 7 statement, Queen's Roger Taylor wrote: "He was more than a tour manager to Queen – he was a father figure, great friend and teacher, and an island of calm in the midst of chaos."
Stickells, born in England in 1942, got his start in the mid-'60s, working for Jimi Hendrix and saw firsthand as the concert business evolved into a multi-million-dollar industry.
He explained how he received his start in an extensive 1981 interview that I did for Record World: "I was just unemployed, basically. That's the truth. It wasn't a business that I intended to get into. I had been messing around with some smaller bands and then got hooked up with Jimi Hendrix when the Jimi Hendrix Experience was formed and it just went from there really. It's like anything else; you get in so far you don't know anything else, so you have to stay with it.
"I used to be the equipment guy and a little bit of everything in those days. We were together from when he first formed the band up until he died."
Queen's 1981 tour of South America was considered unchartered territory. "They [South America] had never had large outdoor soccer stadium shows before," he said in that 1981 interview. "That in itself was quite a headache dealing with people who had never done them. They had never seen one either."
Even logistics were a challenge. "It's quite a chore changing airline reservations. You have to go to the airline office; you can't do it over the phone. Plus they're not used to rock 'n' roll bands and that style of thing going on all the time.
"The most shocking part was to arrive at the first show having finally made it to Buenos Aires [Argentina] and watching them drop a 40-foot container full of equipment off the side of a truck and tip it over. I was thinking that if this was the first day, what was the rest of the tour going to be like?
"It was a day-to-day struggle. They just didn't know what to expect. They're not used to a show coming in with ten tractor trailers full of equipment.
"[The audiences] had never seen them before [but] they all seemed to know the words in English, because they were singing along."
Watch a performance from that concert as the crowd sings along
Queen drew a reported 300,000 to their Buenos Aires performance.
Stickells was asked about the differences he noticed 15 years after he started. "The sheer size of the shows [and] all of the services that surround the tours. Sound companies, lighting companies, those kinds of things were virtually nonexistent. Back then the tour required one small truck and a bunch of guys in a car."
In his career, Stickells worked with many other A-List rock tours including Elton John, Fleetwood Mac and Rod Stewart, among many others. FOH (Front of House) magazine reports that while with Paul McCartney in Moscow more than a decade ago, Stickells suffered a seizure. A life threatening tumor was discovered and he was unable to work again and required round-the-clock care.
A Go Fund Me page has been set up to help defray the costs that his wife, Sylvia, has incurred.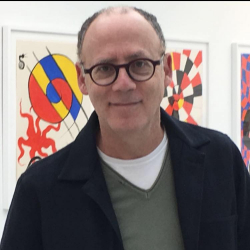 Latest posts by Greg Brodsky
(see all)