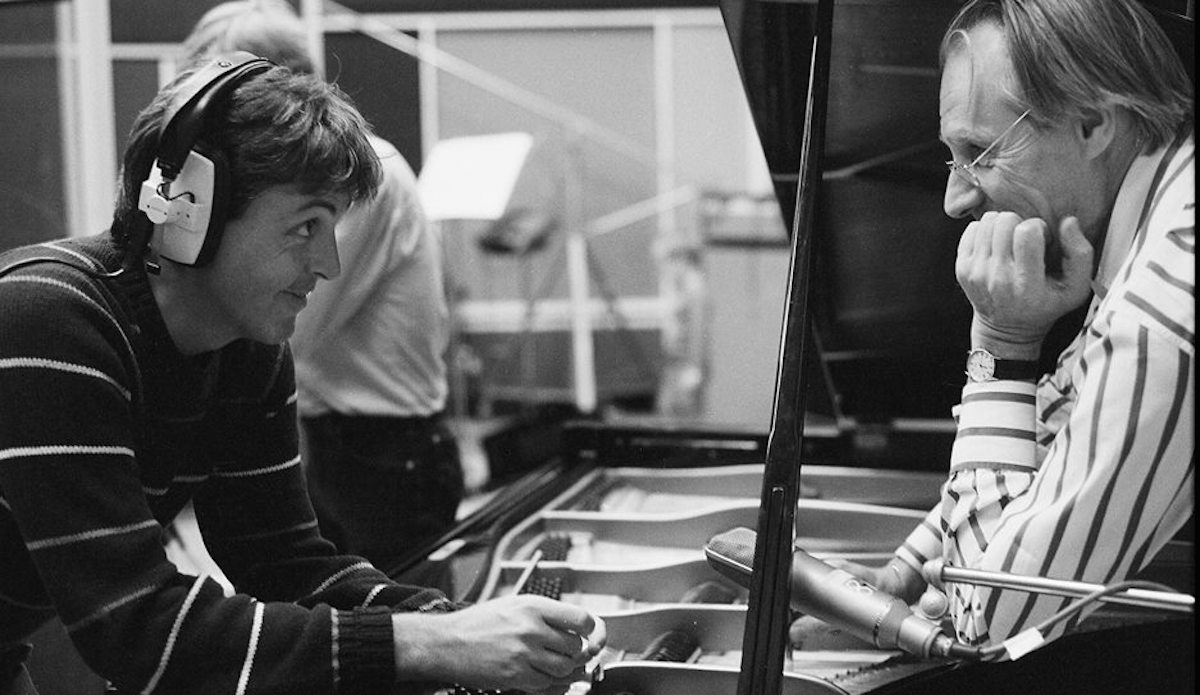 Music and entertainment legends mourned the passing of Beatles producer and arranger George Martin, when he died March 8, 2016, at 90. Ringo Starr broke the news via Twitter on March 9, writing, "God bless George Martin peace and love to Judy and his family love Ringo and Barbara George will be missed xxx 😎✌️🌟💖☮ "
Paul McCartney offered his own heartfelt tribute the following morning writing, in part, "If anyone earned the title of the fifth Beatle it was George. From the day that he gave The Beatles our first recording contract, to the last time I saw him, he was the most generous, intelligent and musical person I've ever had the pleasure to know."
Read our separate story with the former Beatles' tributes here.
A-Listers added their own remembrances and thoughts about Martin (all via Facebook unless otherwise indicated).
We start with a tweet from Martin's son Giles that will no doubt bring a tear to your eye.
Started out as my dad. Ended as my best friend. Love is all you need X pic.twitter.com/SVzuCzKKNM

— Giles Martin (@mashupmartin) March 9, 2016
Brian Wilson: When I heard that George Martin died, I felt a real sadness in my soul. The records that George produced with the Beatles were some of the greatest ever made and they inspired me to greater heights. We were young and anything was possible. George and I became friends later on and when he said nice things about me, it made me very proud. He was a kind and gentle soul. I wish the best for George's family and friends. Love & Mercy, Brian
Elton John, whose "Candle in the Wind 1997" tribute to Diana, Princess of Wales was produced by Martin: So sad to hear about Sir George. It is the end of a wonderful era. I had the privilege to have known him as a friend and work with him as an artist. He was a delightful, brilliant man. We won't see his like again. My deepest condolences to the wonderful Judy and his family. RIP George Martin
RIP to my musical brother George Martin. We were friends since 1964, & I am so thankful 4 that gift. Bless u & your precious posse 4ever.❤️Q

— Quincy Jones (@QuincyDJones) March 9, 2016
Alan Parsons (who worked as an engineer at Abbey Road Studios including The Beatles [aka The White Album]): I send my sincere condolences to George's wife Judy, and all his family. George was the Producer's Producer. He was always respectful to, and respected by, all the artists and recording engineers he worked with. I am proud to have been associated with him – both with The Beatles and the many other successful artists we worked with together at Abbey Road Studios. He had a totally unflappable nature under pressure and had great ears – including the rare gift of perfect pitch. He was always ready to experiment and push technology to its limits. He rightfully earned the title of "Fifth Beatle."
Jeff Lynne: George Martin was a big hero of mine, my favourite record producer. There were millions of questions I would have liked to ask him. It's so sad that I won't get to ask them now. I only met him a few times and I was always in awe of him. His productions were brilliant. He created his own sound.
Elvis Costello (edited): News of the passing of Sir George Martin could only ever be greeted by both sadness and the deepest gratitude.
George Martin produced the first 45rpm disc and long-playing records that I was given as a child. He produced the first E.P. for which I paid with my own pocket money. This is an experience that I know I probably share with thousands upon thousands, if not millions of listeners and admirers.
Almost anybody working in a recording studio today probably takes for granted the very many recording innovations developed on his watch at Abbey Road by succession of engineering geniuses.
By the time I met George Martin personally in 1981, he had long since left Abbey Road and founded AIR Studios that in those days sat above Oxford Circus in the very centre of London. The Attractions and I were recording Imperial Bedroom in an adjacent studio to the one in which he and Paul McCartney were making Tug of War. We quickly got used to running into both of them in the hallway. It was all a bit head-spinning.
The Who: It is with great sadness that we learned today of the death of Sir George Martin. George had been an integral part of so many musician's lives over the past 60 or so years, carving and shaping the careers of not just The Beatles but Gerry & The Pacemakers, Cilla Black, The Foremost, Billy J Kramer, Peter Sellars, The Goons, Shirley Bassey, Elton John, Matt Monro, Kate Bush, Ella Fitzgerald . . . the list is just endless. In 1992 George worked with Pete Townshend on the stage production of Tommy, both of them seen here in the recording studio with actor Michael Cerveris. Tommy opened on Broadway in 1993 and the subsequent stage recording won George Martin, as the album producer, the Grammy Award for Best Musical Show Album in 1993. R.I.P. George Martin. Never to be forgotten.
Capitol Records: Rest In Peace George Martin, forever in our hearts 🎶 Often referred to as "The 5th Beatle," he was a true visionary and will undoubtedly be remembered as one of the most prolific producers of all time.
Jimmy Page: Sir George Martin RIP
Best Classic Bands' George Martin obituary can be read here.
America, whose hits "Sister Golden Hair," "Tin Man" and "Lonely People," among others, Martin produced: We have just learned of the passing of our dear friend and musical collaborator Sir George Martin. He has passed away at the age of 90 and we are saddened beyond measure. He was a uniquely special man that we had the incredible honor and pleasure to create music with for many years in our early career. Such a great loss…he is already missed.
Peter Gabriel (edited): Really sad to lose George Martin, a brilliantly creative musical maestro who explored and expanded what music was and could be.
He was one of the giants that turned the job of recording from a science into an art.
The marriage of his experience, musicality and orchestral background with the furnace of creativity that was The Beatles, produced startlingly new music that inspired a generation and was one of the things that made me want to become a musician. The experimental edge to my work was inspired by his.
One of my personal highlights was to have been presented the APRS Fellowship award by the great man,who was very generous and encouraging as always.
It was never about him, only about making great music.
Brian May: SO SAD TO HEAR OF THE PASSING OF THE GREAT GEORGE MARTIN …. Very Sad, and sincere condolences to his family. … … … RIP. Bri
Mark Knopfler: It's going to be hard to imagine a world of music without George in it. He was a lovely man who gave so much of his talent and of himself. I am proud to have been his friend and grateful to have so many happy memories of him. My thoughts are with Lady Judy and Giles at this time.
Peter Frampton: I am so sad hearing the news about Sir George Martin. He was an incredible producer and always a gentleman, one of the nicest people I ever met. I had the privilege of working with him and we became friends. His legacy is large. George and the Beatles changed every thing in the recording studio and we all learned from them. So long, Sir George we will always miss you. RIP
Julian Lennon: So Sad to hear the News of George's Passing… The Fifth Beatle, without question, and likely one of the best & most Iconic Music Producers of all time. You were always such a gentleman and have inspired Millions and will continue to do so for Millennia… It was an Honour to know You.

My Heart & Prayers go out to Judy and all other Family members…

Latest posts by Best Classic Bands Staff
(see all)