Gary Glitter, who until 1997 was best known for his glam rock single, "Rock and Roll Part 2," a worldwide hit in 1972, has been sent back to a U.K. prison just five weeks after he had been released after serving half of a 16-year term for a series of sexual offenses with underage girls. The disgraced singer returned on March 13, 2023, for an unidentified violation of the terms of his Feb. 3 release from a low-security prison, HMP The Verne, in Dorset.
The Ministry of Justice issued a statement on March 14, noting "Protecting the public is our number one priority. That's why we set tough license conditions and so when offenders breach them, we don't hesitate to return them to custody."
The Sun newspaper noted on Dec. 16 that prison authorities had indicated the 78-year-old had been a model prisoner since being incarcerated. (This story you're reading on Best Classic Bands is an update of our reporting at that time.)
A source told The Sun: "Glitter has kept his nose clean in prison and toed the line and now his sentence is almost over. The nature of his determinate sentence means the case won't go to the Parole Board. It simply means that as soon as his sentence is over, he is free to walk out of the prison gates." On Feb. 3, the paper's website noted that the "sex predator will also have to wear a tag and tell police if he enters into a relationship with someone who has a child under 18.)
From 1972-1975, Glitter, born Paul Gadd on May 8, 1944, in Banbury, England, earned eleven consecutive Top 10 U.K. hits including ones with the now-prophetic titles "Do You Wanna Touch Me" and "Oh Yes! You're Beautiful."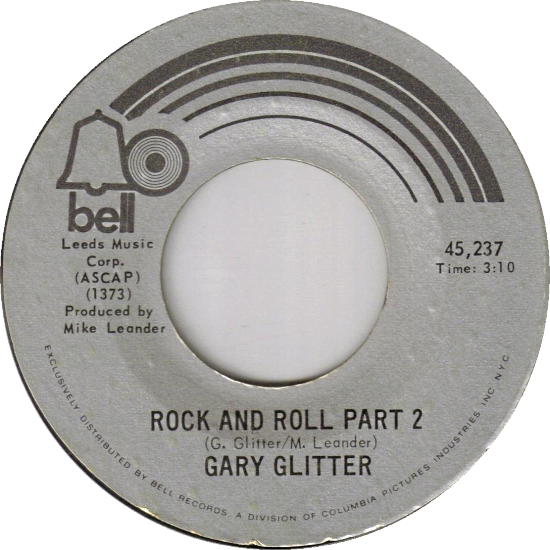 As a teenager, performing as Paul Raven, he was signed to the Parlophone label, releasing several singles that were overseen by future Beatles producer George Martin. Along with artists like David Bowie, T. Rex, the Sweet and Suzi Quatro, Glitter pioneered a musical sound and style which became known as glam rock.
His debut single, "Rock and Roll Part 2," on Bell Records, reached #7 on the Hot 100 in 1972. (The song, co-written by Glitter and Mike Leander, was part of an extended recording: "Part 1" includes a vocal track; "Part 2" is essentially an instrumental, save for the word, "Hey," which is exclaimed throughout.) Despite its singer and co-writer's notoriety, it has been a popular song for sports teams to play on stadium and arena loudspeakers to pump up the crowd during time outs.
Related: 1972 – The Year in Music
Despite his continued U.K. success, Glitter had only one other modest hit in the U.S.
In 1997, he was charged with possession of child pornography after a computer technician discovered images of underage girls on the hard drive of his laptop. He served four months in prison, beginning in 1999, for that offense. Following his release, he moved to various locations around the world to avoid public scrutiny, ultimately settling in Vietnam. He was arrested again in 2005, accused for having sex with underage girls. Though Glitter claimed to be unaware that his victims were minors, he was found guilty of various sex charges. In 2008, he suffered a heart attack while in prison and was ultimately released.
In 2015, while living again in the U.K., he was again arrested and charged with "depraved and dreadful" sex crimes, dating back to 1975-1980.
In its Dec. 16, 2022, report, The Sun noted the disgraced star "still has millions in the bank" and that his release was imminent. Glitter will be required to wear a tag  to allow officials to monitor his whereabouts.

Latest posts by Best Classic Bands Staff
(see all)