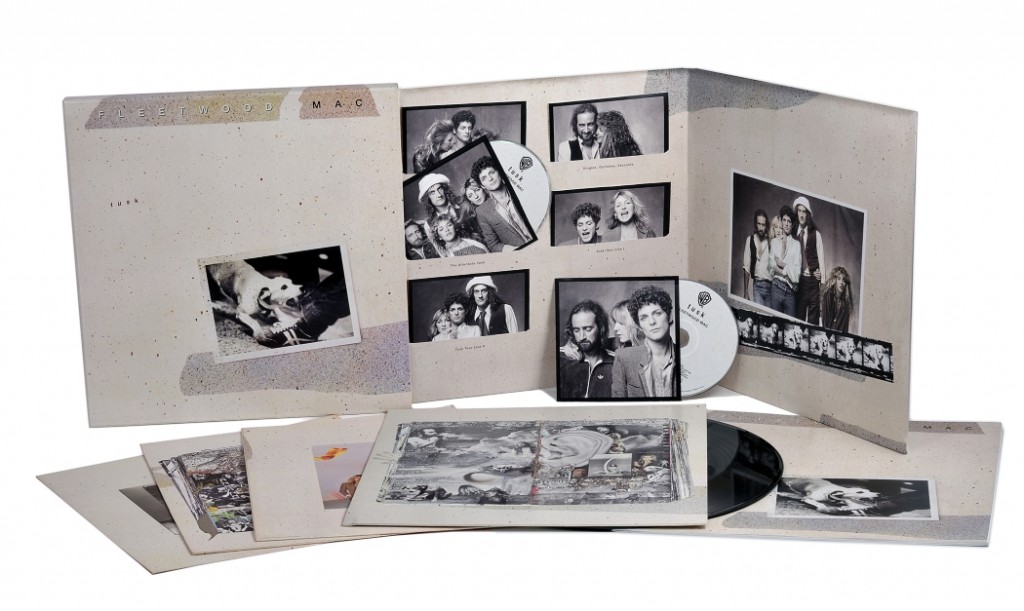 Fleetwood Mac has just revealed the full track listing for the forthcoming reissue of their Grammy-nominated 1979 album Tusk – and let's just say, it looks pretty fantastic. On December 4th, versions will be available for casual listeners and completists alike, via Rhino Entertainment: a five-CD deluxe edition, three-CD expanded edition and a single disc of the newly remastered original two-record set.
Following the phenomenal success of 1977's Rumours, the band took a more experimental approach with their 12th record, Tusk, introducing sparser arrangements as well as punk rock and new wave production influences. It was also the most expensive rock album made up to that point, costing over a million dollars to record – a fact pointed out often in the 1979 press. The album yielded two Top 10 hits: the ambitious title track (featuring the University of Southern California marching band) and "Sara" plus a third single, "Think About Me."
And while Fleetwood Mac has had multiple lineups, Tusk featured the band at their most well known: Mick Fleetwood, John McVie, Christine McVie, Lindsay Buckingham and Stevie Nicks.
The deluxe reissue offers no shortage of goodies for your listening pleasure. In addition to the original album, fans can enjoy an alternate version of the record, featuring unreleased session outtakes, singles, demos and remixes. There will also be two full discs of unreleased performances from the band's 1979 tour, with live versions of favorites like "Landslide" and "You Make Loving Fun" culled from concerts in London, Tucson and St. Louis. Extended liner notes showcase brand new interviews with all of the band members.
If you're looking for something a bit more streamlined, the three-disc expanded version offers up everything but the two live discs. All three versions are available for pre-order (see below).
Meanwhile, the members of Fleetwood Mac continue their trek around the globe as part of the acclaimed "On with the Show" world tour. Tickets are still available for concerts in Australia and New Zealand.
Tusk Deluxe Edition Track List:
Disc One: Original Album Remastered
"Over & Over"
"The Ledge"
"Think About Me"
"Save Me A Place"
"Sara"
"What Makes You Think You're The One"
"Storms"
"That's All For Everyone"
"Not That Funny"
"Sisters of the Moon"
"Angel"
"That's Enough For Me"
"Brown Eyes"
"Never Make Me Cry"
"I Know I'm Not Wrong"
"Honey Hi"
"Beautiful Child"
"Walk a Thin Line"
"Tusk"
"Never Forget"
Disc Two: Singles, Outtakes, Sessions
"Think About Me" (Single Remix)
"That's All for Everyone" (Remix)
"Sisters of the Moon" (Remix)
"Not That Funny" (Single Remix)
"Sara" (Single Edit)
"Walk a Thin Line" (Song #3 – 03/13/79)
"Honey Hi" (Alternate Version – 10/18/78)
"Storms" (Alternate Version – 11/30/78)
"Save Me a Place" (2nd Version -10/10/78)
"Never Make Me Cry" (Version – 04/17/79)
"Out On The Road" (aka "That's Enough For Me" – Demo – 12/19/78)
"I Know I'm Not Wrong" – Lindsey's Song #1 (Demo)
"I Know I'm Not Wrong" (10/10/78 Version)
"I Know I'm Not Wrong" (11/3/78 Version)
"I Know I'm Not Wrong" (4/25/79 Version)
"I Know I'm Not Wrong" (8/13/79 Version)
"I Know I'm Not Wrong" (1/23/79 Version)
"Tusk" (Demo – 01/15/79)
"Tusk" "Stage Riff" (Demo – 01/30/79)
"Tusk" (Outtake Track – 02/01/79)
"Tusk" (Outtake Mix – 01/23/79)
"Tusk" (USC Version – 06/04/79)
Disc Three: The Alternate Tusk
"Over & Over" (04/02/79)
"The Ledge" (03/13/79)
"Think About Me" (02/18/79)
"Save Me a Place" (10/18/78)
"Sara" (03/10/79)
"What Makes You Think You're the One" (02/24/79)
"Storms" (06/02/79)
"That's All for Everyone" (10/20/78)
"Not That Funny" (05/19/79)
"Sisters of the Moon" (11/12/78)
"Angel" (04/02/79)
"That's Enough for Me" (09/29/78)
"Brown Eyes" (with Lindsey & Peter Green, 09/20/78)
"Never Make Me Cry" (02/08/79)
"I Know I'm Not Wrong" (11/02/78)
"Honey Hi" (10/11/78)
"Beautiful Child" (10/09/78)
"Walk a Thin Line" (04/06/79)
"Tusk" (07/19/79)
"Never Forget" (06/29/78)
Disc Four: Tusk Tour Live I
Intro (Wembley, 06/26/80)
"Say You Love Me" (Wembley, 06/26/80)
"The Chain" (Wembley, 06/20/80)
"Don't Stop" (Wembley, 06/27/80)
"Dreams" (Wembley, 06/20/80)
"Oh Well" (Wembley, 06/20/80)
"Rhiannon" (Tuscon, 08/28/80)
"Over and Over" (St. Louis, 11/05/79)
"That's Enough for Me" (Wembley, 06/21/80)
"Sara" (Tuscon, 08/28/80)
"Not That Funny" (St. Louis, 11/05/79)
"Tusk" (St. Louis, 11/05/79)
Disc Five: Tusk Tour Live II
"Save Me a Place" (St. Louis, 11/05/79)
"Landslide" (Omaha, 08/21/80)
"What Makes You Think You're the One" (St. Louis, 11/05/79)
"Angel" (St. Louis, 11/05/79)
"You Make Loving Fun" (Wembley, 06/20/80)
"I'm So Afraid" (St. Louis, 11/05/79)
"World Turning" (Wembley, 06/22/80)
"Go Your Own Way" (Wembley, 06/22/80)
"Sisters of the Moon" (Wembley, 06/22/80)
"Songbird" (Wembley, 06/27/80)

Latest posts by Best Classic Bands Staff
(see all)