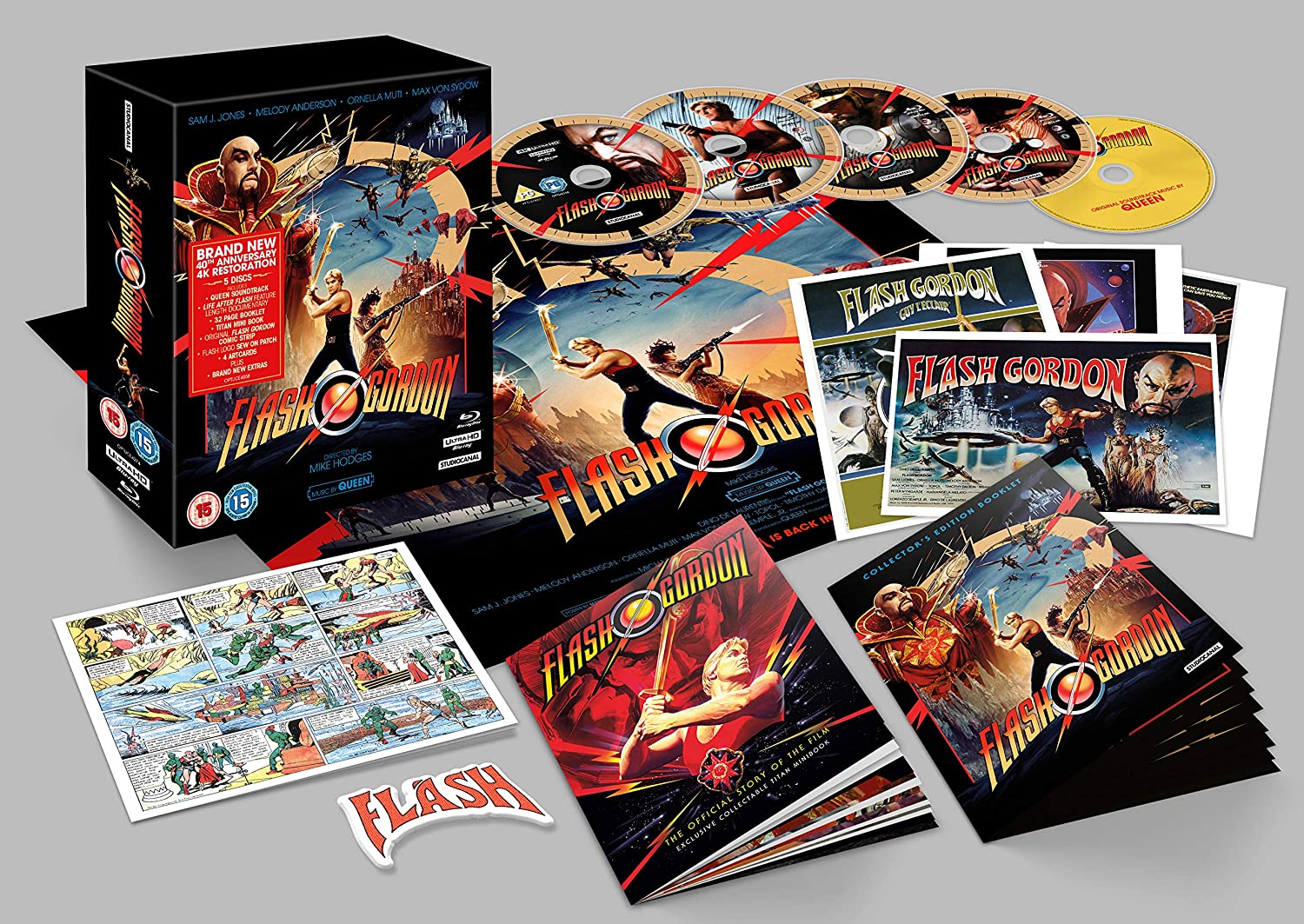 The 1980 cult classic film, Flash Gordon, is getting a 4K, Ultra High Definition restoration in honor of its 40th anniversary. The title will also be released on Blu-ray, Steelbook, DVD and digital on August 10, via StudioCanal (with special theatrical screenings in several countries).
The space opera film adaptation was directed by Mike Hodges (Get Carter, Black Rainbow) based on the comic strip of the same name created by Alex Raymond and adapted for the screen by Michael Allin (Enter the Dragon) and Lorenzo Semple Jr (King Kong). Produced by Dino De Laurentiis (Serpico, among others), with cinematography by Gilbert Taylor (Star Wars IV: A New Hope, Dr. Strangelove), the movie is also notable for the soundtrack, which was composed, performed and produced by Queen with orchestral sections by Howard Blake.
The film starred Sam J. Jones as Flash, Melody Anderson as travel agent Dale Arden, and Max Von Sydow as Ming the Merciless, as well as Ornella Muti, and Timothy Dalton. The 1980 motion picture cost a reported $20 million to make. It has a 80% positive rating on RottenTomatoes.com.
Thus far, the film will play in France, Germany, Australia and New Zealand, beginning July 31.
For the new 40th Anniversary 4K restoration, originally announced May 18, but thus far only available for pre-order in the U.K., Flash Gordon was scanned from the original 35mm negative to produce 4K files. Over 500 hours of manual restoration repaired serious damage that included image instability, scratches and intermittent flicker. The sound was scanned from the original track negative and underwent restoration to improve issues ranging from audio drop-outs throughout the feature and during reel changes, digital clicks and optical distortion. The film was color graded for theatrical, home entertainment and 4K HDR 5-disc release, using previous digital releases and 35mm prints as a reference. The restoration was approved by Hodges in May 2020, and will include the first 4K HDR Dolby Vision master.
Watch the newly restored trailer
The Flash Gordon comic strip ran as a daily from 1934 to 1992, followed by a Sunday strip which ran until 2003. The comic was an influence on early superhero comic characters, from the costume and inverted narrative of a heroic alien on earth in Superman to Batman's first appearance in the Detective Comics, with its DNA still evident in characters today.
Raymond's comic was also an influence on the wider sci-fi genre. George Lucas still cites the comic as an inspiration for his famed Star Wars space saga.
Both the soundtrack and Queen single were modest successes. The album reached #10 in the U.K and went Gold. It peaked at just #23 in the U.S., several months after the group's The Game became their only U.S. #1.
Related: "39," Queen's homage to space exploration

Latest posts by Best Classic Bands Staff
(see all)