Fine Young Cannibals' 'The Raw & the Cooked': For One Year, They Drove Us Crazy
by Cary Baker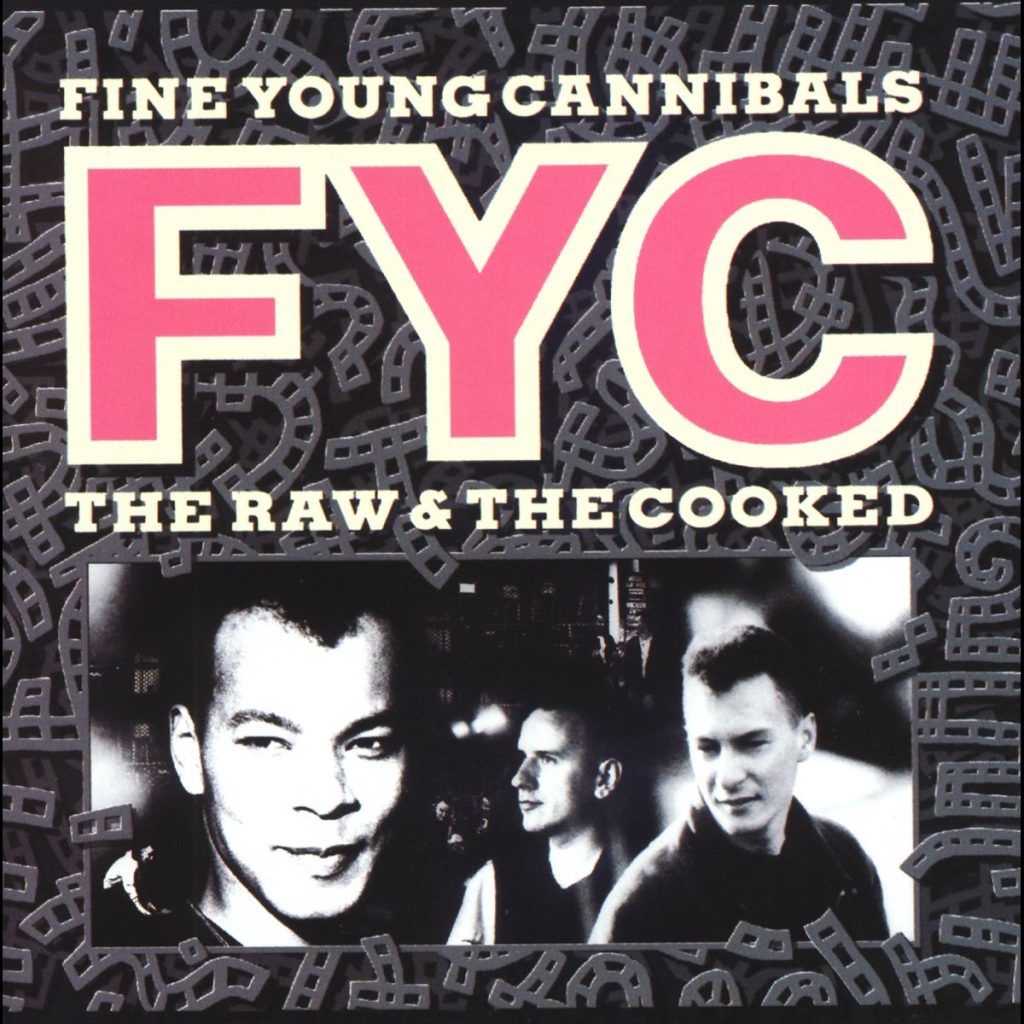 When the English Beat called it a day in 1983, the smart money was on singer Dave Wakeling and singer-toaster Ranking Roger, who, with former Clash member Mick Jones and Jamaican-born Beat saxophonist Saxa, went on to form a new band, General Public. GP released their debut album, the cleverly titled All the Rage, in 1984, and the single, "Tenderness," shot to #27 in the U.S., driving the album to #26 on the Billboard 200. The band was immediately anointed the true successor to the English Beat's left-of-center, politically charged take on ska. That summer on "modern-rock" radio, General Public was impossible to avoid, with tracks like "Cool You're Hot," "Never You Done That" and the track that cleaved most closely to the Beat's ska/dub origins, "General Public." It was a banner moment for upstart I.R.S. Records, which by then had taken the Go-Go's to platinum certification and had gained some early traction with R.E.M.
There was a decidedly smaller buzz about two other Beat members: guitarist Andy Cox and bass player David "Shuffle" Steele. But word spread quickly that they'd started a new band of their own called Fine Young Cannibals. Many Beat fans thought to themselves, "Good luck!" After all, the two distinctive voices of the Beat could not be one-upped by the non-singing guitarist and bassist. Could they?
It took a while longer to find out. And (spoiler alert): Yes, they could, and did.
On December 10, 1986, Fine Young Cannibals—their name borrowed from the 1960 film All the Fine Young Cannibals starring Robert Wagner and Natalie Wood—released their self-titled debut album. The lead track and first single, "Johnny Come Home," was the world's first impression of the new band. And yes, it was possible that the Beat's lithe rhythm section might get the last laugh—if, for no other reason, their enlistment of a singer arguably more distinctive than the blend of Wakeling and Roger.
The secret weapon was Roland Gift, then 24 years old, born in Birmingham, U.K., to a British mother and Afro-Caribbean father. Gift had played saxophone in Akrylykz, a ska band from Hull, U.K., which had opened one of the English Beat's final tours. The Beat's Cox and Steele had taken note, and invited him to front their new band.
Gift's voice would eventually be described by the Los Angeles Times' Steve Hochman as "employ(ing) the same catchy falsetto Mick Jagger used to such great effect on those Stones records. Of course, there's hardly any novelty in even a terrific soul update from the U.K., and like American expatriate Terence Trent D'Arby, Gift calls to mind a few American soul greats—Al Green comes to mind, but also Otis Redding and Sam Cooke. But where D'Arby's mannerisms often seem self-conscious, Gift's glide, slide and growl have a naturalness all their own."
None of which is to diminish the importance of the rhythm section. Andy Cox was a rhythm guitarist in the much the way that Steve Cropper was: spare, serving the song, few lead solos. David Steele's apt nickname was "Shuffle," and there was no denying that his bass lines conformed to the Merriam-Webster definition of shuffle: "to perform something, such as a dance, with a sliding step." Indeed, the synchronized bowlegged movements of Steele and Cox added depth to the wow factor of Gift's voice. And while Martin Perry had played drums on FYC's first album, Steele administered the drum machine on the band's follow-up album, The Raw & the Cooked, released on January, 13, 1989.
The album derived its title from the book Le Cru et le Cuit (French for "the raw and the cooked") by French anthropologist Claude Lévi-Strauss.
Not many listeners are aware that the Raw & the Cooked album, which hit #1 in the U.S., U.K. and Australia, was a bifurcated production. Four of the songs had a prior life in motion picture soundtracks. FYC's version of Buzzcocks' "Ever Fallen in Love" was featured in the soundtrack of Jonathan Demme's 1986 film Something Wild, starring Melanie Griffith and Jeff Daniels. Three other songs—the hit "Good Thing," "Tell Me What and "Hard As It Is"—had been seen and heard in Barry Levinson's 1987 film Tin Men, the songs performed by Fine Young Cannibals portraying an anonymous nightclub band.
Following the recording and filming of those songs, the band embarked on a rather early hiatus, in which they worked on side projects. Gift ramped up his acting career, appearing in such feature films as Sammy and Rosie Get Laid (1987) and Scandal (1989); Cox and Steele, in the meantime, formed Two Men, a Drum Machine and a Trumpet, releasing the acid-house single "Tired of Getting Pushed Around" on I.R.S. Records, which made it to #18 in the U.K.
In time, both London Records (the band's U.K. label) and MCA Records (which distributed and marketed I.R.S., and had taken on a larger role in the band's promotion) demanded a finished new album. The band suggested a few possible producers, imploring MCA to ask Prince to produce the remaining tracks. Response from Paisley Park was that the Purple One did not, as a rule, take on outside productions. But…he in turn suggested the label contact David Z, a successful producer who was brother of Bobby Z of Prince's Revolution. The label also suggested that the British band travel to Minneapolis' Paisley Park in order to record free of everyday distractions. But there were other distractions, like the band's curious observation that everybody in Minnesota was blonde and bouffant—in stark contrast to their own post-punk buzz cuts.
Related: British earworms of the '80s
David Z explains: "While working in Los Angeles I had met with Roger Ames, the head of London Records at the time. Ames said they haven't been able to get together to finish the record, even though they lived in the same town, so isolating them in Minneapolis would cause them to work and agree on the music. Prince had just built Paisley Park studios in Minneapolis and I was trying to bring acts to record up there. Roger said he was interested in me producing FYC's next record. I loved their first album with 'Johnny Come Home'—and they were not the kind of rhythm and blues music I'd done before. I loved all the punk R&B stuff coming out of England like Gary Numan and Thomas Dolby, Soft Cell. The Cannibals—Roland, Andy and David—sent me songs through email for a few weeks and we decided on a list."
One song was titled "She's My Baby," which David Z loved. The band, however, appeared less than enthused: "When they said it was rubbish and they wanted to throw it away, I told them I wouldn't want to work with them unless we did that song," Z said, "They reworked the lyrics and came up with 'She Drives Me Crazy.' Everyone I know could feel that way—and has."
The song, the first single from The Raw & the Cooked, ended up charting at #1 on the Billboard Hot 100, and in the U.K., Australia, Austria, Canada, Spain and on every dance music chart.
A lot of the song's success was its drum sound, accomplished when Z cut the snare drum separately. As Z told Mix, the studio recording magazine, in 2001, "Musically, the song is a celebration of space between parts," he said, "and the parts are all designed to be tight and funk-like in their precision but with rock-edged sounds, such as the distorted guitar that works as a counterpoint to the vocal melody and Gift's floating falsetto." AllMusic called it "the most unique, and instantly identifiable, beat/riff combination of the decade."
Z further reflects on FYC's pilgrimage to the American heartland: "When they got off the plane from London to Minneapolis, they were in culture shock. The style and mood in the two cities were quite different in 1988. They were on the edge of the punk-rock movement and the Midwest was mostly conservative America. Prince was shocking the music world out of Minneapolis so, to them, it was worth trying."
According to Z, Roland Gift brought with him a five-pound bag of brown rice because he didn't think health foods would be available in the U.S.
"Paisley Park and their hotel were way out in the country at that time. I even got them to eat a steak one night," Z laughs. "Having no distractions, we finished and mixed the recording in two months. I took them all one night downtown to a show; they were amazed to see how different the people acted and dressed. [Paisley Park's] isolation enabled us to concentrate fully on making music."
"Good Thing" was the album's second single, pulled from FYC's appearance on Tin Men, a film set in 1963 Baltimore in which Richard Dreyfuss and Danny DeVito played rival salesmen. The single reached #1 on the Billboard Hot 100. It has appeared in several films and commercials in the decades since its April 1989 single release. Stereogum observed, "Gift's voice is a pained, delirious yelp. He sounds bereft, but he still has swagger—so much, in fact, that it's not really much of a surprise when the girl returns at the song's end."
Released as the third single was the David Z-produced "Don't Look Back," which at first blush is the most rock 'n' roll song on an album otherwise built upon grooves and beats—with Cox's folk-rock guitar riff, one might imagine it as a Byrds song. But Gift gives it his best soul vocal—Sam Cooke comes to mind. The third single from The Raw & The Cooked, it made it to #11 on the Billboard Hot 100. The fourth and final single was "I'm Not the Man I Used to Be," utilizing a drum sample from James Brown's "Funky Drummer." While it entered the top 10 on the dance charts, it stalled at #54 on the Billboard singles chart.
Another song worth noting is the album's one cover, Buzzcocks' "Ever Fallen in Love," a co-production of the Talking Heads' Jerry Harrison and the members of FYC. The song fit into the $7 million-grossing dizzying road film. But, placed as the album's closer, it was possibly considered too unlike the band's originals to fit elsewhere in the sequence.
While released 10 months ahead of year-end polls, The Raw & the Cooked placed #13 on that year's Village Voice Pazz & Jop critics' poll, "Good Thing" voted #4 in the top singles. The album received a Grammy nomination for the prestigious Album of the Year.
It ultimately became one of the best-selling albums in I.R.S.'s 14-year history, another platinum album from the label that broke the Go-Go's and R.E.M.
***
This writer was just leaving a four-year post at I.R.S. Records as the label, which, in partnership with distributor MCA, had begun its setup for this album. The band was kept at arm's length from the American label, which was essentially a licensee to the repertoire owner, London Records. I recall talking to the band's dour U.S. manager and innocently asking him how the Cannibals were doing. His terse, response: "They're pissed." Pissed? About what? Airplay? Critical raves? Dance club action? (That manager passed away a decade or so later, and I was never able to clarify that conversation with him.)
Or maybe they were pissed about the label's level of expectation. Give a label a #1 album and suddenly they want Thriller or Rumours.
Yet maybe there was more to "pissed" than we at the label were led to believe; Fine Young Cannibals never did record another album. As Gift told a reporter at the U.K. newspaper Harrogate Advertiser, "They kept saying to us our next record had to be even bigger, which was really stupid. That was one of the main things that killed it for me."
The band did record one final song, "The Flame," for a 1992 compilation album titled The Finest. I.R.S. released a dance mix compilation of Raw & Cooked songs called The Raw & the Remix. And the unique drum sound of "She Drives Me Crazy" has lived on in commercials, notably via Pepsi, which reportedly did not compensate the band for the beats.
One can't help but feel Fine Young Cannibals might have become an ongoing fount of music, whether or not they ever exceeded the success of their second and final album. There would always be a market for soulful voices and pulsating beats. Plus, one senses this band wasn't composed of immutable types; it might have easily evolved its sound at will.
But for one full year, 1989, they drove us crazy…like no one else. And we couldn't help ourselves.
Watch Fine Young Cannibals perform "She Drives Me Crazy" in 1989
Latest posts by Cary Baker
(see all)